Top 5 Trends in Stair Railings
Published 12/19/17
Last Edited 11/18/19
Beauty may be transitory, but that's good news for architects in 2018. More than just passages between floors, transitional spaces such as stairs can serve as striking focal points. Expect 2018 to be the year of Instagram-worthy installations, unlimited infill material options, and eco-conscious design. From custom cable to floating glass planes, keep an eye out for these top stair railing design trends in 2018.
Design Trend #1: Inspiring Glass Infill
Ambitious glass design plans often concede to demanding safety standards. But custom stair railing engineers are making it easier to access the right size, thickness, and type of glass to comply with applicable building codes, engineering standards, and safety requirements.
Take the Google Sunnyvale corporate office, for example. To give the illusion of glass planes rising from the stair base, HDI Railing Systems engineered a hybrid of their popular Optik Shoe system. With all attachment hardware hidden from view, the Google Sunnyvale railing installation gives the appearance of floating glass.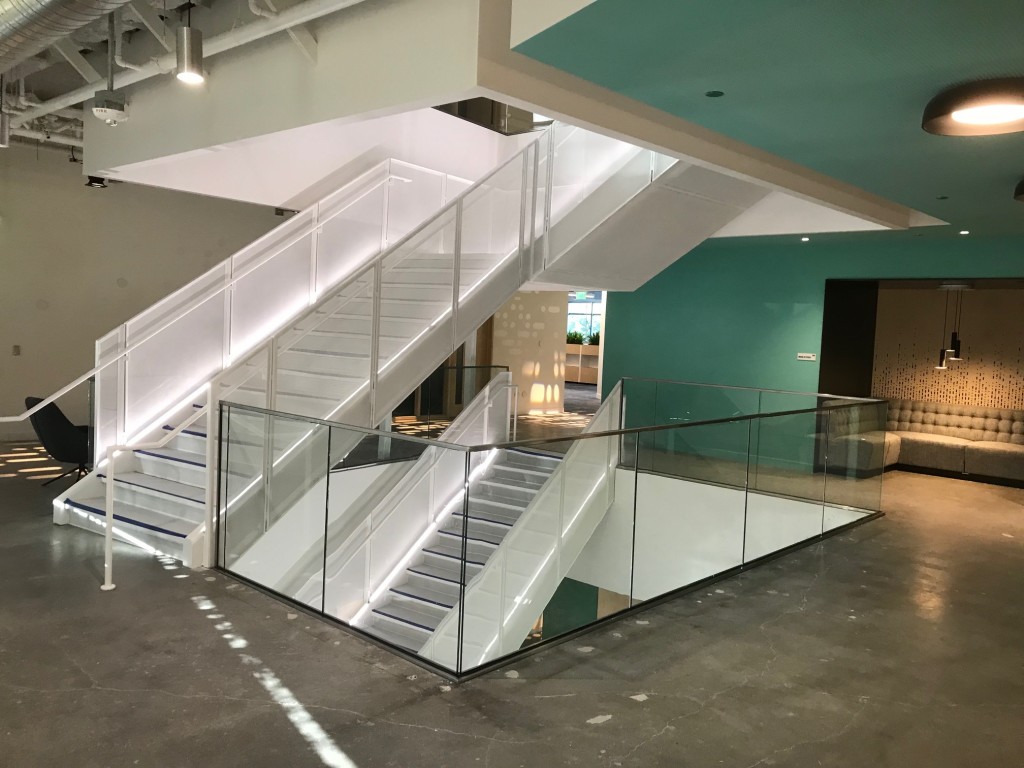 Colored and textured glass are having a moment, too. Glass panels are available in clear and colored options as well as low-iron for optimal clarity. Patterned glass is available with either the entire surface or part of the panel surface etched or sandblasted. The result can range from organic to contemporary chic, as shown in the examples below.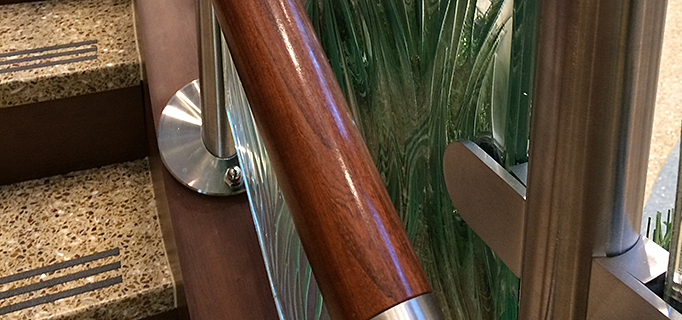 Adventist Cancer Institute pairs wooden cap rails with custom leaf-patterned glass for an outdoor-inspired, holistic healing environment.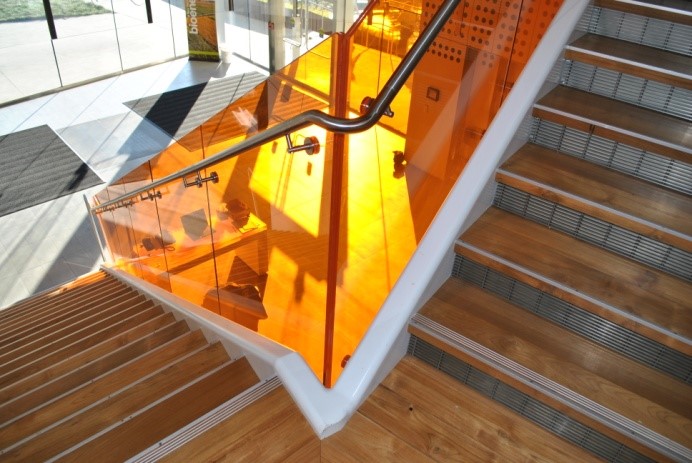 A colored, laminated tempered glass system by HDI merges natural wood steps with a pop of striking orange.
Design Trend #2: Custom Cable
Cable railings are the preferred solution for unobstructed views from terraces, balconies, bridges, and other vantage points. But these outdoor environments call for increased corrosion and tensioning standards, often requiring designers to surrender artistic vision to limited types of steel.
The answer to this dilemma? Custom cable design. Custom engineered railings — like this cable mesh net railing from HDI — remain as "invisible" as possible without compromising security and durability. Made of stainless steel cable, the mesh is woven together and clamped to a perimeter frame of heavy-duty stainless steel cable. The mesh is then tensioned and locked in place.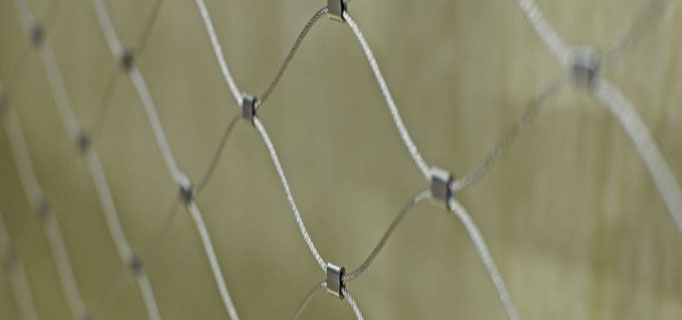 Cable can look equally striking indoors, as evidenced in a recent installation at Rock Valley College Health Sciences Center. The installation's minimalist cable railing system provides the perfect complement to the health center's slate gray and natural wood wall panels.
Rather than matching the assist rail to the steel cable, don't rule out a wooden rail option. This helps create a striking balance of futuristic and organic design. Choose a stair railing provider who is able to factory stain wood to match other materials featured in the building for design continuity.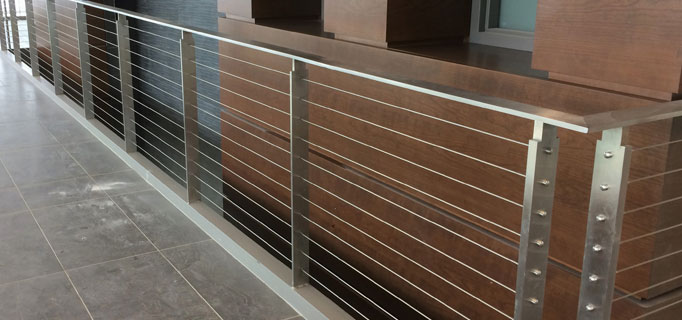 Design Trend #3: Bespoke Lighting
LED lighting is nothing new; however, prepare to see LED manufacturers provide customized products for niche industries and building elements in 2018. In the case of stair railing systems, the right lighting can turn your staircase from installation to inspiration. When installed and concealed properly, LED lighting within the lighting system provides increased security, durability, and design appeal.
More designers are venturing away from standard LED colors and selecting an LED type that can be programmed to provide unique colors, mixing and fading using color mixing technology (RGB). Light output or intensity can be tailored to specific project requirements by selecting from a broad range of light intensities and lens types.
A sampling of the LED colors, beams, lenses, and curved shape options available to designers:
Design Trend #4: Form Follows Function
In the upcoming year, look at building utilities– smoke baffles, reinforcements, accessibility features– as opportunities rather than obstacles. Gone are the days of quick fixes and patches to meet compliance codes or make repairs. The technologies afforded by railing experts allow for solutions that seamlessly integrate into — or even enhance — existing design.
Design for Durability
As guest luggage struck the sleek column cladding at San Jose Convention Center, the metal was becoming pockmarked and dented. Stair railing experts HDI adhered a custom stainless steel cane rail to the columns. The end result is a functional solution that seamlessly integrates into the original column design.

Design for Safety
A recent installation at The Lighthouse Guild, a leading non-profit for the blind and visually impaired, features a wall-mounted railing system that combines wood, steel, and nylon into a single design. Running the length of the corridors, this handrail provides safety to all visitors, vision-impaired or not. The smooth wooden hues match that of the floor for design continuity, rather than disruption.

Design Trend #5: Revived Sustainability
The last year has witnessed a heightened passion for eco-conscious consumerism. Following suit, buildings are no longer designed with just economy and utility in mind. "Sustainability" is no longer a buzzword, but in fact, a basic building standard. Every inch of an installation must be considered — including the stairs.
While LEED originated over two decades ago, designers are continuously finding innovative ways to introduce environmentally-beneficial practices and materials in construction. Start 2018 on a sustainable note by applying these LEED standards to handrails, balustrades, and railing systems in installations and renovations:
Choose steel railing systems with corrosion resistance and secure construction to last a minimum of 30 years without replacement, earning LEED credits for lifespan.

Look for AISI 304 or 316 stainless steel composed of 45% to 65% recycled material, earning LEED credits for use of recycled material.

Powder coating has become a popular trend, but make sure your formula does not contain solvents to ensure its application does not harm groundwater, soil, or air. This garners LEED credits for avoiding the use of hazardous chemicals.

Depending on your design, including LEDs in your handrail system can earn several LEED credits in multiple categories.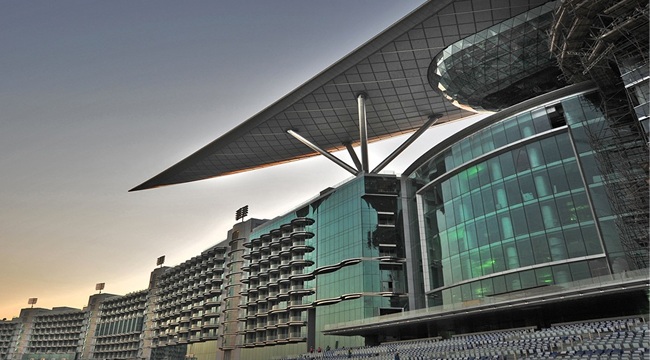 Ready to introduce these stair railing design trends to your next installation?
Contact HDI for a free assessment
.