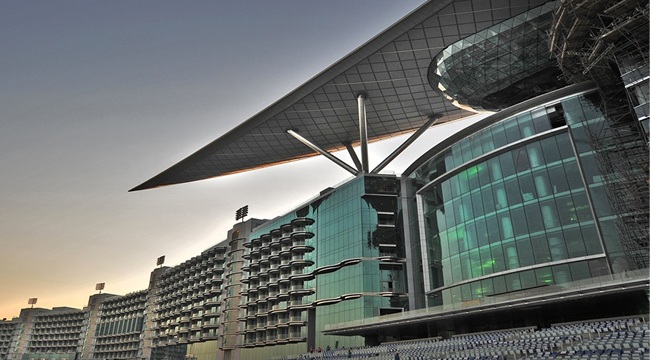 HDI offers everything you need to create the ideal railing system for your next project. Our extensive experience and commitment to clients has led to new solutions, including LEED Certification and guaranteed building code compliance services.
LEED Certification Services
More than ever, recognition for environmental stewardship is a boon for a business's image. The LEED Certificate system recognizes builders for using environmentally-beneficial practices and materials in construction. Following construction, all credits are tallied and a certification is granted. Levels include Certified, Silver, Gold, and Platinum.
HDI creates products and enacts processes that, as part of an environmentally-sustainable construction plan, can earn your project LEED credits. Here are a few ways you can earn LEED credits through the use of HDI handrails, balustrades, and railing systems.
Due to their corrosion resistance and secure construction, our steel railing systems last a minimum of 30 years without replacement, earning LEED credits for lifespan.
Our AISI 304 or 316 stainless steel is composed of 45% to 65% recycled material, earning LEED credits for use of a recycled material.
Our powder coating formula does not contain solvents, meaning its application does not harm groundwater, soil, or air. This garners LEED credits for avoiding the use of hazardous chemicals.
HDI railing systems can be equipped with LED lights, providing a distinct aesthetic touch and added visibility at night. Depending on your design, including LEDs in your handrail system can earn several LEED credits in multiple categories.
Building Code Compliance Services
HDI's railing systems are shipped complete and are engineered to comply with existing building codes. Furthermore, HDI's technical sales team has the experience and resources to plan your railing system with local building codes in mind. Even when selecting a minimalist railing system you can count on HDI to exceed the buildings codes for safety.
When you partner with HDI, you can also feel assured that our handrail systems meet the building codes that are specific for your area.
Start a Conversation with HDI
If you're interested in incorporating environmental sustainability and code compliance assurance into your railing system project, the first step is to start a conversation with us. To find out what services our skilled support team can provide for your next project, give them a call, and begin the collaboration.
Contact an HDI Sales Manager to discuss your project.