Monroe Condominiums, NJ
November 16th, 2017 -
Asbury Park Upgrade
In the midst of a redevelopment renaissance, New Jersey's Asbury Park boasts more than just sweeping views of the Eastern Seaboard. The historic seaside town is quickly becoming a hub for architectural inspiration. And it's only natural that its building products follow suit – right down to the terrace railings.
Designed by architect Chad Oppenheim, Asbury Park's Monroe condominiums offer luxury living overlooking the Atlantic. When it came to selecting the newly constructed residence's building materials, Oppenheim wanted a railing system that maximized – rather than detracted from – each condo's waterfront view. The end goal? A terrace railing solution that remained as "invisible" as possible without compromising security and durability.
An additional consideration was the Florida architect's vision for railings that mimicked the cable and mesh style found across Miami's sprawling modern art scene.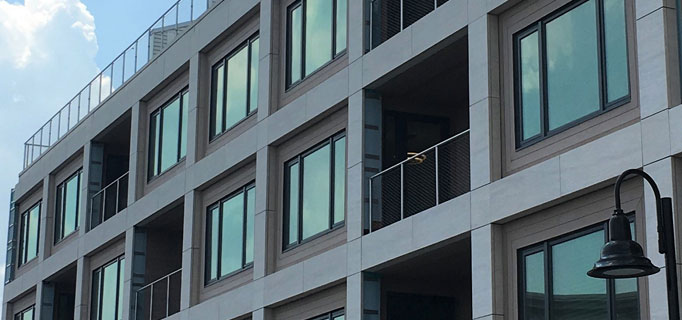 Application:
Low-profile design as to not obstruct waterfront views
Non-corrosive material
Higher tension standards
Solution:
CIRCUM™ Round Railing with custom mesh infill
Engineered Solution
To achieve a low-profile design, HDI engineered a hybrid of one of their standard systems, CIRCUM™ Round Railing. The CIRCUM railing system is constructed with mechanical threaded connections to ensure an exact, precise, and secure fitting.
The infill of choice is custom woven cable mesh to create a fabric net with both strength and flexibility. Made of stainless steel cable, the mesh is woven together and clamped to a perimeter frame of heavy duty stainless steel cable. The mesh is then tensioned and locked in place. A popular infill panel for balconies, stairs, bridges or observation platforms, HDI cable mesh is UV and weather-resistant.
All materials used on the job were 316-grade stainless steel to mitigate corrosion risk from Asbury's seaside climate. HDI's advanced R&D process was used prior to installation to determine how tightly to string the cable mesh. The end result balances the flexible aesthetic of a fabric net while still providing enough rigidity for condo residents to feel safe and secure.
The guardrails were installed in each Monroe condo private terrace, as well as the building's public rooftop space. Increased tensioning and fashioning standards were implemented to ensure that mesh surpassed load-bearing requirements.
A New Standard
Installed in August 2017, HDI's Monroe railing solution has delivered on the promise to offer absolute safety without compromising residents' waterfront views. Paying homage to Miami's outdoor and indoor contemporary art exhibits, the Monroe condo railing system brings a splash of South Beach art deco to the Atlantic coast.
"More than just a great location, its elegant style is setting a bold new standard for Asbury Park's waterfront," reads the condo statement from iStar land and development. Monroe's timely debut syncs up with Asbury Park's recent unveiling of plans to redesign its boardwalk pavilions in 2018. Thanks to HDI's sleek and secure guardrail system, Monroe condo residents can be sure to safely enjoy the view.
August 24, 2022 One of the nation's fastest-growing cities, Austin, Texas, is home to Aspen Lake Three, a 129,900-square-foot Class A mid-rise office building. Aspen Lake Three is surrounded by smartly landscaped plazas, tranquil lakes, and breathtaking...
Read more
July 13, 2022 Members 1st Federal Credit Union began construction on their brand new headquarters in Hampden Township, Pennsylvania, in August of 2020 and finished the project in early 2022. The  building's architects selected HDI Railing's Optik™...
Read more