Google Sunnyvale Office, CA
December 11th, 2017 -
Floating Glass Supports Google Sunnyvale Aesthetic
Recognized for its open and retro-futuristic design, the Google Sunnyvale, CA corporate building is almost iconic as the company logo itself. When the world's biggest search engine was in need of a railing system to complement the Silicon Valley chic space, the answer was clear.
See how HDI Optik™ Shoe railings met Google's request for a minimalist, all-glass design to match the company's vision of a bright, modern, and open space in their newest corporate headquarters.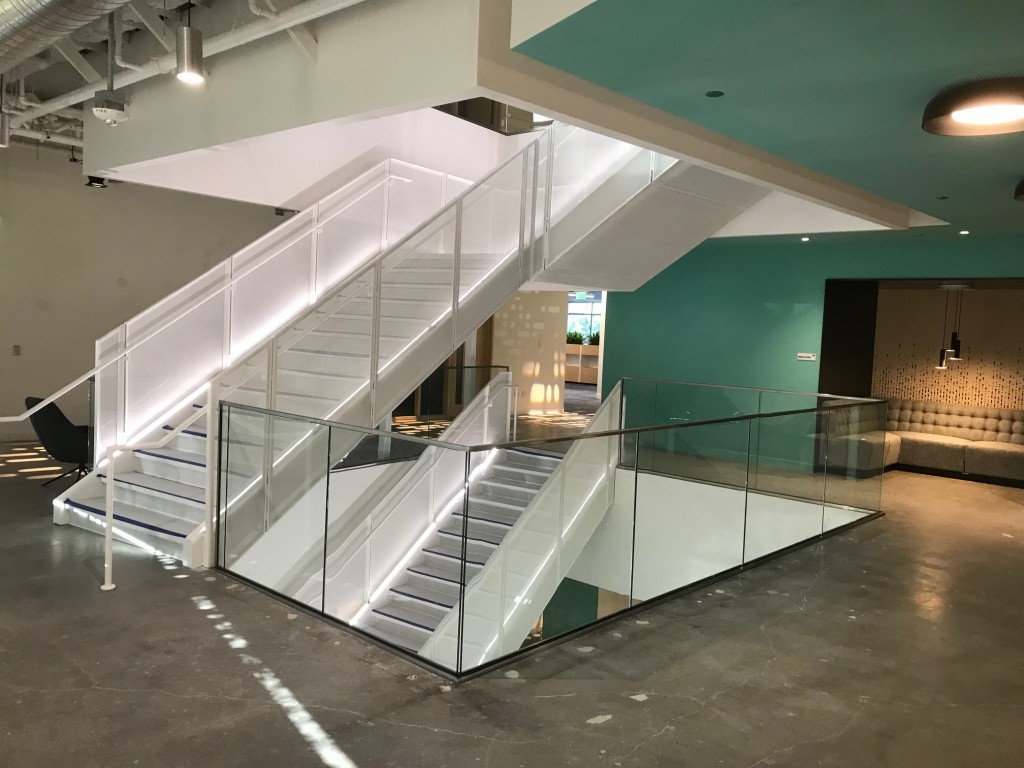 Application:
All-glass railing system

Minimalist cap-rail

Hidden shoe appearance
Solution:
Optik™ Shoe Railing with custom cap rail and shoe
Floating Glass Solution
To give the illusion of glass rising from the floor, HDI engineered a hybrid of their popular Optik Shoe railing system. With all attachment hardware hidden from view, the HDI Optik Shoe system provides a continuous, elegant track to support the glass.
The Optik Shoe system provides an unobtrusive look by giving the appearance of a floating glass system. A stainless steel covered channel supports glass panels that are secured in place using a patented disc lock system. This innovative locking device allows all the panels to be aligned with one another, ensuring a continuous flat plane surface along the glass for a clean uninterrupted look.
Tempered 1/2″ (13 mm) thickness glass was chosen as the infill material at Google's headquarters. A custom cap-rail design continues the flowing glass design. Minimized to 1" by 1," the cap meets safety requirements without disrupting the infill's continuous plane appeal.
High quality 304 grade stainless steel was used for supporting pillars. Finishes are 240 grain.
Supporting a Think-Tank
Installed in August and September 2017, HDI's Google railing solution provides a sleek and secure railing system built to support a center bustling with forward-thinking ideas. The ambitious, transparent Sunnyvale design is the perfect accompaniment to a company whose visibility extends far beyond its physical location.
Talk to HDI about bringing your brand to life through railing design.
September 29, 2021 The most popular soda brand in the world, Coca-Cola, has a new sales and distribution center in Tifton, Georgia. Many millions of Coca-Cola products will move through the $65 million dollar, 300,000 square foot state-of-the-art...
Read more
August 9, 2021 Children's Mercy Research Institute opened its doors in February of 2021, providing a beacon of hope for those children who are afflicted with complex childhood diseases. "Pediatric research is underfunded nationally, which means kids are...
Read more