HDI's Kubit railing system with Oak cladding is installed at The University of Wisconsin School of Nursing.
Request a Quote
October 18th, 2019 -
Railing System: Kubit railing system with custom oak cladding on posts
Location: University of Wisconsin-Madison
Architect: Kahler Slater
Contractor: J.H. Findorff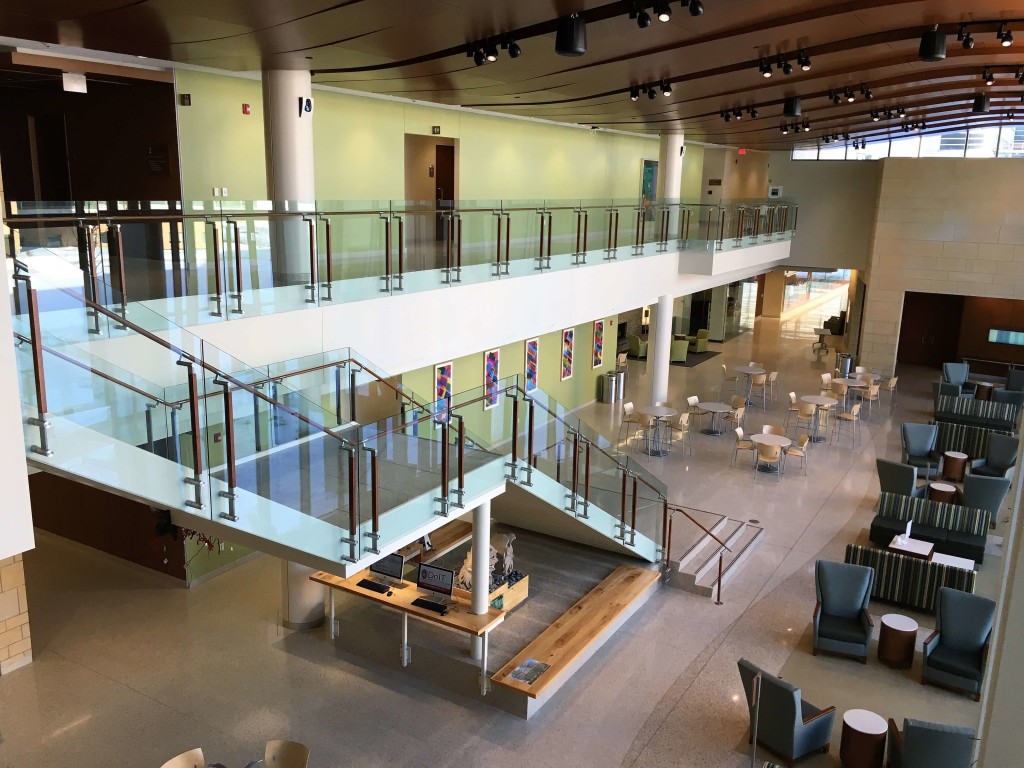 Advanced healthcare technologies and inter-professional health education are steadily evolving and increasing the demand for state-of-the-art facilities. The University of Wisconsin-Madison's School of Nursing recognized the need for a new facility to keep up with the healthcare field's evolving nature, resulting in the construction of Signe Skott Cooper Hall. When it was time to put the final touches on their state-of-the-art education facility, HDI Railing Systems was happy to lend support to the Architect of Record Kahler Slater responsible for the overall design.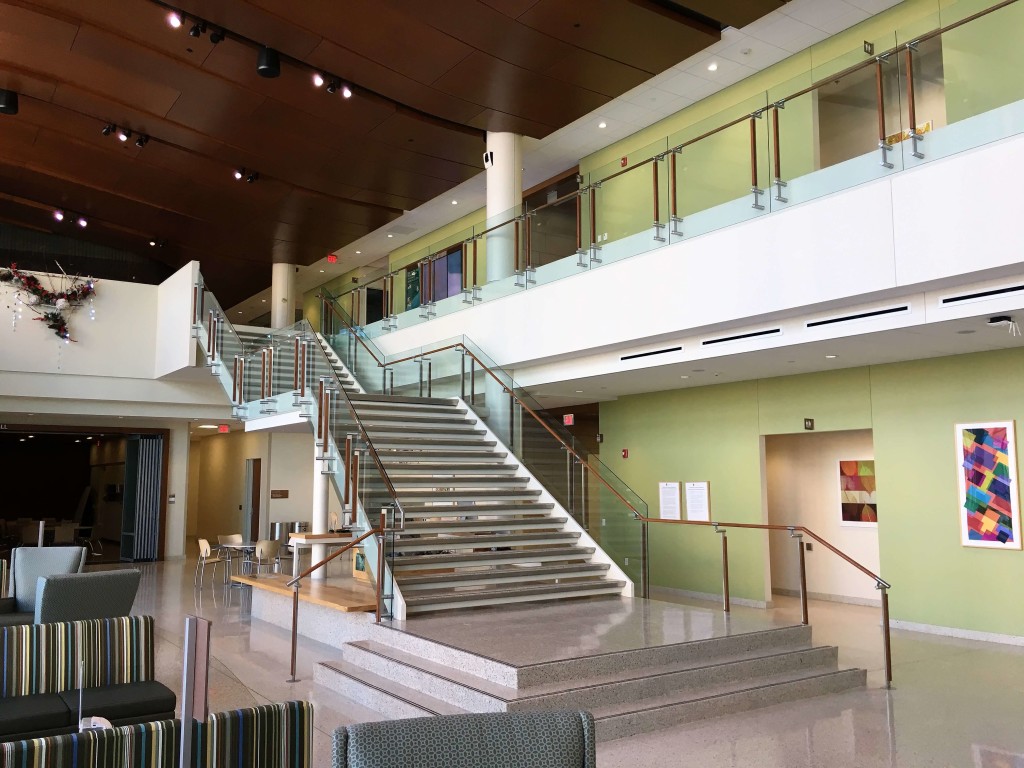 The University of Wisconsin's nursing facility in the town of Madison, Wisconsin has a footprint of approximately 166,000 square feet and offers one of the largest learning spaces for nursing students in the country.
The largest individual donation to the construction of UW's nursing facility came from the fabled alumna Signe Skott Cooper. Even greater than Cooper's $17.4 million private donation was her sacrifice to the advancement of the nursing field, which began after her return from the China-Burma-India theatre of WWII. After serving in the Nurse Corps during WWII and joining the UW nurse faculty, Signe Skott Cooper wrote and published over 100 biographies of nurses and in 1981 received the Presidents' Award from the American Association on the History of Nursing for her contributions to the nursing field.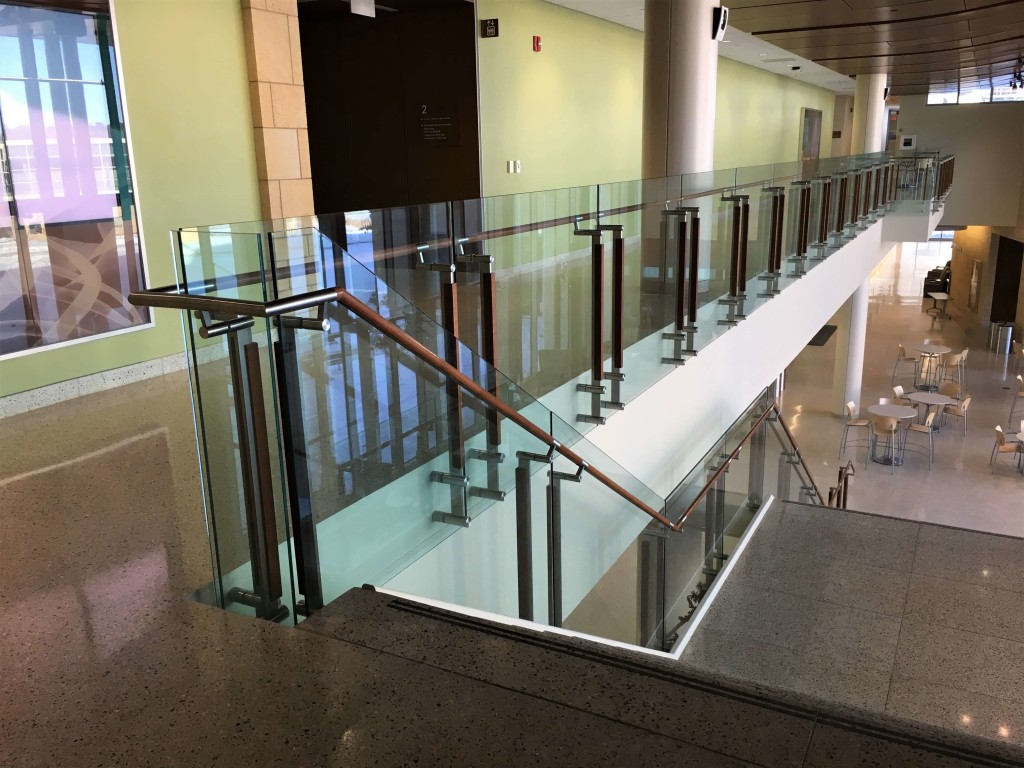 After nearly a century of contributions to the nursing field from Signe Skott Cooper herself, UW's Signe Skott Cooper Hall will "serve the State of Wisconsin for the next century," said Mark VanderWoude, Assistant Dean for Facilities and planning.
The new nursing facilities designers turned to HDI for a railing system that would provide long-lasting holding power while assisting in the achievement of LEED Silver status. The Kubit™ railing system with custom wood-cladded posts and matching wooden handrails was selected to match the elegant, sustainable aesthetic echoed throughout the new facility.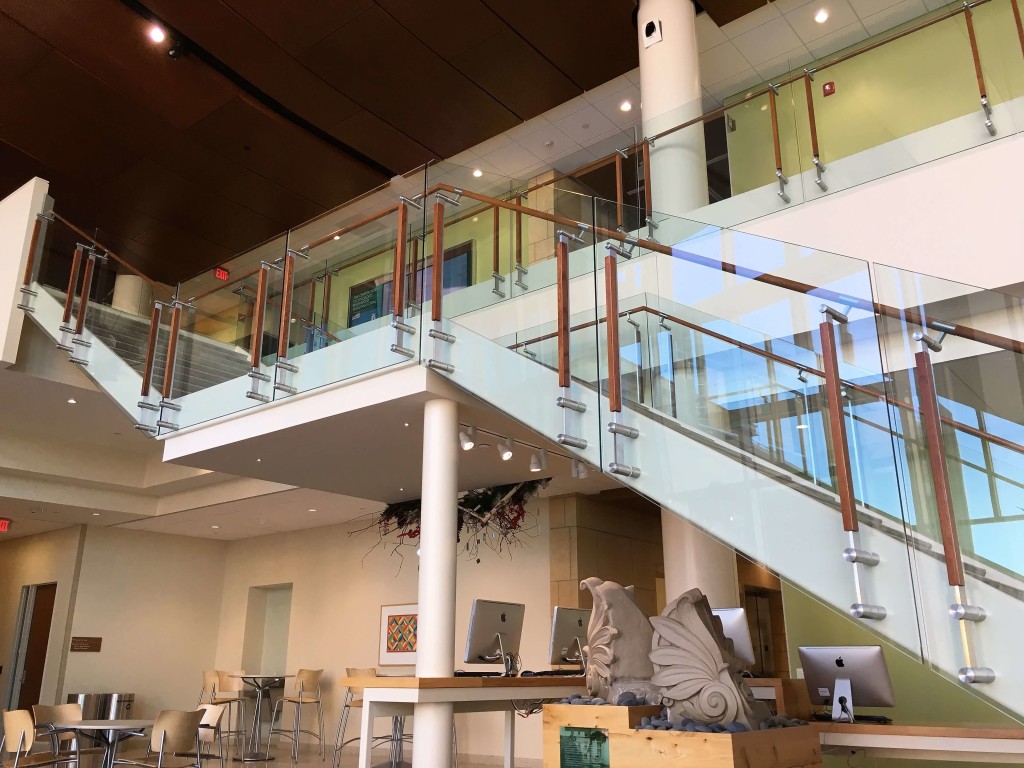 Kubit railing system's supports are based on a single rectangular profile used throughout the system from posts to wall mount supports, ensuring a coordinated minimalist design. HDI Railings supplied 304-grade stainless steel for the systems posts and components along with oak wood for handrails and bespoke designed post cladding to match. Mitered wood bends were engineered by HDI to maintain consistency in the sustainable design features of the Kubit Railing system made possible because HDI's team of experts performed the on-site measurements. Mechanical connections, hidden from view, ensure a design that is as practical and functional as it is elegant.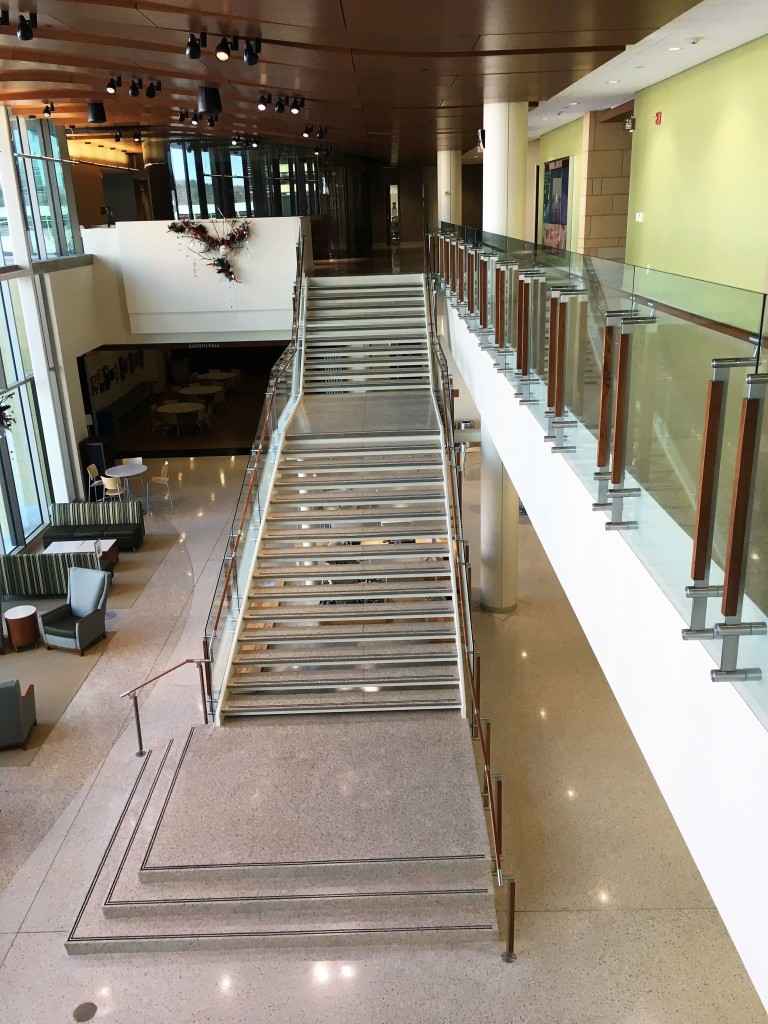 The railing system is mounted in the facilities lobby area and flows up to the second-floor balcony.
A side-mounted custom Kubit Railing system with tempered glass infill lets unobstructed light through the facilities lobby area and flood the stairwell ascending into the second floor balcony. The ½" tempered glass infill installed contains 20% post-industrial cullet (recycled glass) helping the facility earn LEED points for recycled content. Sustainably sourced oak and 304 stainless steel composed of 45% to 65% recycled material were incorporated into the Kubit railing system helping Signe Skott Cooper Hall earn LEED points for use of recycled materials.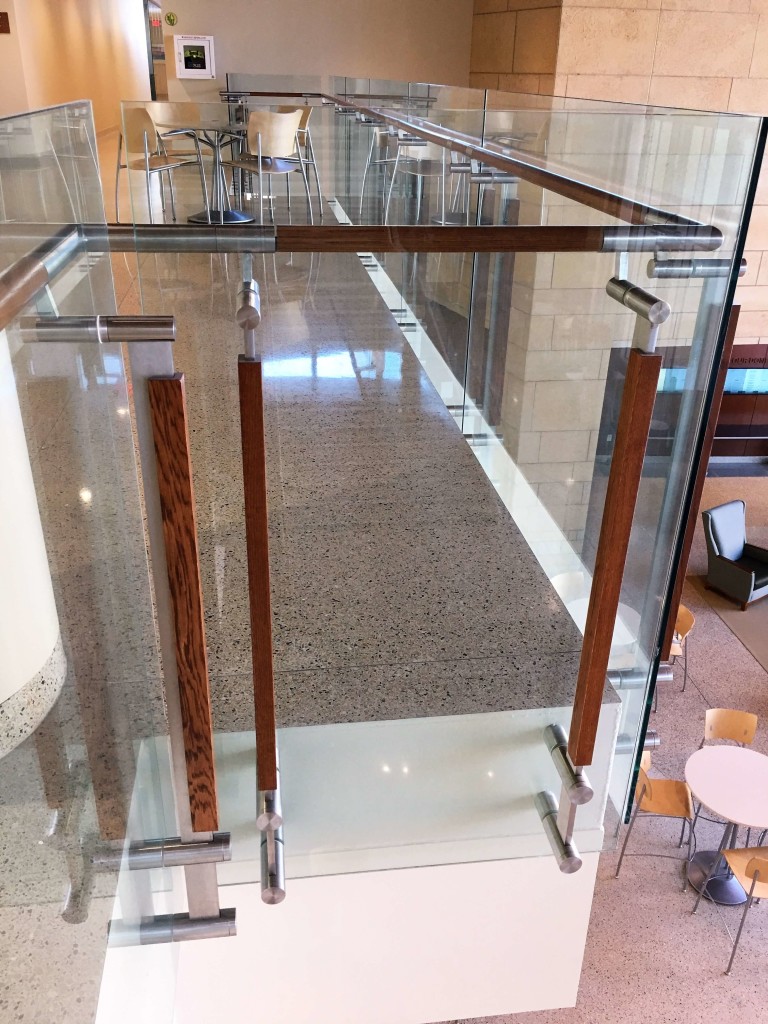 HDI creates products and enacts processes that, as part of an environmentally sustainable construction plan, can earn your project LEED credit. The University of Wisconsin-Madison School of Nursing is ranked among the top 20 nursing schools in the nation and now with their $52 million-dollar, LEED Silver status Signe Skott Cooper Hall facility, they're supporting a 30% growth in faculty, students, and research programs.
When building professionals need a pre-engineered, modular railing system that can keep up with industry demands they turn to HDI.
Please contact a regional sales manager today to discuss your next railing project.
February 18, 2020 In October of 2019, Harris Teeter welcomed shoppers to its Centro Arlington Shopping Center located in Arlington, Virginia. Railing System: CIRCUM Round railing system Location: Harris Teeter, Centro Arlington Shopping Center located in Arlington, Virginia. Architect: Bondurant Associates Contractor:...
Read more
January 28, 2020 In the summer of 2019 HDI Railings installed its Ferric railing system with glass infill panels to all interior and exterior balconies at the newly constructed Woodcrest Villa retirement complex. Railing System: Ferric railing system Location: Woodcrest Villa Retirement Homes, Lancaster...
Read more