SmithGroup selects Optik™ Shoe for the University of North Carolina
Request a Quote
January 30th, 2023 -
In order for UNC Greensboro to offer students a more engaging and interdisciplinary academic experience, the University needed a brand-new Nursing & Instructional Building. For a solution designed to foster communication and collaboration, SmithGroup architects approached HDI Railings.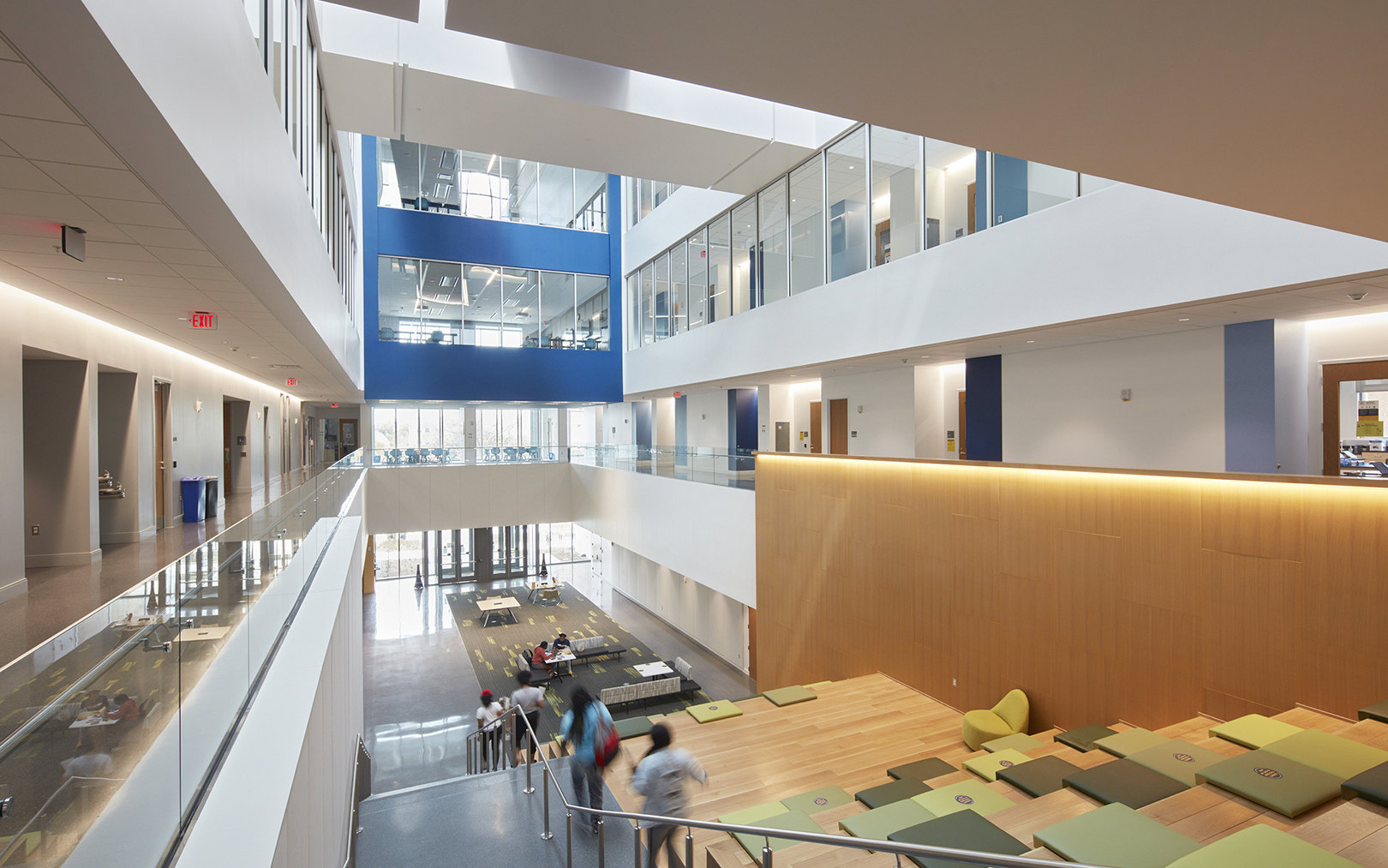 HDI's Optik™ Shoe maximizes natural light with floating glass infill and utilizes minimalistic components to reflect a contemporary style. HDI Railings provided the perfect architectural solution – a modern, open space concept with Optik™ Shoe railings that will create an inviting environment for future generations of UNC Greensboro students.
Railing System: Optik™ Shoe
Location: Greensboro, NC
Architect: Smithgroup JJR
Contractor:  Rogers DPR
The five-story atrium establishes visual connections between all the floors, while active stairwells bring life and movement to the space. The Optik™ Shoe Railings provide a sleek and modern look that blends in with the open-concept design. Additionally, the Optik™ system creates a light and airy atmosphere that is inviting and encourages movement.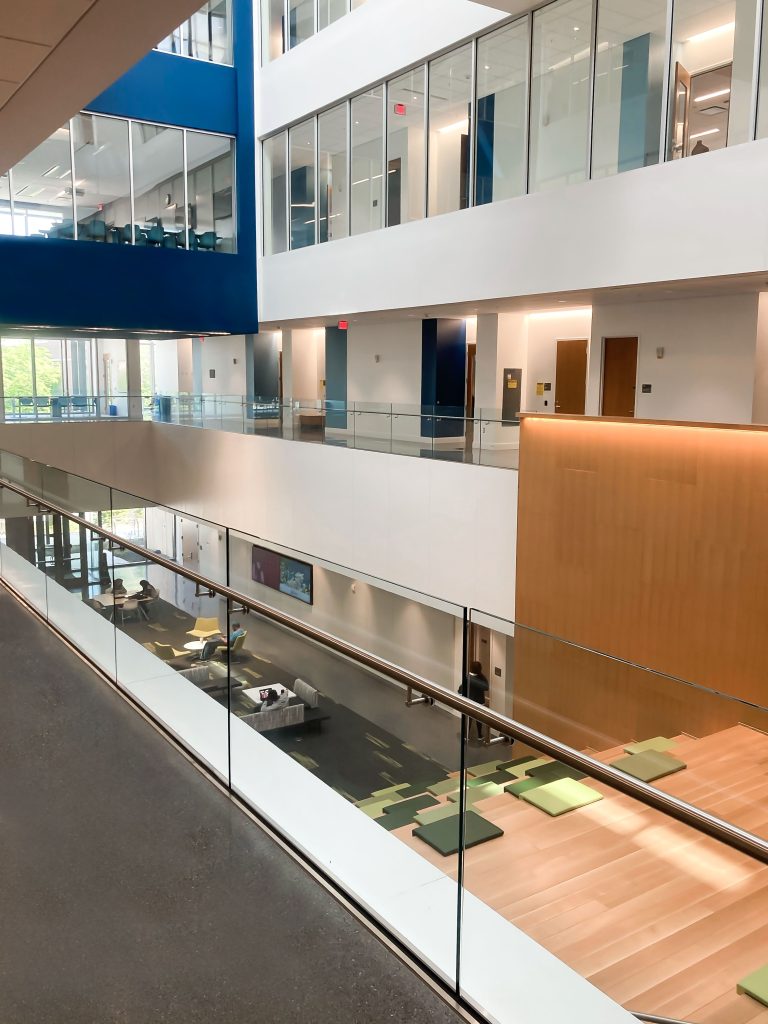 Clean uninterrupted design
The atrium and stairwells create a sense of openness and connection between all the floors, while the glass infill helps to bring in natural light and reduce energy use. On the second story balconies, HDI's Optik™ Shoe system with glass infill floods the study areas and gathering spaces with light. Infill options can also contribute to LEED certification as they impact daylighting, control energy use, and improve environments.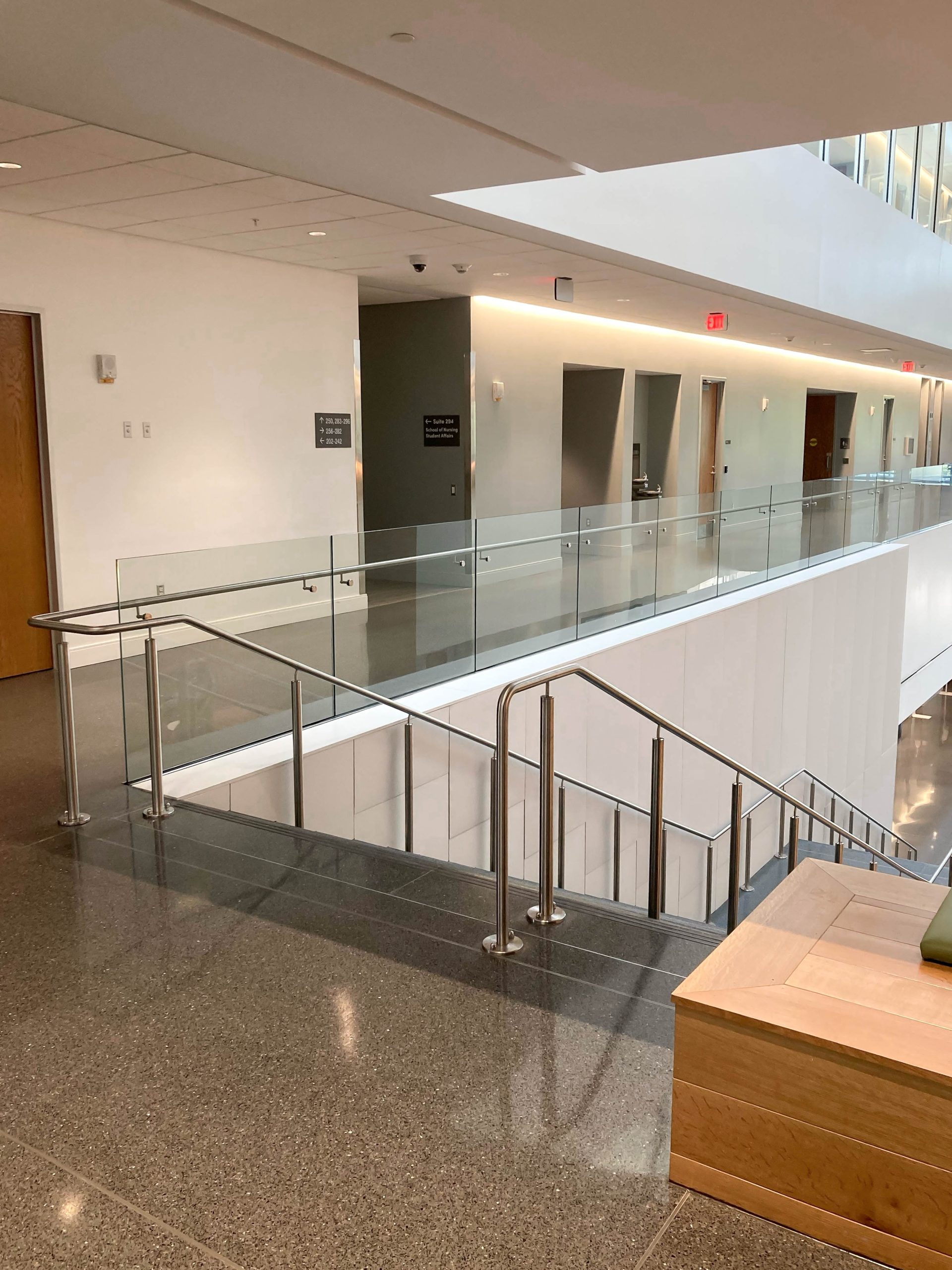 The combination of Optik's minimalist design and natural light creates a bespoke and inviting space for learning, working, and gathering. By utilizing Optik™ Shoe in building designs, a sophisticated atmosphere can be cultivated that is conducive to creativity and collaboration. A stainless steel covered channel supports glass panels that are secured in place using a patented disc lock system, providing a clean uninterrupted look.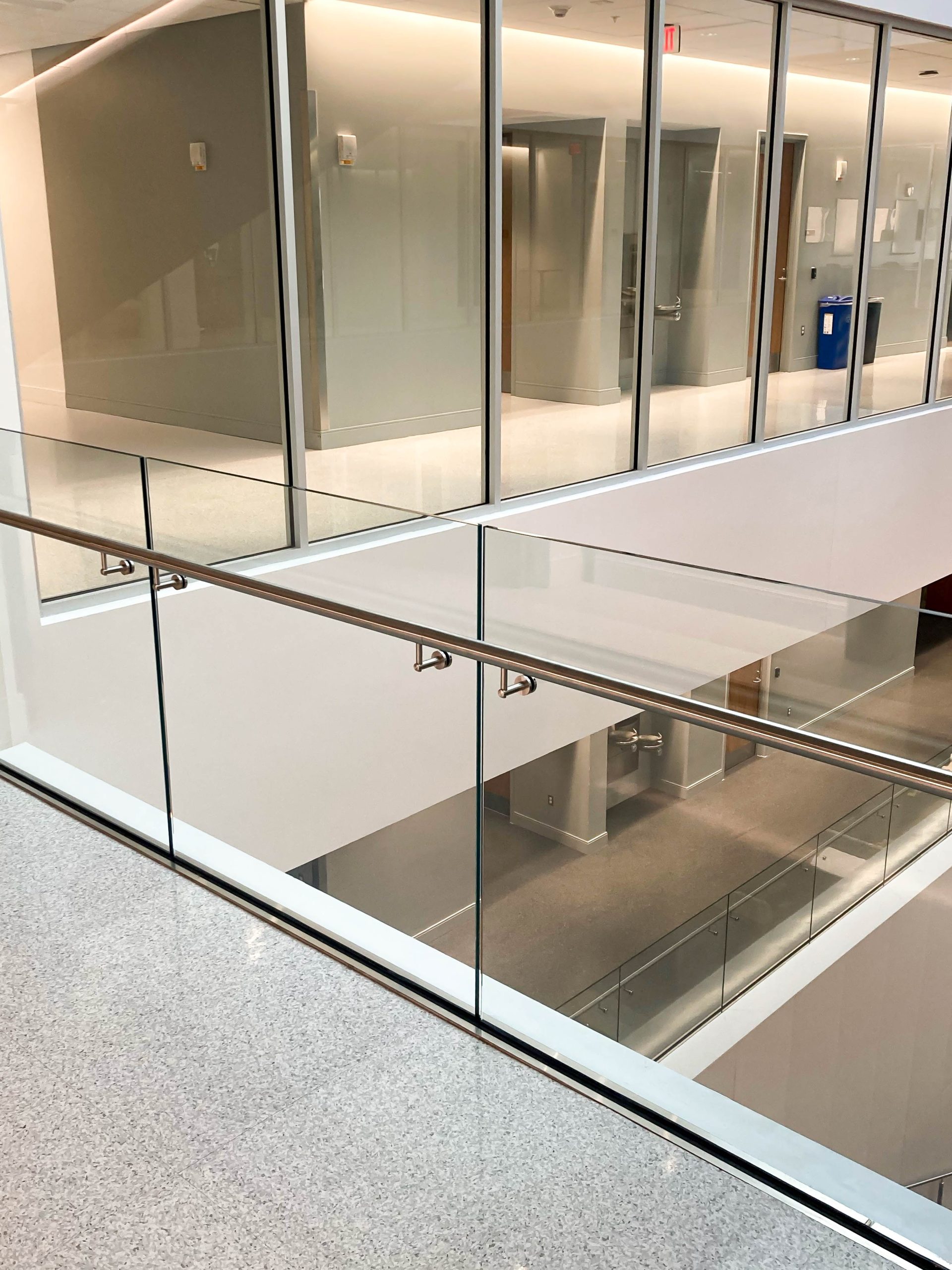 This system allows the panels to be securely mounted without the need for bolts or screws, creating a continuous, sleek look that is both aesthetically pleasing and structurally sound. The versatility of our Optik™ system also allows you to easily reconfigure it to accommodate any future change in the design of a space.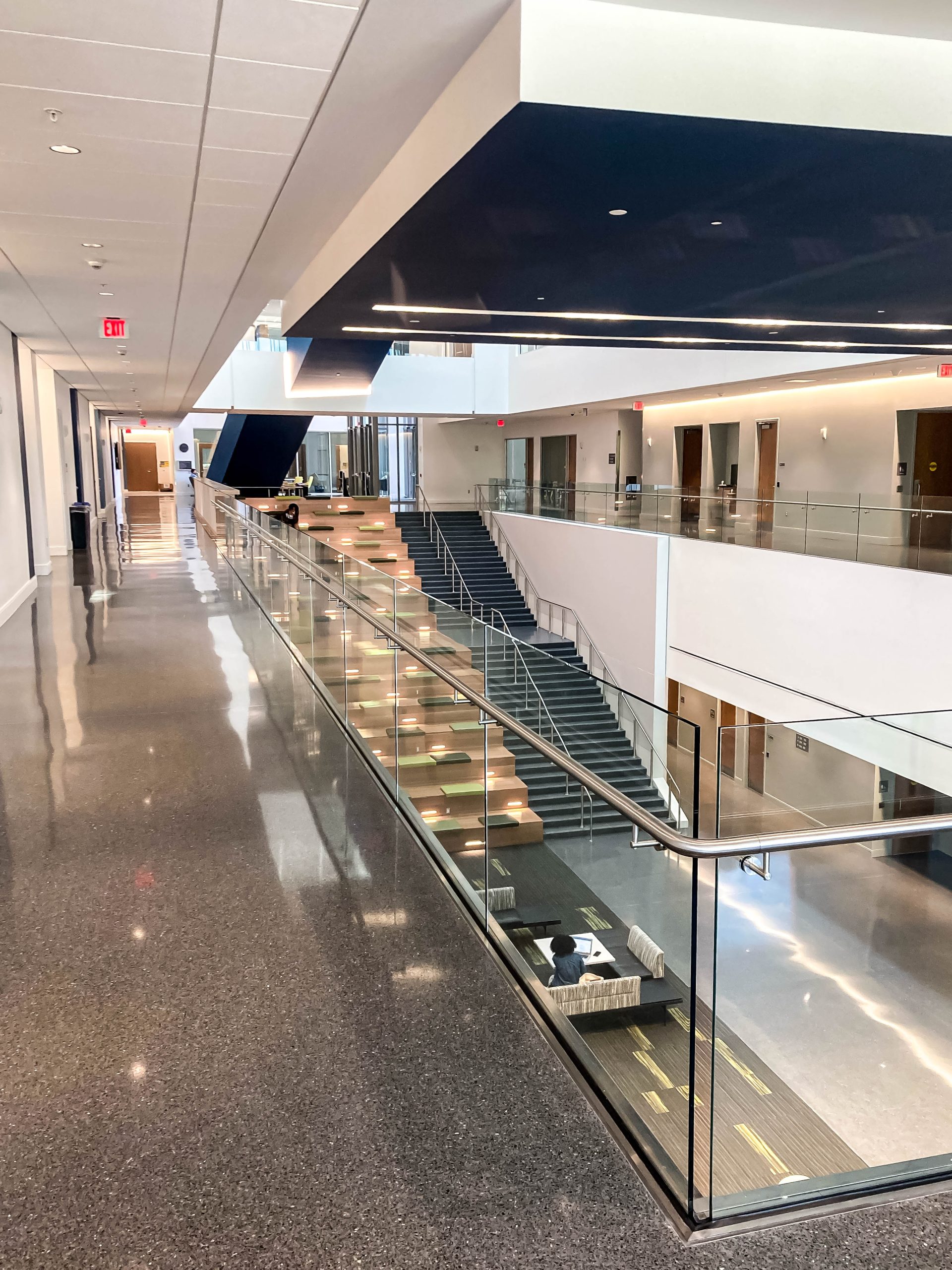 By incorporating glass infill into spaces, we can transform them into vibrant environments that promote health and well being. Natural light and the calming qualities of the outdoors accompany the conveniences of modern building amenities in this dynamic environment.
The glass infill panels provide unobstructed views while allowing ample amounts of natural light to filter in. With Optik™ glass infill railing systems, HDI brings the outdoors inside, connecting the indoor and outdoor environments.
HDI would welcome the opportunity to partner with you on your next project.
March 14, 2023 Rivers Casino Portsmouth, Virginia's first full-service permanent casino, offers guests a full range of amenities, including a casino, poker room, BetRivers Sportsbook, TopGolf, conference venues, and premier restaurants. However, the casino industry faces numerous...
Read more
February 27, 2023 The Martire Family Arena at Sacred Heart University's West Campus in Fairfield, Connecticut, is a true work of art that reflects the institution's growth and status. The arena, unveiled in January 2023 as the...
Read more