Optik™Railing System provides a "floating glass" aesthetic for MSU Federal Credit Union
Request a Quote
April 6th, 2021 -
Background:
Founded in 1937, MSUFCU has grown to become the largest university-based federal credit union in the world. Michigan State Federal Credit Union, an industry-leading credit union with a stellar reputation for appreciating their employees, recognized the need for an additional headquarters to keep up with the growing membership base and additional employees expected over the next decade. When it was time to put the final touches on their high-efficiency and environmentally friendly office building, architects Daniels and Zermack and contractors Lansing Glass turned to HDI Railing to lend support.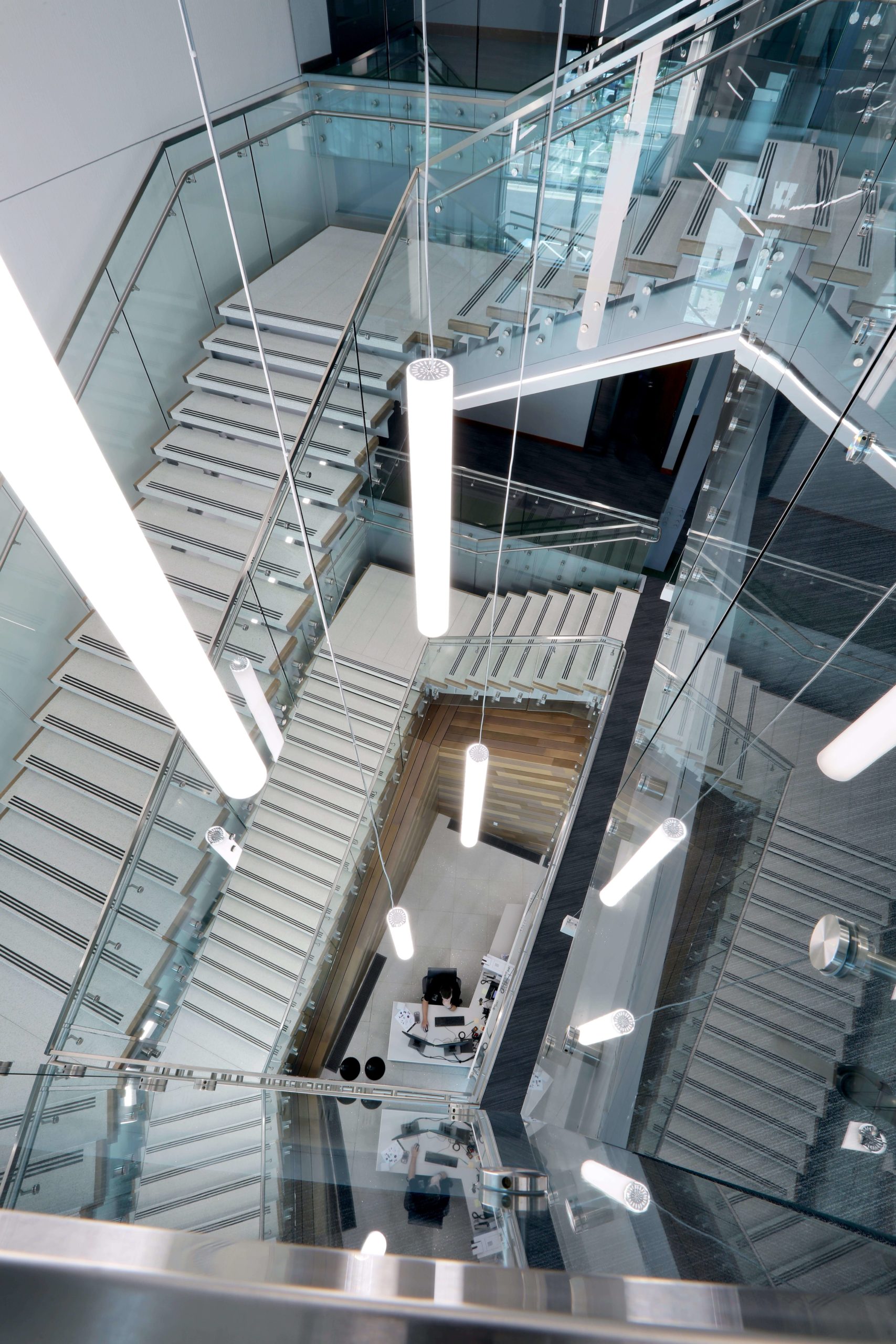 Daniels and Zermack Architects selected HDI for a railing system that would be delivered within a tight lead time as well as support the headquarters LEED goals. All railings are fully assembled in HDI's factory and then deconstructed into fully assembled sections to ensure the most efficient installation.
Railing System: Optik™ railing system
Location: Lansing, MI
Architect: Daniels and Zermack Architects
Contractor:  Lansing Glass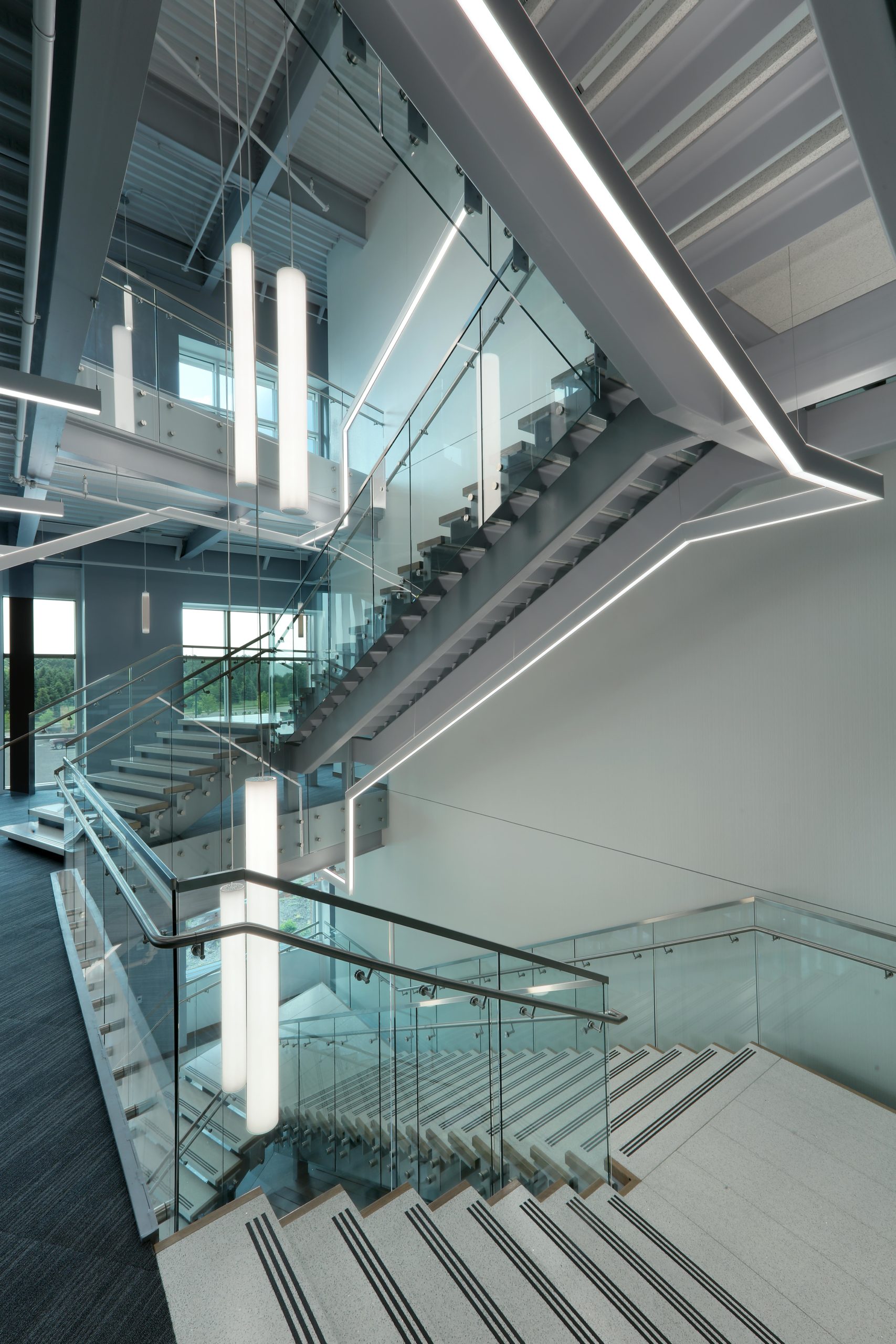 Located in the building's lobby and second-floor balcony areas the Optik™  Boss railing system allows for a "floating glass" aesthetic thanks to discreet hardware. The 304 stainless steel selected for the Optik™  Boss system is built to exceed durability standards and will last a minimum of 30 years, earning LEED credits for lifespan. HDI's materials are a natural choice for LEED material requirements, which call for increased durability and low maintenance. In addition, many of HDI's materials are recyclable after use.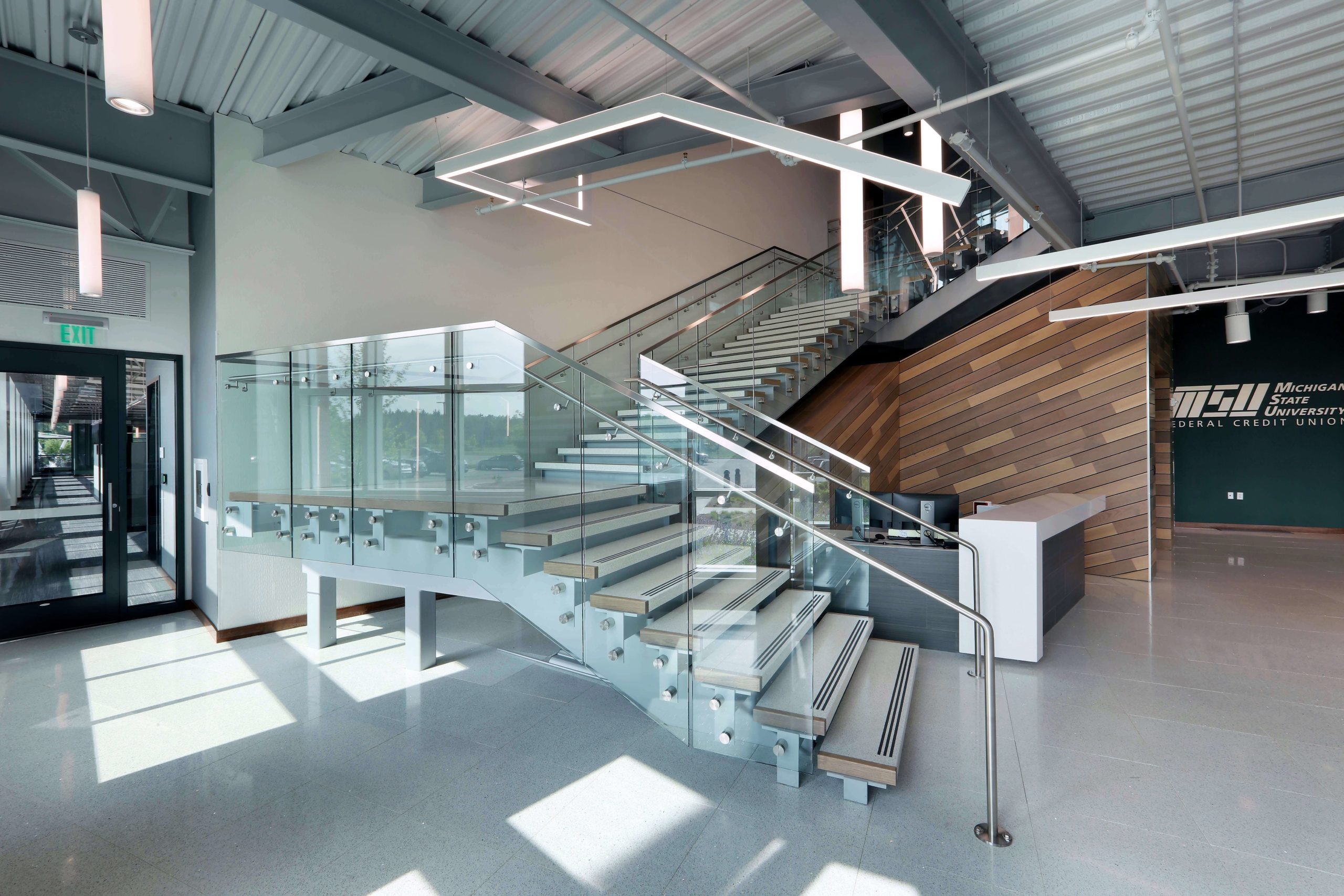 The clear tempered glass infill panels allow light to flow through the lobby area and balconies promoting energy efficiency. The second-floor balcony railing creates a sense of spaciousness with unobstructed views providing a secure holding power for viewing the pond just outside the MSUFCU building. As the stairwell ascends multiple floors the Optik™  Boss railing system highlights the cylindrical LED chandeliers suspended from the ceiling.
MSUFCU reported saving members more than $13 million by refinancing high-rate loans and business is well underway at MSUFCU serving more than 275,000 members from their new 186,350-square-foot building. "In 80 years, the Credit Union grew from operating out of a single desk drawer in the physical plant on MSU's campus to serving nearly 250,000 members worldwide," said Ms. Clobe, MSUFCU's President/CEO.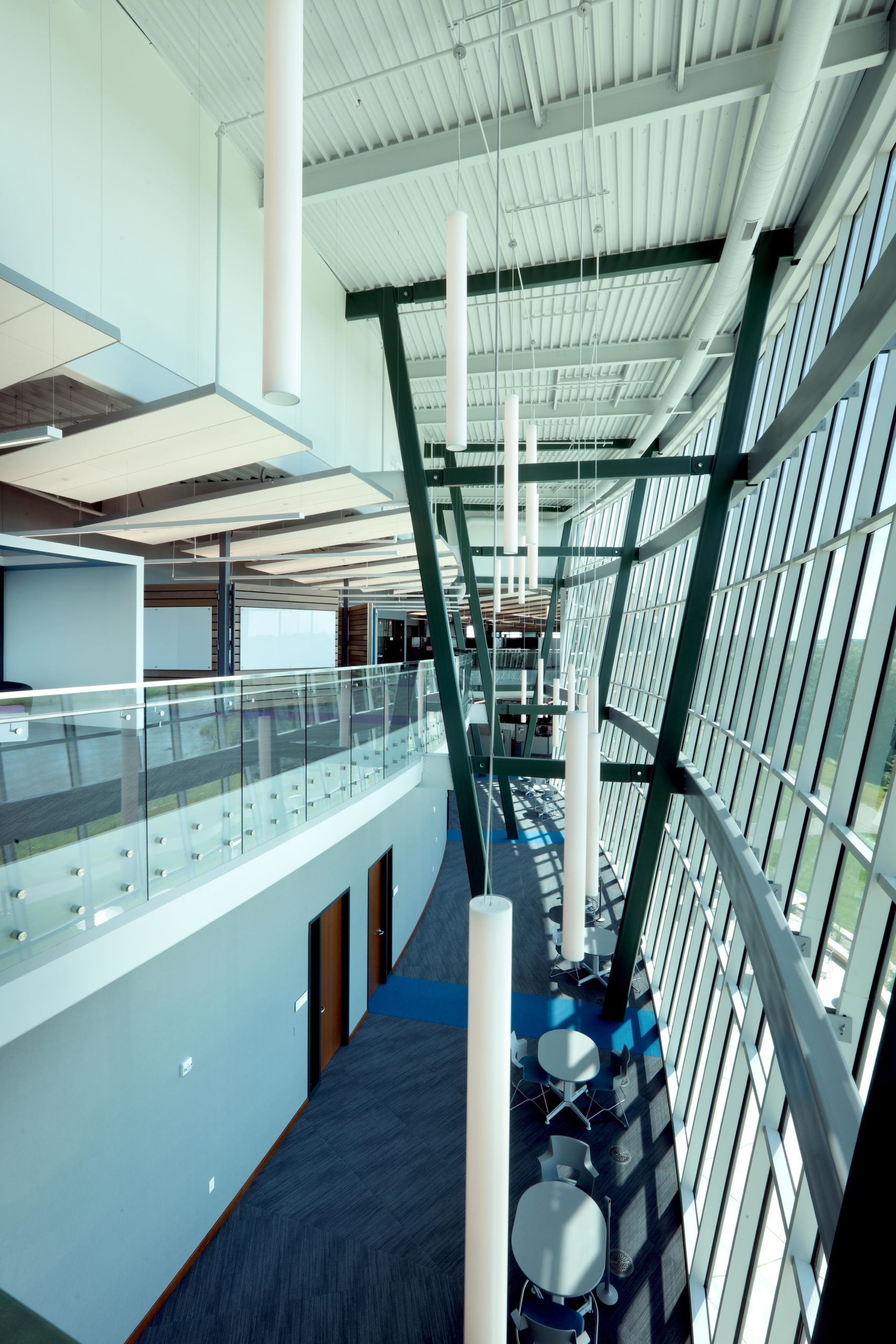 When building professionals need a railing system that can keep up with industry demands they turn to HDI Railings. HDI would welcome the opportunity to partner with you on your next project. Please contact a regional sales manager today.
For more information on HDI's state-of-the-art railing systems please contact a regional sales representative today
April 20, 2022 Dallas-based Hilltop Securities is one of the top financial firms in the United States. During the summer of 2020, Hilltop Securities began renovating more than four floors of office space at the top of the...
Read more
March 23, 2022 With roots in Austin, Texas, Page started as a multidisciplinary architecture and engineering firm in 1898. Today, Page is an industry leader in architectural innovation with offices throughout the world and a network of...
Read more