Northwest ISD selects Kubit™ railing for their new Olympic sized pool and sports complex
Request a Quote
January 6th, 2022 -
The Northwest Independent School District (NISD) of Justin, Texas now has a new 80,000 square foot multipurpose facility that is home to an aquatic center and a sports rehabilitation/training space. The facility's 50,000 sf aquatic center includes a 71-yard Olympic sized pool, practice pools, and a large spectator seating area for events. Thirty thousand square feet has been dedicated to a sports rehabilitation space within the facility which includes a 3,000 sf indoor turf field and a first-class weight room. To enhance the spatial experience and minimize obtrusive building elements that cause spectating issues, HDI's Kubit™ railing system with clear and custom blue glass infill panels was installed in the 50,000 sf natatorium section of the facility. To improve the safety of the stairways descending into the sports rehabilitation center, HDI's CIRCUM™ railing system with picket infill posts was installed, providing security without sacrificing contemporary aesthetics.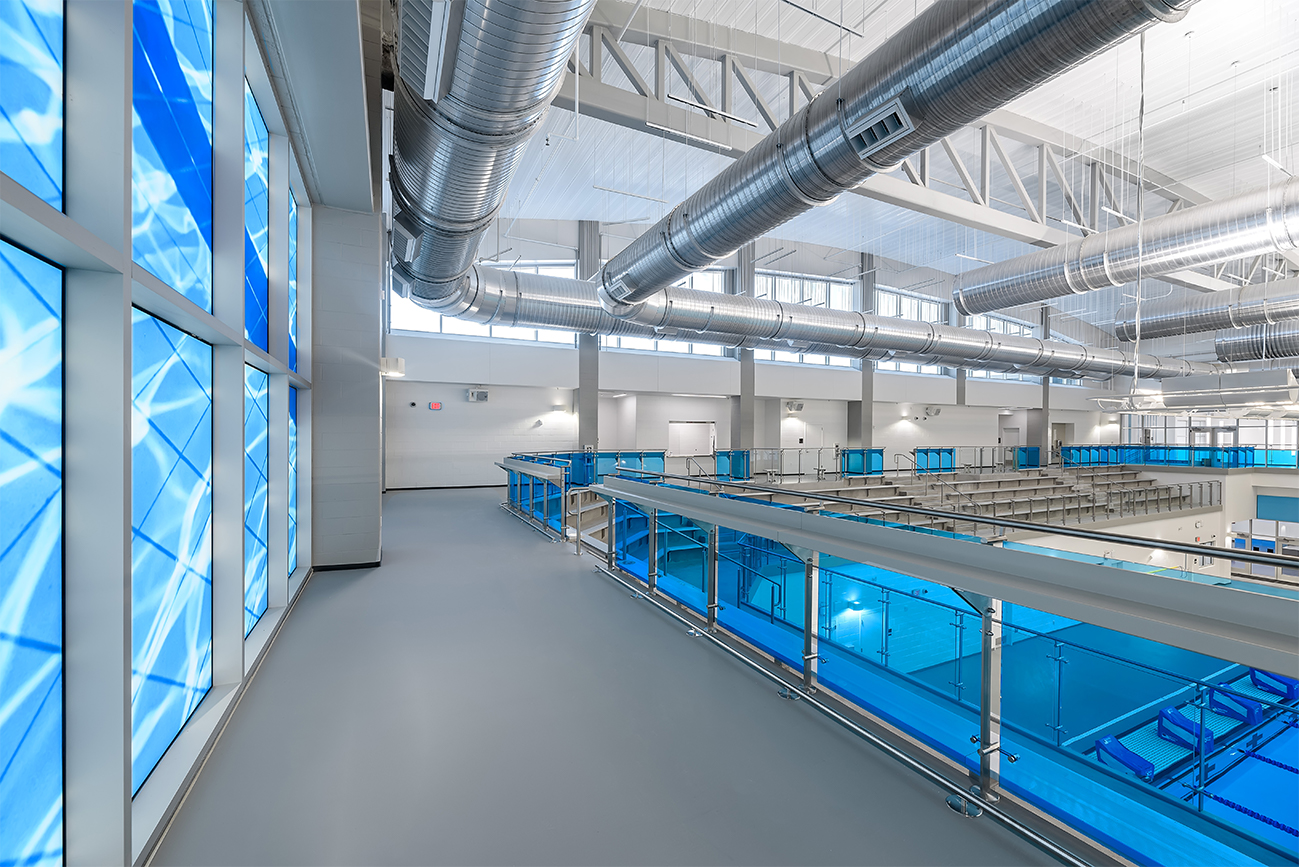 Railing System: Kubit™
Location: Justin, Texas
Architect: Huckabee & Associates Inc
Contractor:  Pogue Construction
Located on the central campus of NISD, the 80,000 square foot complex is positioned on the edge of a seven acre site, where it provides convenient access for students and the community. HDI's Kubit™ railing system with glass infill was the perfect building element to not only provide function, but promote unobtrusive views of the natatorium's central focus, the pools. Custom colored glass was provided by HDI Railings to represent natural flowing water on the balcony railing located above spectator seating.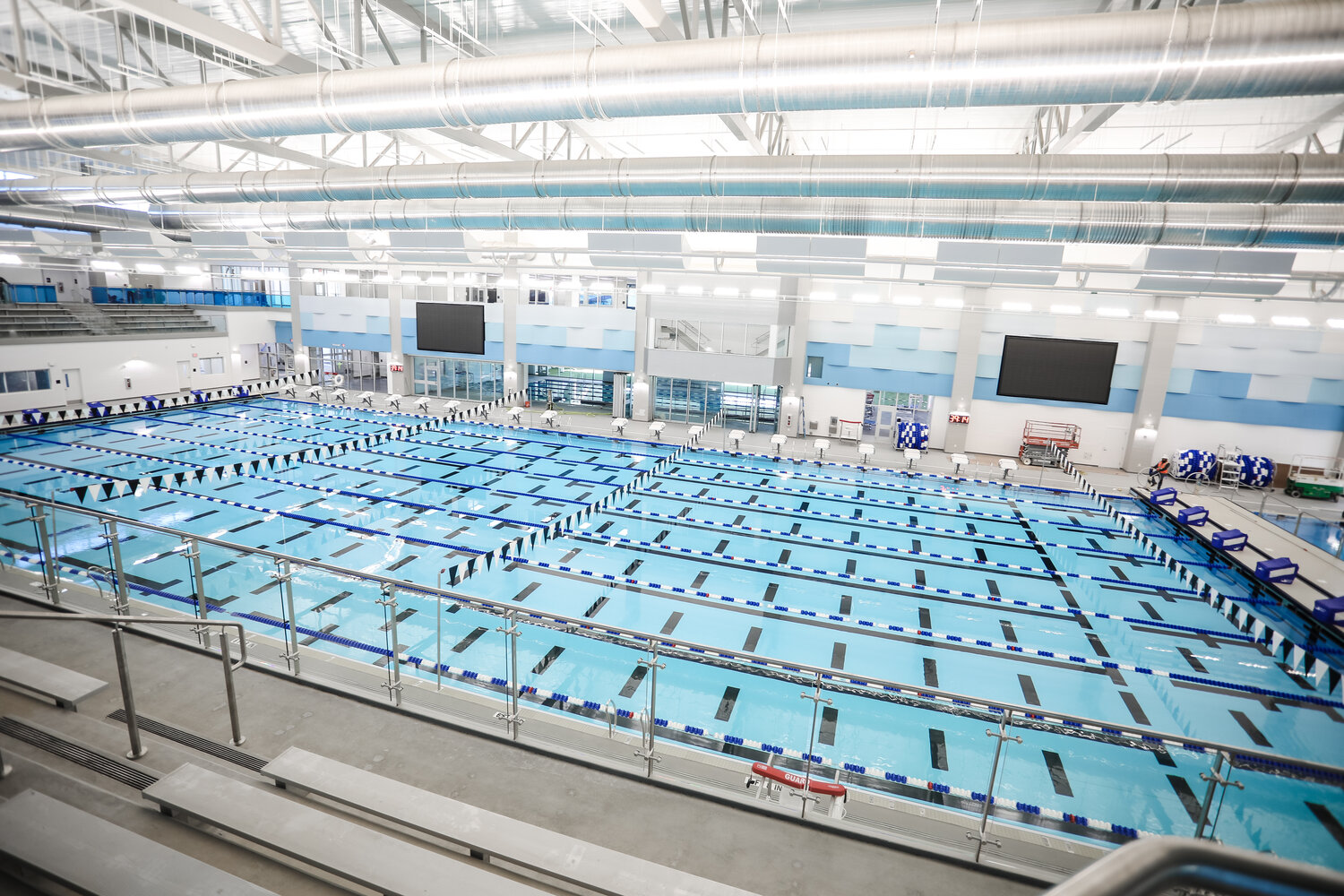 HDI's Kubit™ railing system with glass infill panels has improved the NISD Aquatic Center's energy efficiency, saving the school district money while improving the sustainability of the building. Glass infill panels can contribute to LEED credits since they maximize the use of outside light to reduce energy consumption and lighting requirements. Based on a single rectangular profile used throughout the system, from posts to wall mount supports, HDI's Kubit™ railing system produces a coordinated minimalist design. Mechanical connections are hidden from view to ensure the finished system is as practical and functional as it is elegant.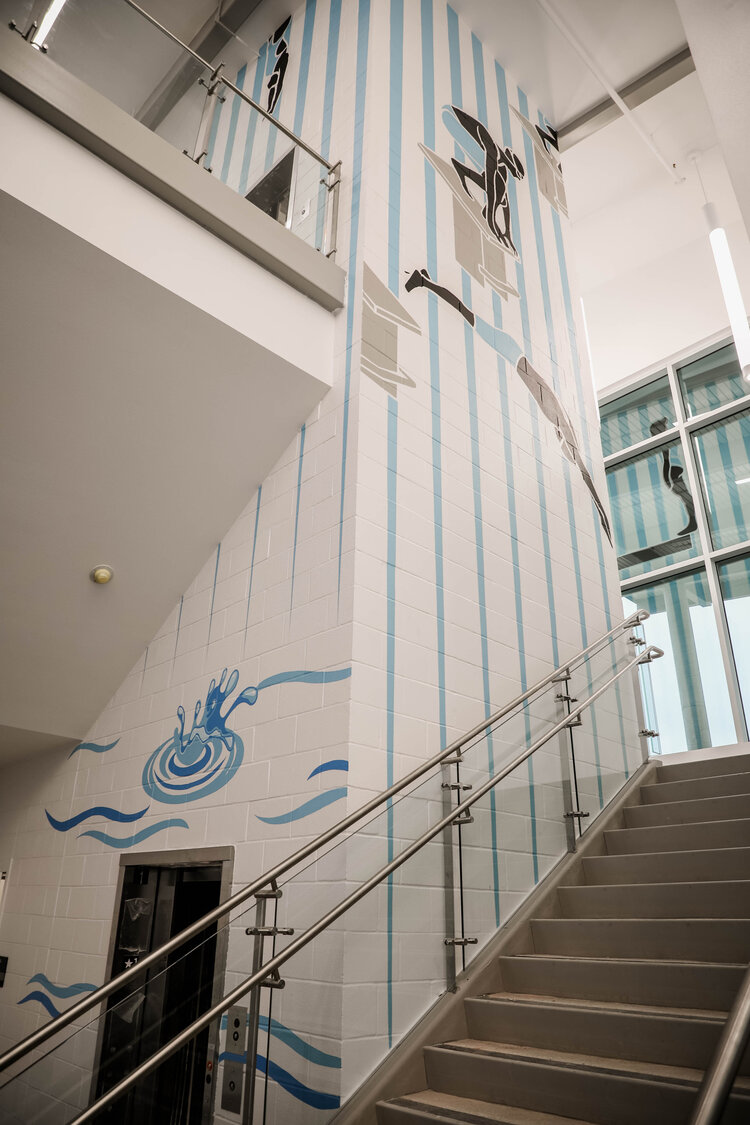 "After 26 years of renting at other sites we now have our own facility; we are extremely fortunate and grateful for those relationships, but it was great to look at our students' faces and see the excitement in their eyes about their new home." said Steve Melbourn, the director of the aquatic center. The one year anniversary of the Aquatic Center's grand opening will be on Jan 6th, but NISD students will be enjoying the center for many years to come.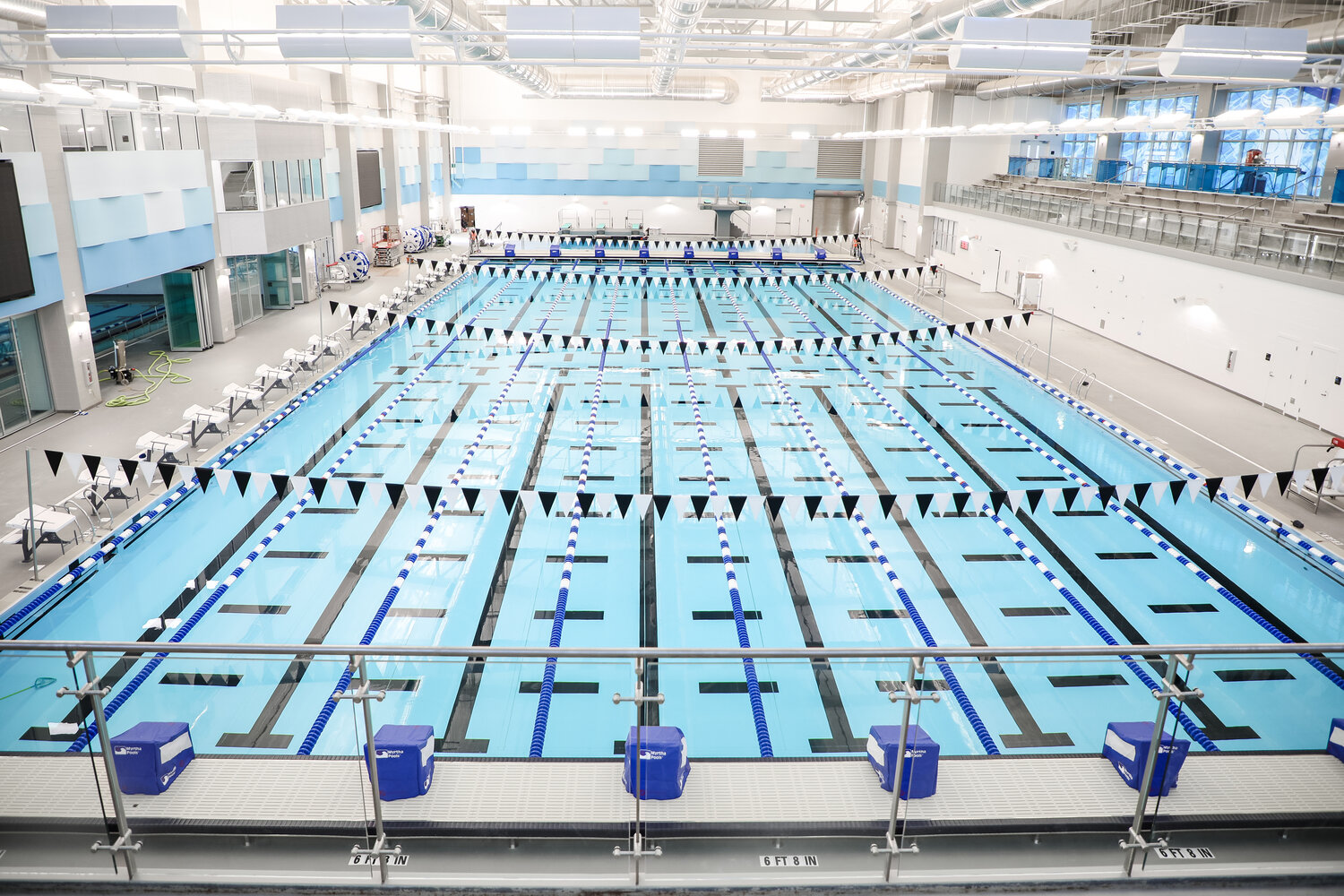 When building professionals need a railing system that can keep up with industry demands they turn to HDI Railings. HDI would welcome the opportunity to partner with you on your next project. Please contact a regional sales manager today.
September 11, 2023 Imagine a space where every design element, right down to the railings, makes a statement. In Dallas, Texas, we at HDI Railings didn't merely aim to meet the architectural standards for the Covenant Commons...
Read more
August 15, 2023 Situated in Chapel Hill, NC, the Carolina Donor Services Facility stands proudly as the home to the pioneering HonorBridge Donor Care Center. Notably, this state-of-the-art center, specializing in organ, eye, and tissue donation, boasts...
Read more