GlaxoSmithKline selects Optik™ Boss for their recent USA expansion
Request a Quote
February 9th, 2022 -
GlaxoSmithKline is a leading global healthcare company manufacturing the latest pharmaceutical products including vaccines and a variety of innovative medicines. Biopharmaceutical manufacturing is a key component of GlaxoSmithKline's business operations and over the last few years they've invested heavily in their U.S manufacturing sites. When it came time for GSK's Upper Merion East campus expansion, they turned to HDI for a contemporary railing system to complement their state-of-the-art facility.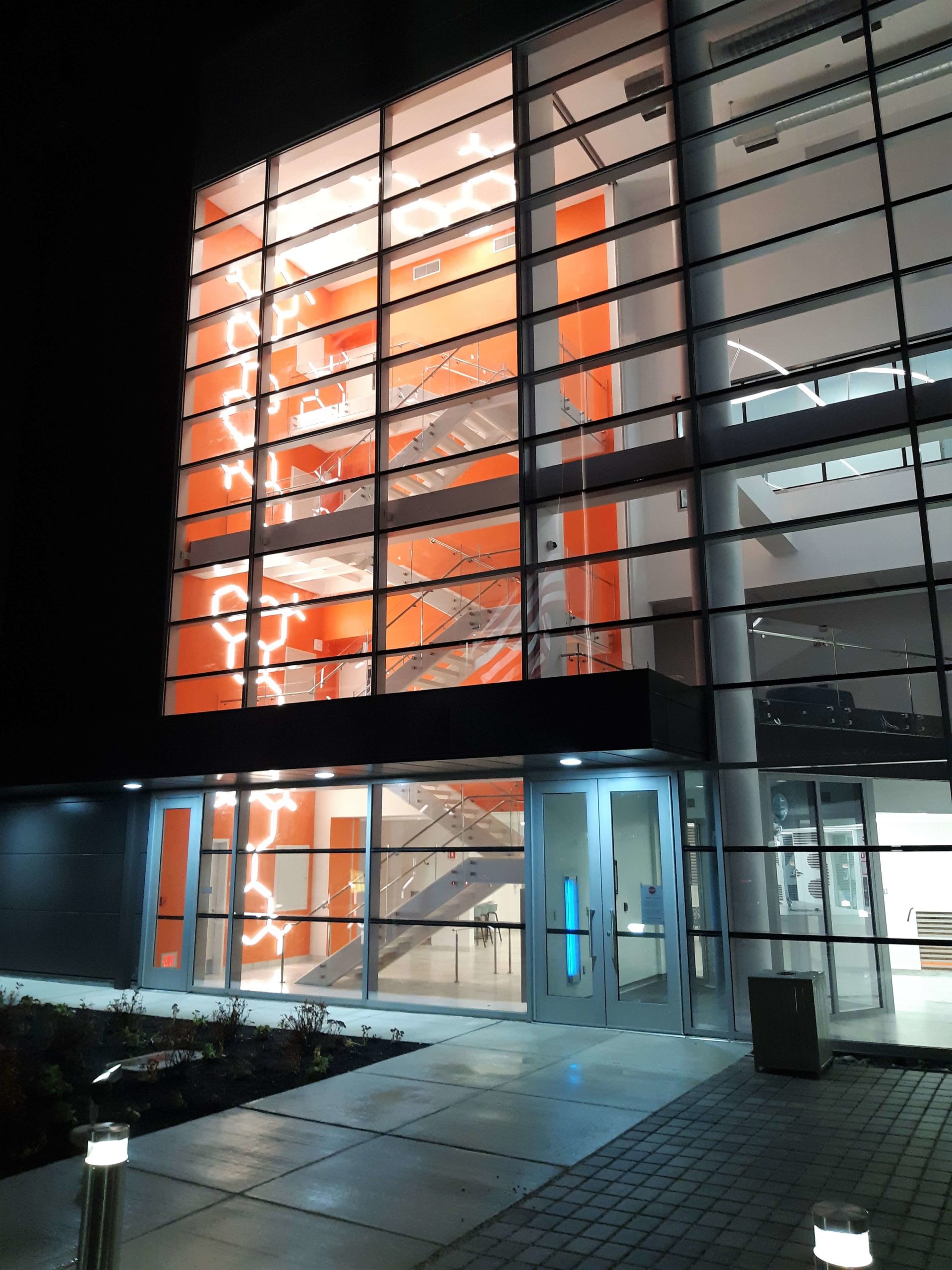 Railing System: Optik™ Boss
Location: Conshohocken, PA
Architect: Jacobs
Contractor:  Central Metals
Within the facility's main staircase, HDI's side mounted Optik™ Boss railing system enhances the aesthetic appeal of the open stair tread design with its floating glass appearance. Optik Boss™ is side-mounted on the upper and lower mezzanine balconies with discreet mounting hardware supporting the system's ultra-minimalist design and functionality. All railings are fully assembled in HDI's factory and deconstructed into the largest assembled sections for practical shipping ensuring the quickest, most time efficient installation.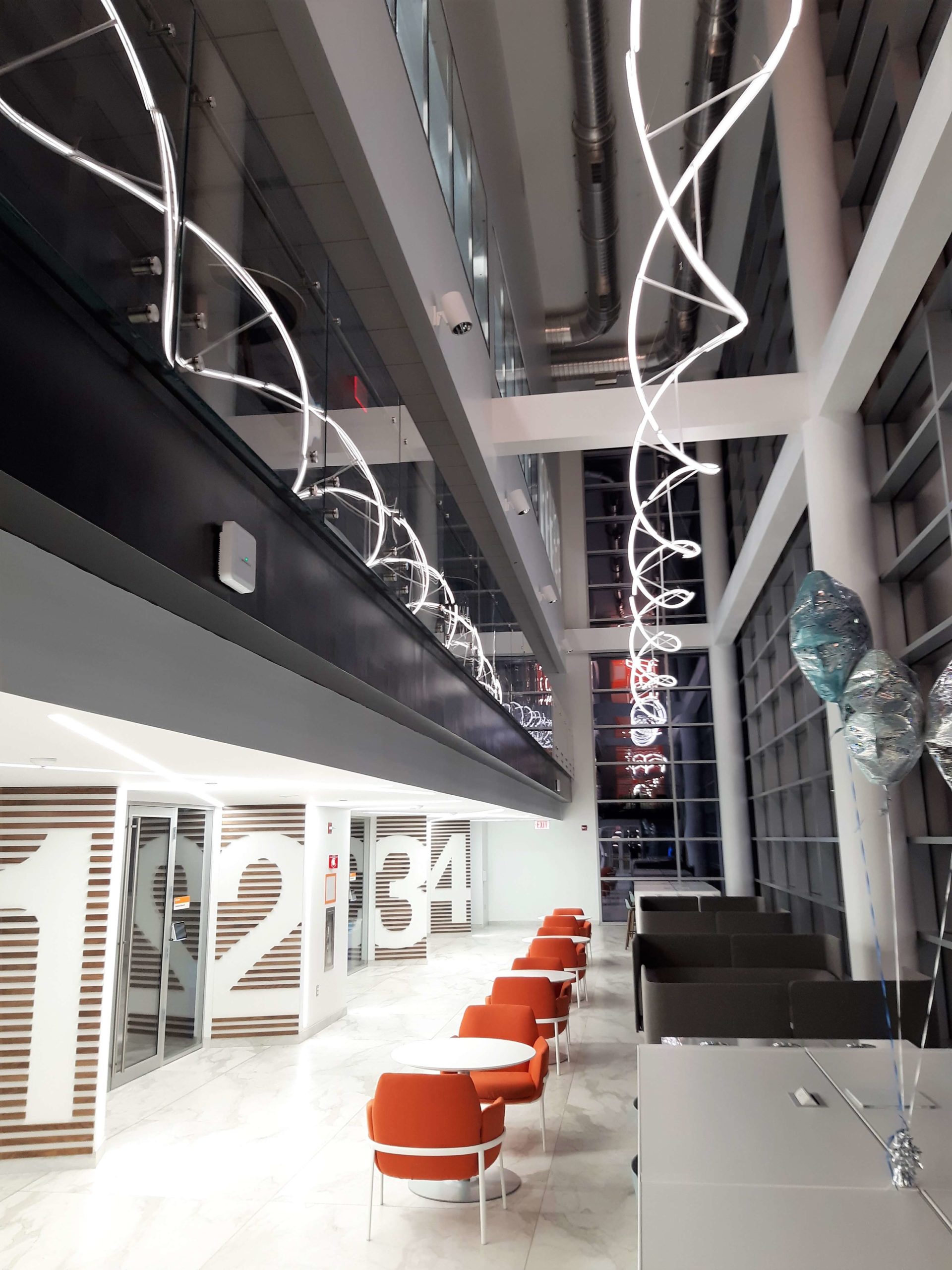 The $120 million expansion of the Upper Merion campus brings GlaxoSmithKline's manufacturing and research & development departments under one roof as part of their $400 million investment in their U.S manufacturing sites. For GSK's manufacturing abilities to remain efficient, the renovation process had to be well organized. Fortunately, HDI's Lancaster County based headquarters are conveniently located just hours from the site. From approval drawings to final  installation, HDI's team completed the job within a matter of months providing an accurate installation of the railing system in accordance with GSK's design.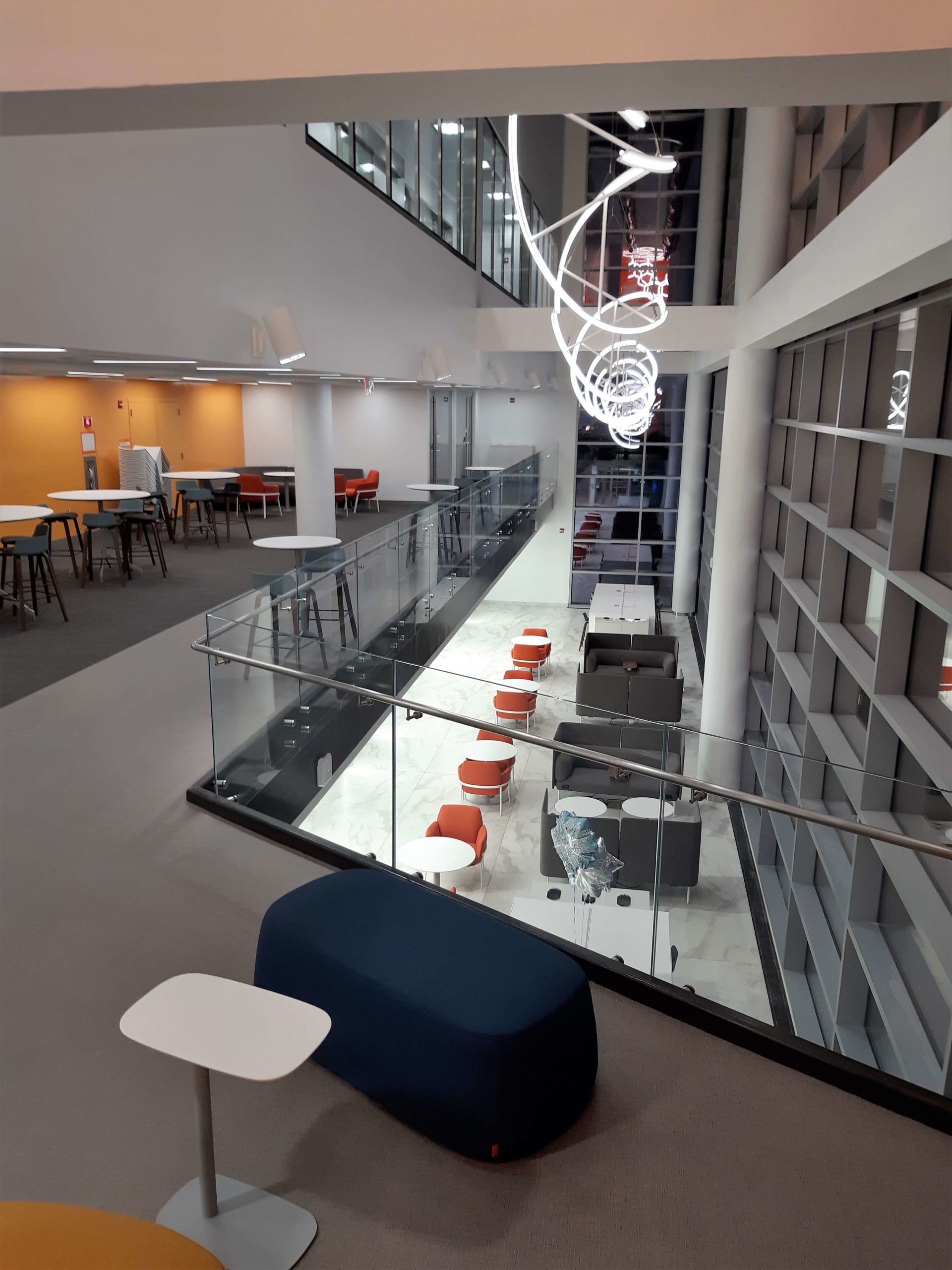 Ensuring that your railing system is installed properly is one of the most important services offered by HDI Railing Systems. HDI's installation teams are experienced in working alongside other construction teams. In the case of the GlaxoSmithKline installation HDI conducted multiple site visits to ensure a streamline installation of the Optik Boss™ and Optik Shoe™ railing systems, working alongside an excellent crew of installers employed by the contractor, Central Metals. While HDI's railing systems are simple to install, the experience of an on-site, HDI-trained supervisor can make the project run even more efficiently and help avoid hidden costs, rework and project delays.
The Upper Merion Campus renovation is part of GlaxoSmithKline's broader vision to build flexible facilities utilizing emerging technologies. "These investments will support and accelerate the transformation of our pipeline to deliver the next generation of medicines and vaccines for patients who need them. This also underscores GSK's longstanding commitment to making innovative medicines and vaccines here in the US," GSK Chief Executive Officer Emma Walmsley said in a statement.
When building professionals need a railing system that can keep up with industry demands they turn to HDI Railings. HDI would welcome the opportunity to partner with you on your next project. Please contact a regional sales manager today.
August 24, 2022 One of the nation's fastest-growing cities, Austin, Texas, is home to Aspen Lake Three, a 129,900-square-foot Class A mid-rise office building. Aspen Lake Three is surrounded by smartly landscaped plazas, tranquil lakes, and breathtaking...
Read more
July 13, 2022 Members 1st Federal Credit Union began construction on their brand new headquarters in Hampden Township, Pennsylvania, in August of 2020 and finished the project in early 2022. The  building's architects selected HDI Railing's Optik™...
Read more