Coast Transit Authority selects Kubit™ railing system for the feature staircase at their new operations hub in Gulfport MS.
Request a Quote
July 12th, 2021 -
The building that was formerly Harrison County Library in downtown Gulfport, Mississippi gained a new lease on life at the start of 2021. After narrowly surviving the damage from Hurricane Katrina in 2005 the building fell into disrepair until reconstruction began in 2018. With the goal of supporting the Gulfport economy and community the former Harrison County Library has been rebuilt into a Coast Transit Authority transit center and hub of operations in Gulfport.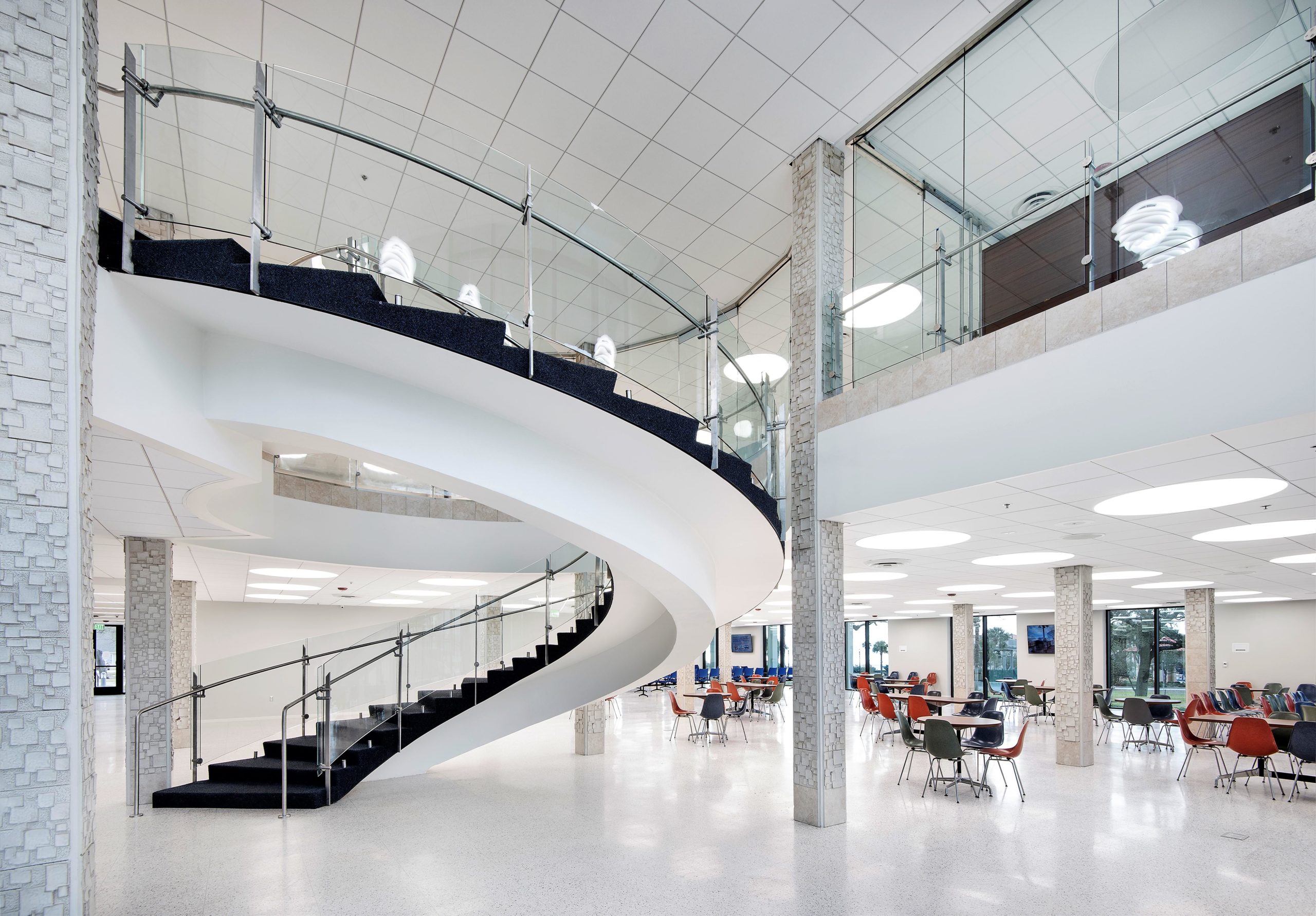 Railing System: Kubit™ Railing system
Location: Gulfport, Mississippi
Architect: Eley Guild Hardy Architects
Contractor:  Roy Anderson Corp.
Eley Guild Hardy Architects and RAC Contractors were tasked with the rebuild project and sought to restore the historically notable portions of the building, one of which being the impressive spiral staircase. Eley Guild Hardy Architects consulted with HDI Railings to specify and install a railing system that would support their design intentions.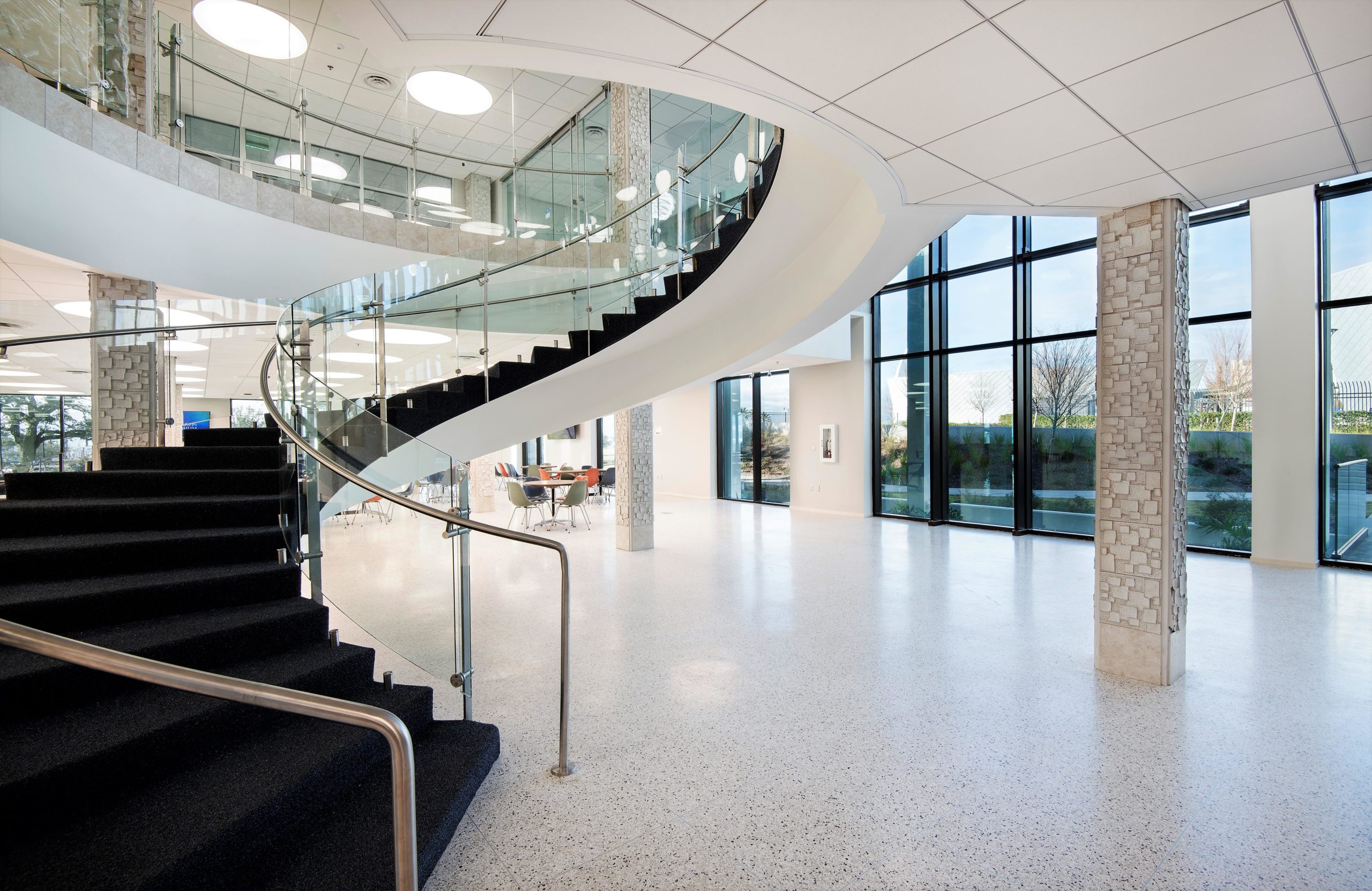 The Kubit™ railing system with low-iron glass was selected for the building's spiral staircase and second level balconies. Due to the complexity of the curved glass infill, HDI and New Zealand based company GlassShape laser-scanned the installation to ensure accurate measurements. HDI glass is created with processes that take approximately half the amount of energy than glass produced from raw materials. HDI creates products and adopts processes that, as part of an environmentally sustainable construction plan, can earn your project LEED credits.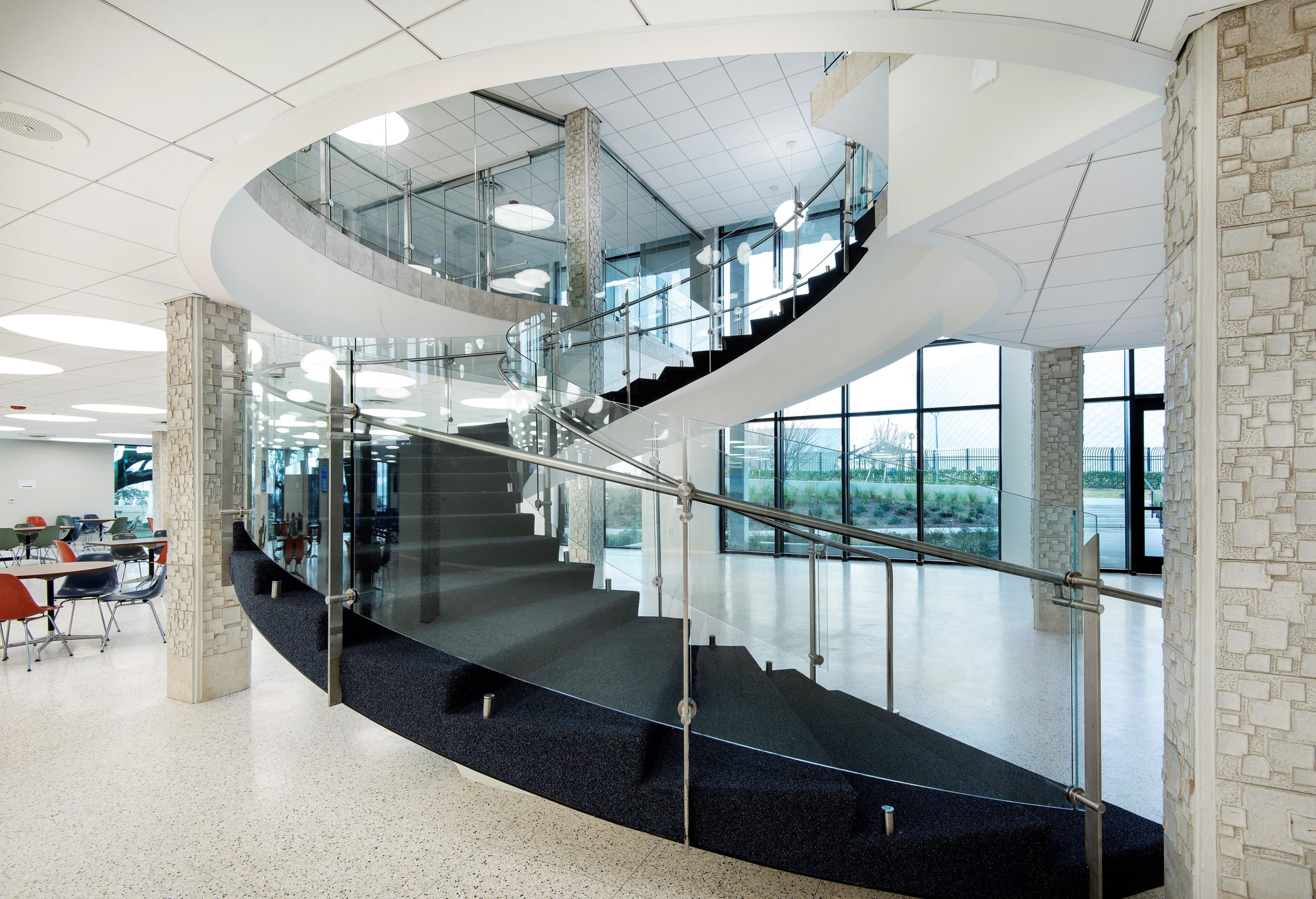 The trademark rectangular Kubit™ supports that can be seen on the spiral staircase are based on a single rectangular profile used throughout the system from posts to wall mount supports, ensuring a coordinated minimalist design. Mechanical connections hidden from view ensure a design that is as practical and functional as it is elegant. All railings are fully assembled in our factory and deconstructed into the largest assembled sections for practical shipping thereby ensuring the quickest, most time-efficient installation.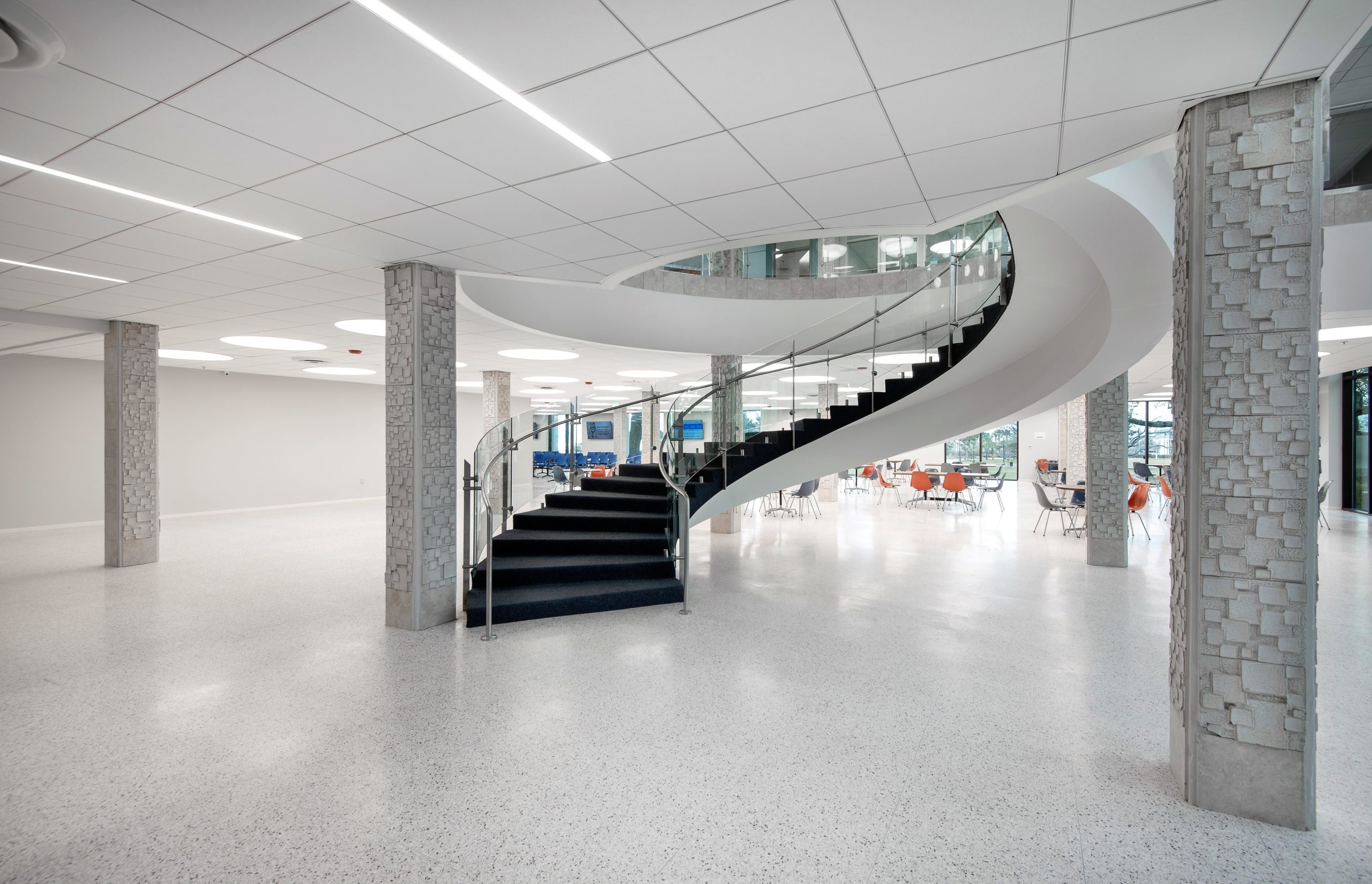 Transforming the building's previous layout into a more open transit center required RAC Contractors to remove the majority of the existing interior walls. HDI's elegant Kubit™ railing system with glass infill allows natural light to flow from floor to floor making the transit center feel bright and spacious. Crafted from the highest quality stainless steel, Kubit™ provides a truly minimalist design, providing the ultimate in sculpted simplicity while maintaining exceptional structural integrity.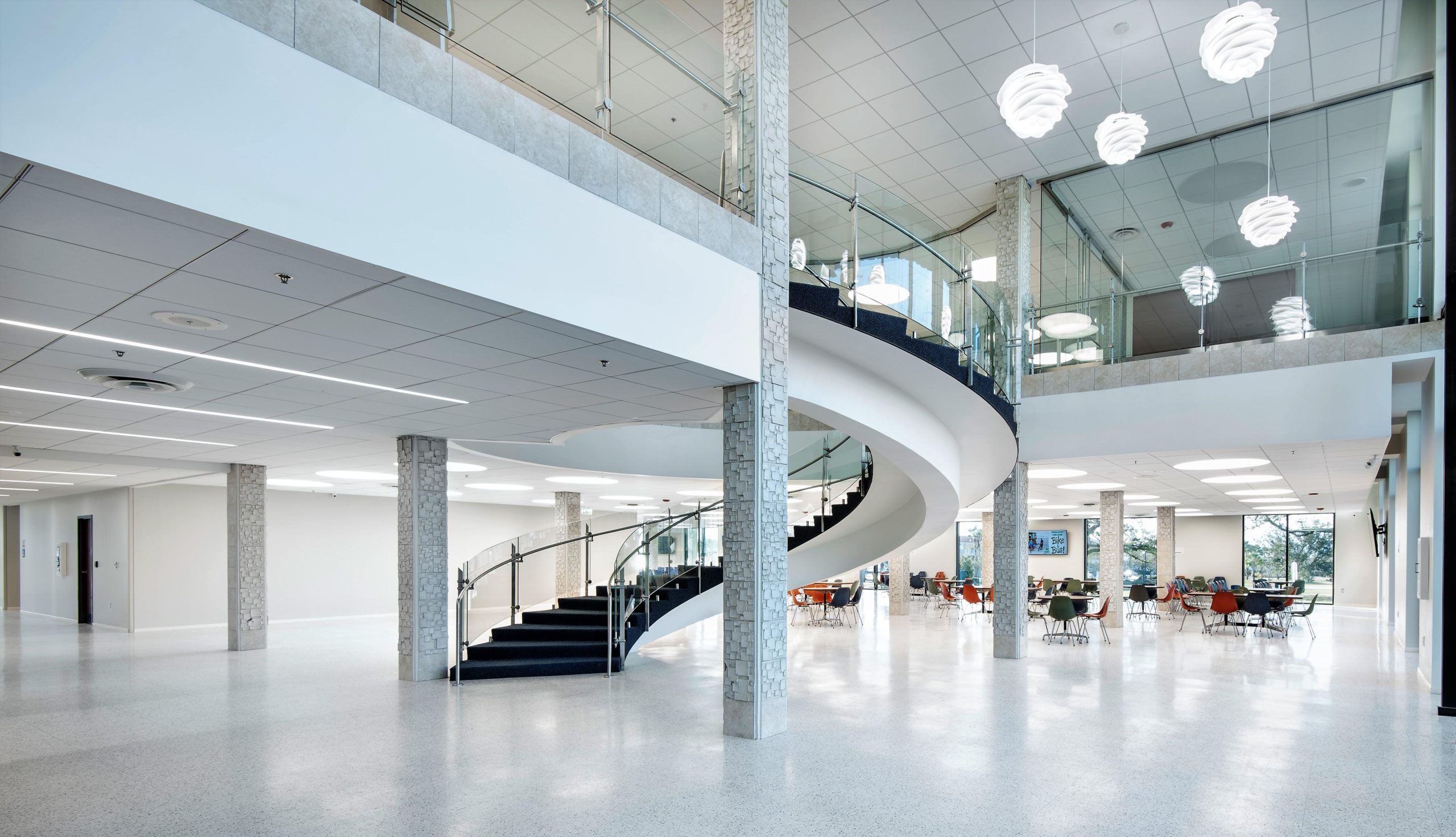 When building professionals need a railing system that can keep up with industry demands they turn to HDI Railings. HDI would welcome the opportunity to partner with you on your next project.
August 24, 2022 One of the nation's fastest-growing cities, Austin, Texas, is home to Aspen Lake Three, a 129,900-square-foot Class A mid-rise office building. Aspen Lake Three is surrounded by smartly landscaped plazas, tranquil lakes, and breathtaking...
Read more
July 13, 2022 Members 1st Federal Credit Union began construction on their brand new headquarters in Hampden Township, Pennsylvania, in August of 2020 and finished the project in early 2022. The  building's architects selected HDI Railing's Optik™...
Read more