Outside Impression: Factors to Consider for Outdoor Railing Systems
Published 07/18/18
Last Edited 05/07/19
First impressions count. That's why the outward appearance of your building is just as important as its interior design.
Outdoor railing systems can amplify the look of any facade or outdoor passageway. Paired with dramatic lighting and creative infill materials, they can make an even bigger impact. But outdoor installations come with a unique set of requirements, especially when it comes to durability and compliance. Before you choose a system, consider the following factors for outdoor railings:
What environment will the railing system be placed in?
What level of traffic will the railing be exposed to?
What level of maintenance is expected?
What is the project budget?
A dedicated railing system representative can help you navigate costs, design considerations, compliance, renderings, and on-site installation to ensure the build process goes as smoothly as possible.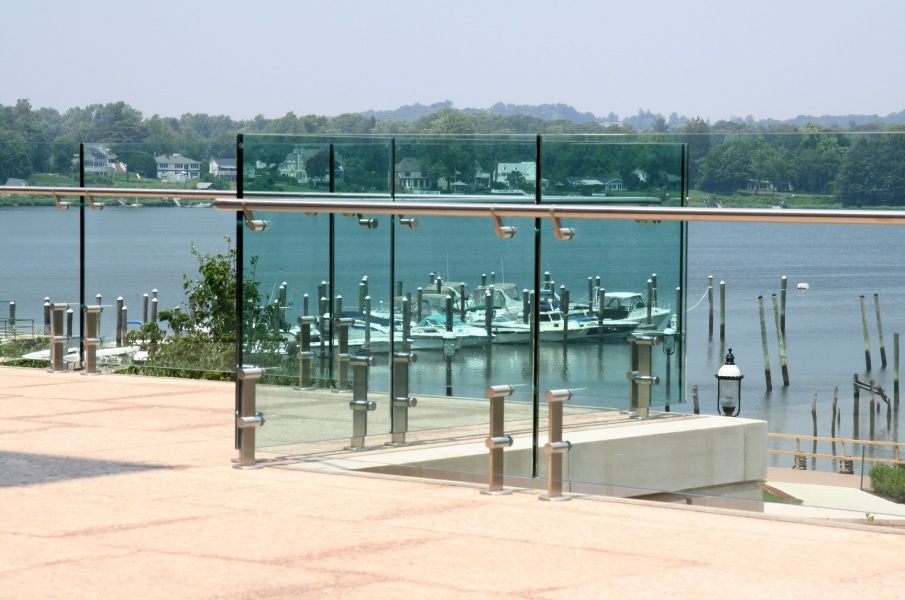 Outdoor Railing Materials
Steel is often the material of choice for outdoor railing systems as it exhibits superior strength and toughness. When it comes to choosing railing materials for outdoor installations, steel offers obvious advantages over other popular choices like aluminum. Aluminum is prone to surface scratches and dents, making it difficult to clean and maintain. Additionally, aluminum railings require more supports than steel, creating design and engineering limitations.
For outdoor applications, 316-grade stainless is almost always the best choice — especially in environments where extreme temperatures, precipitation, or saltwater are present. The slightly higher price point of 316 steel far outweighs less durable alternatives. While popular variants like 304 are economical and practical, they do not have the chloride resistance of 316, derived from the 2-3% levels of molybdenum. This leaves railing systems vulnerable to rust, discoloration, and other issues associated with saline environments such as beaches.
Wood, in general, is not advised for outdoor installations. The nature of wood to expand and contract in varying temperatures can make it prone to loosening over time. If wood is a must-have, consider a wood handrail such as Ipe or Teak that can be mounted to railing posts or infill with stainless steel. This provides an organic design that looks striking alongside metal or glass, as shown in this University of California installation with wood handrail.
Outdoor Railing Infill
Like the railing posts themselves, railing infill must meet demanding durability criteria. Infills such as perforated steel, steel rods, steel pickets, and steel cable mesh should follow suit with railing post material and always be 316 grade steel.
Luckily, today's technology allow for a range of infill materials other than steel. As long as it follows ICC requirements, glass is an excellent option for outdoor installations as it does not obstruct views of and from a deck or balcony. It is important to choose a supplier that uses laminated tempered glass, as 2015 IBC requirements require that laminated glass be used on most projects — especially if there is a walking surface below the guardrail. This makes it all the more important to work with an experienced railing engineer to avoid costly install compliance errors.
Don't rule out custom infill solutions to meet your railing vision. HDI can create custom infill materials to meet design and durability requirements. In the case of these upscale Asbury Park condos, HDI created a custom woven cable net infill using 316-grade steel. The end result is an infill that meets the project aesthetic design criteria with low maintenance and high strength and durability.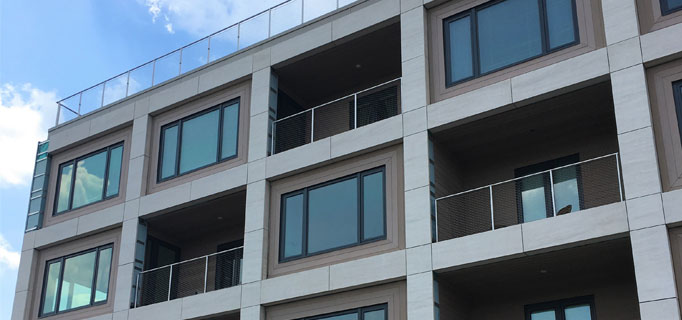 Railing Mounts and Attachments
Space on balconies is limited. In terms of aesthetic appeal, fascia mounting can save inches of limited square footage. Look to companies that offer versatile mounting options — core mounting, side mounting, surface mounting, weld mounting, wall mounting, and even embedded mounting — so you don't have to sacrifice your design vision for compliance. Stainless steel mounts are imperative to ensure resilience.
Secure mounts are especially important for tall buildings or rooftop decks exposed to higher wind loads, sunlight, rain, and other elements. Railing posts are a vulnerable spot for water leakage on decks. It's important to consider the deck or porch surface being used and the way in which railings will adhere to that surface. Luckily, a professional railing company with in-house architects and engineers will consider these factors in advance to deliver a secure, compliant solution.
LED Systems
Lighting can heighten the drama of any outdoor installation. It also serves as a safety feature, illuminating paths and barriers for users. A white lighting system provides that dual function on this recent modern LA college campus expansion.
All HDI LED systems can be customized using dimmers, color mixers, environmental needs, special beam angles, IES assistance, LED temperature control, sequencing, interfaces with Intelligent Control Systems, and analog/digital controls, and many other enhancements. HDI will provide assistance for wire sizing, conduit runs and NEMA box selection.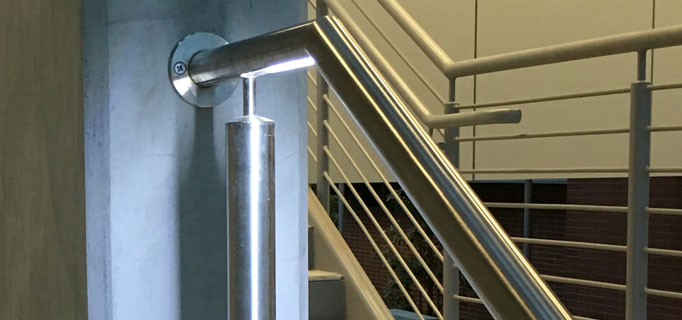 Building Code Compliance
Outdoor installations often lend themselves to high volume traffic. High traffic environments should always consider regulations outlined by authorities such as ADA, IBC, and IRC. That's why it's so important to work with a handrail supplier that is cognizant of local and international building standards.
It's important to note that ADA compliance handrails are recommended for the following commercial spaces:
Stairs
Ramps
Porches
Decks
Balconies
Walkways
Cost Considerations
Choosing a less-expensive material or finish may save money initially, but it can prove costly long after the installation is complete. Look beyond installation costs and consider future maintenance, cleaning, painting, and upkeep costs when choosing which system is best for your outdoor application.  You may find that upgrading to a better material results in a lower overall cost of ownership.
Ready, Set, Design
With thousands of custom railing systems in use around the world, HDI's sales and technical staff are ready to help you determine the best material and finish for your custom outdoor railing system.
Contact HDI for a free consultation.