University of Florida at Springhill, FL
October 17th, 2018 -
A recent HDI installation puts the spotlight on safe passage at University of Florida's Springhill Health campus. Located in northwest Gainesville, the four-story new multispecialty medical facility spans 72,000 square feet and houses multiple practices and services to better care for area families.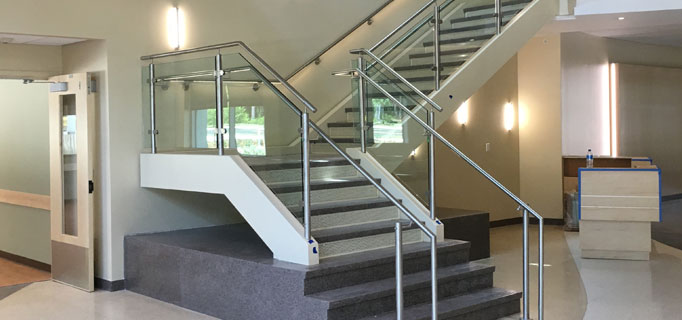 Application:
Stair railing system for indoor and outdoor use
Solution:
University of Florida Health— the Southeast's most comprehensive academic health center — encompasses the University of Florida Health Science Center and the UF Health Shands and UF Health Jacksonville family of hospitals and services.
UF Health turned to HDI for a railing system that could withstand high foot traffic from medical staff, students, patients, visitors, and others who step foot through the facility. Additional exterior railings provide extra safety. The CIRCUM™ Round Post system with glass infill and LED railing was selected to support the building's modern interior. The CIRCUM round post system with picket infill was selected for the set of outdoor walkway railings.
Glass infill panels and the LED lighting components were specially designed by HDI to achieve the architect's vision and custom built to fit the structure.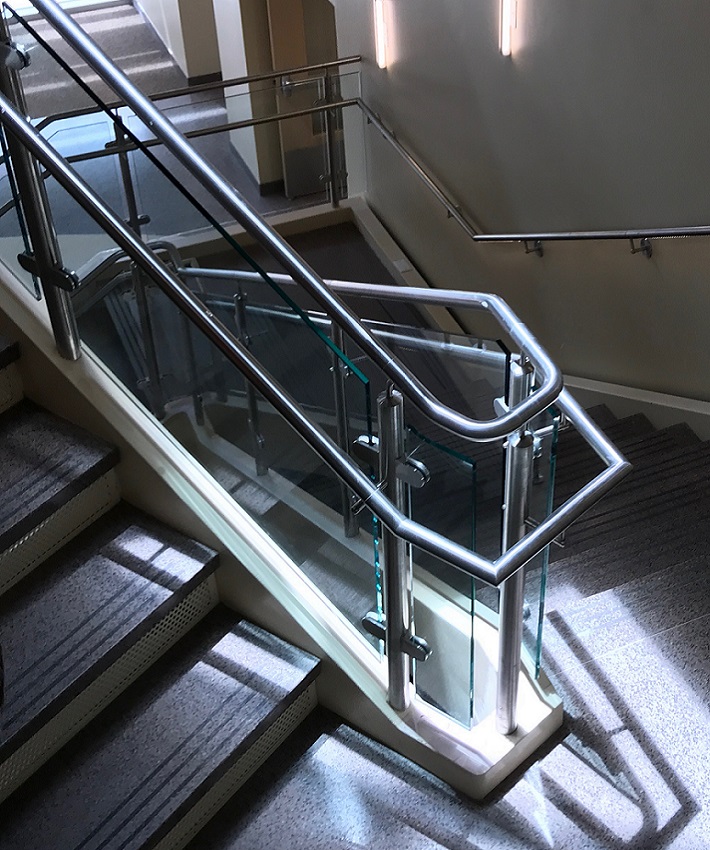 CIRCUM Round Post is constructed with mechanical threaded connections to ensure an exact and secure fitting while minimizing the need for on-site welding. Post-mounted LED lighting provides extra wayfinding ease while serving as a striking, illuminating addition to the building's modern look. As a bonus, the lifespan of LED systems makes them a significantly more cost-efficient, sustainable choice than incandescent lighting options.
High-quality 304 stainless steel was selected for the indoor installation; 316 steel was selected for the outdoor portion to withstand Florida's corrosive climate. The guardrails consist of 2″ round posts and 1-1/2″ diameter top rail.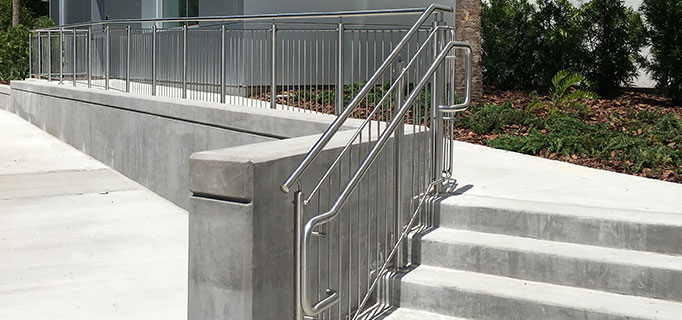 The success of UF Health's building expansion highlights HDI's full spectrum of offerings to ensure that projects are completed on time without sacrificing artistic vision. These services include Sales and Support, Design, Installation, LEED & Compliance, Field Measuring, and Project Coordination.
"The end result is a great-looking rail system that is both functional and aesthetically pleasing. Everyone from the contractors to the architect and owners are very happy with the function and look of the system," said Derek Stambaugh, HDI Senior Project Manager.
May 14, 2020 Pittsburgh Theological Seminary is a graduate theological school of the Presbyterian Church, located on a captivating 13-acre campus in the East Liberty/ Highland Park area, just east of the city of Pittsburgh. When the seminary...
Read more
April 2, 2020 After three years in the making, Vanderbilt Divinity School recently unveiled an environmentally friendly addition to their campus. Built to serve as a welcoming gathering place for the community, HDI railings played an integral...
Read more