Rutgers School of Engineering Selects inox™ Guardrails by HDI
Request a Quote
July 24th, 2019 -
Rutgers University, an institution that has been providing world class instruction in engineering since 1864, recently completed construction on their newest facility, the Richard Weeks Hall of Engineering. The recent addition to Rutger's School of Engineering is designed to anchor the School of Engineering on the Busch campus and serve as a gateway for the engineering community, industry partners and the public. When Rutger's University looked for a railing system that would foster Richard Weeks Hall of Engineering LEED certification, HDI Railings was a clear choice.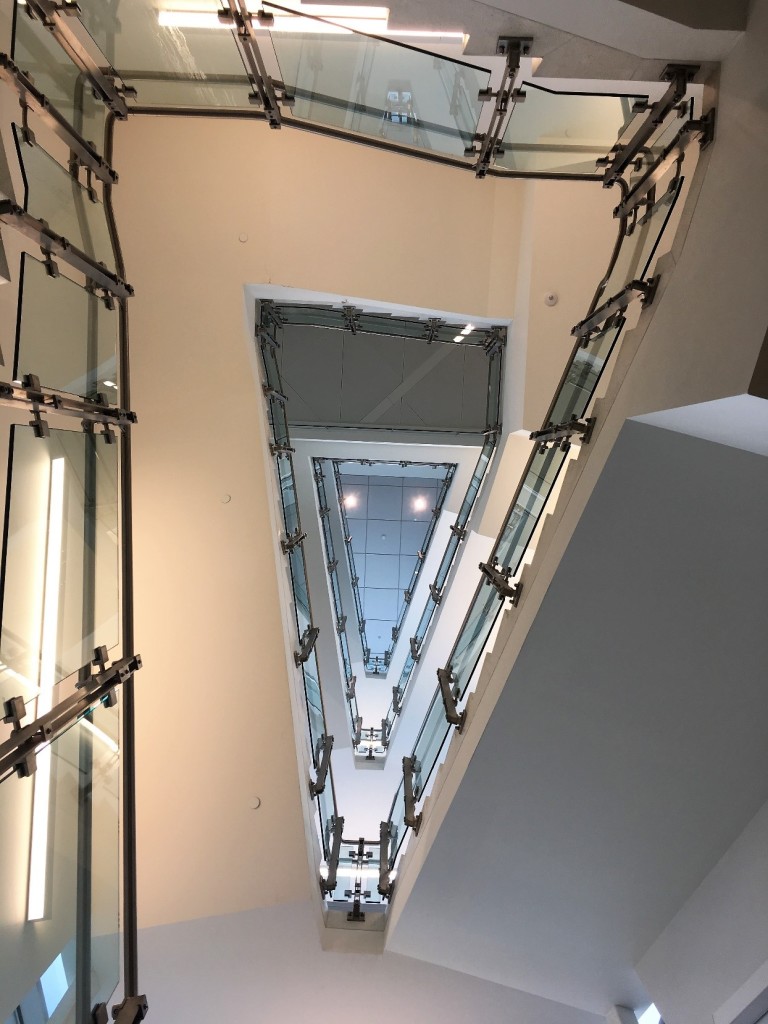 Completed in the fall of 2018, Rutger's new Hall of Engineering boasts a footprint of approximately 104,000 square feet and it's cost of construction was $23.8 million. Weeks Hall of Engineering is a LEED certified facility that provides students and faculty with the thoughtfully designed and flexible space they need for instruction, research and collaboration, inspiring their dreams for the future. Weeks Hall features collaborative workspaces, smart classrooms, living laboratories, technology integration and dedicated student space. It serves as home to over 4,500 Rutgers graduate students that take engineering courses each semester.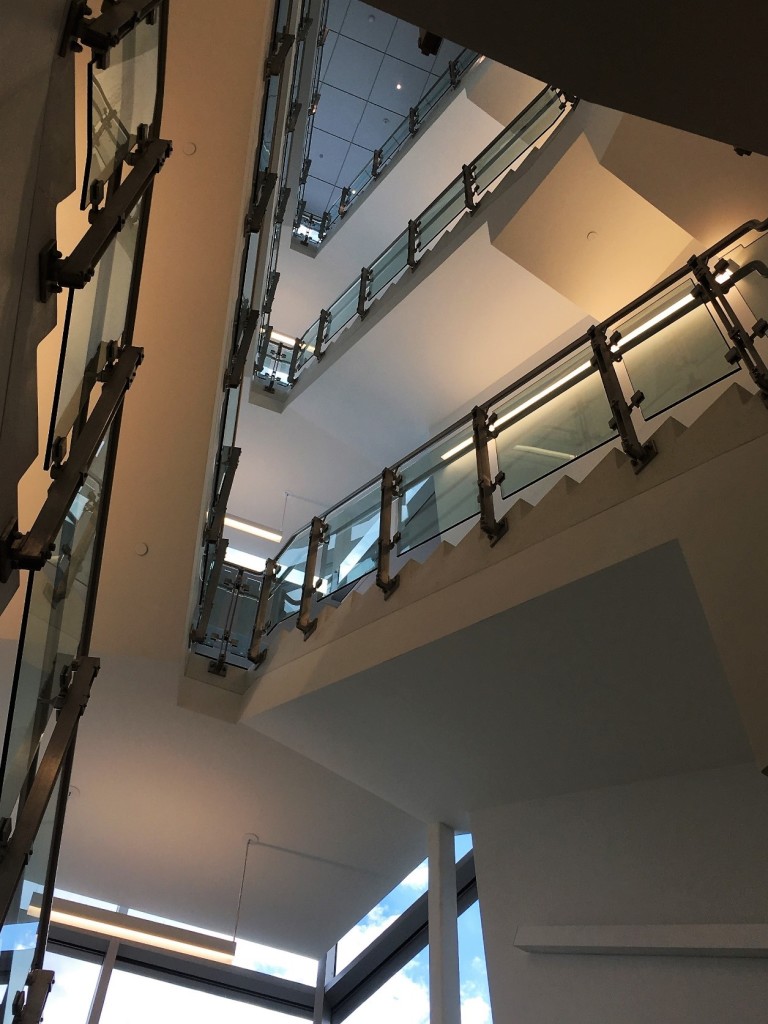 Rutger's turned to HDI for a railing system that would provide holding power for their students, faculty, and visitors. The inox railing system with glass infill panels was selected for the stairwell that ascends multiple floors in the facility. The exterior glass framed walls surrounding the stairwell provide natural light to the facilities interior and HDI's glass infill panels allow for that light to flood the staircases.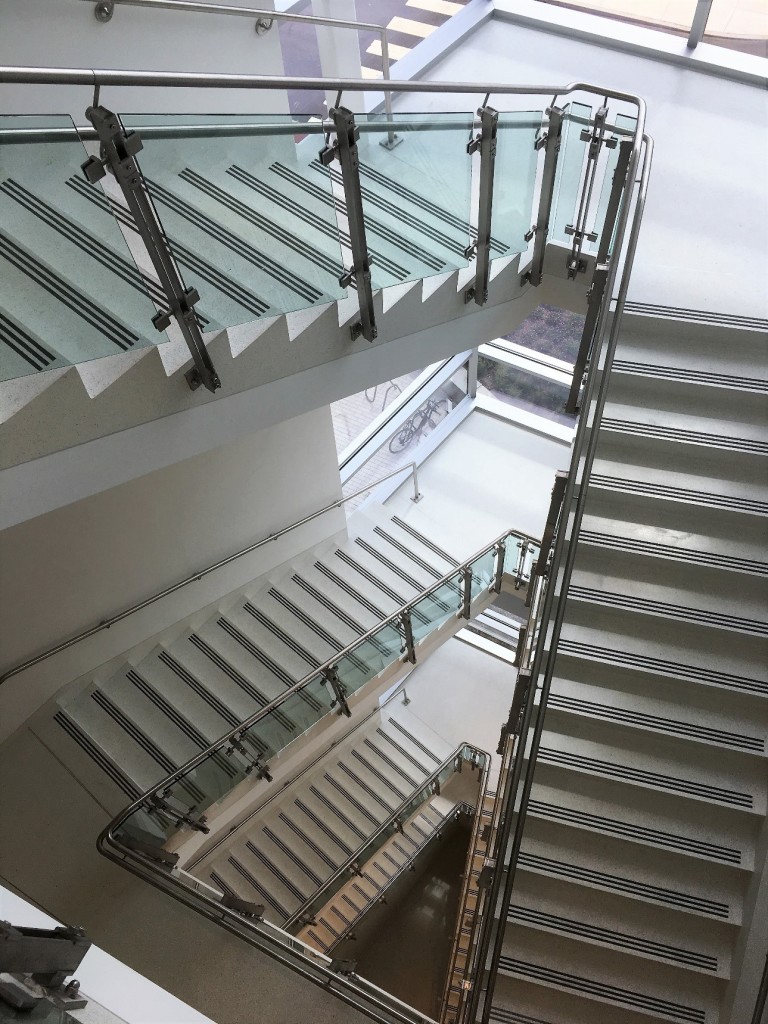 The inox railing system is constructed with mechanical threaded connections to ensure an exact, precise and secure fitting. The guardrails consist of 1-½" diameter top rail with 1⁄2" solid straight supports in either 304 or 316 stainless steel with a 240 grain finish. All railings are fully assembled in our factory in Pennsylvania and then deconstructed to ensure the most efficient installation. A variety of infill materials are available in addition to glass, including resin, perforated stainless steel or woven stainless steel panels, pickets, rods and other suitable materials of your choice. The glass infill panels chosen for Week's Hall allow unobstructed light to flow through the facilities lobby area thereby creating an open, spacious environment. The durability of the stairwell materials helped the facility earn LEED Gold design status.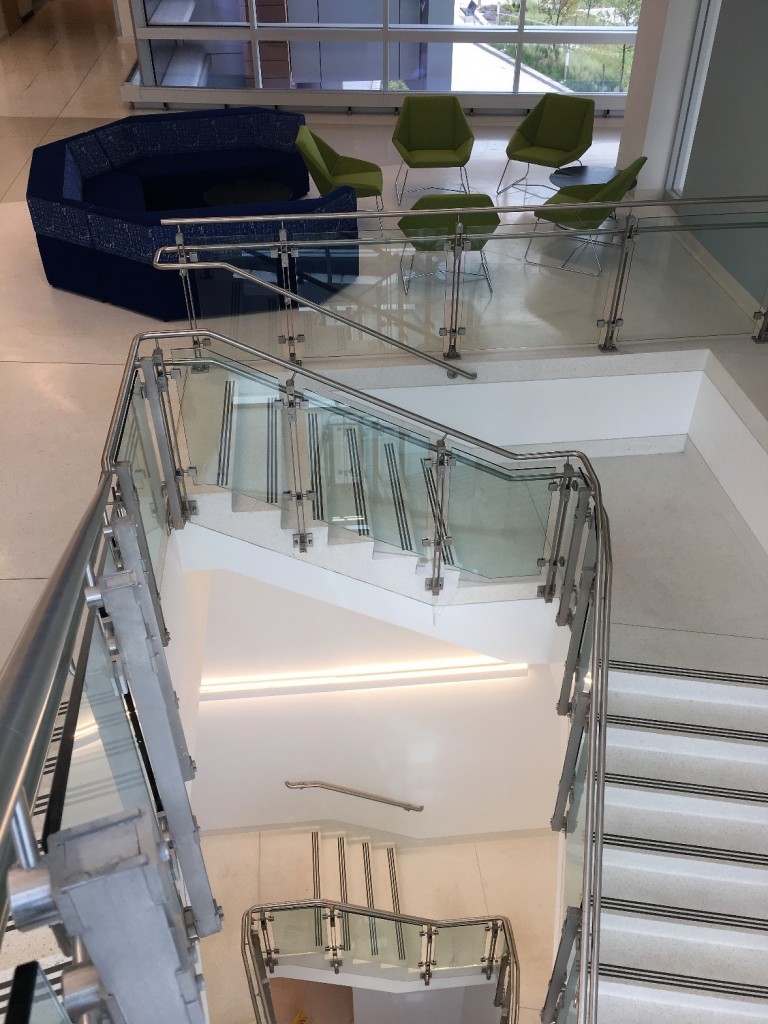 Additional smoke baffles are installed above the entryway to certain floors directly connected with the stairwell. HDI's Smoke Baffle provides a virtually invisible overhead glass curtain designed to restrict airflow and smoke movement along ceilings. This feature limits smoke propagation in the event of a fire in conjunction with HVAC, smoke control and sprinkler isolation.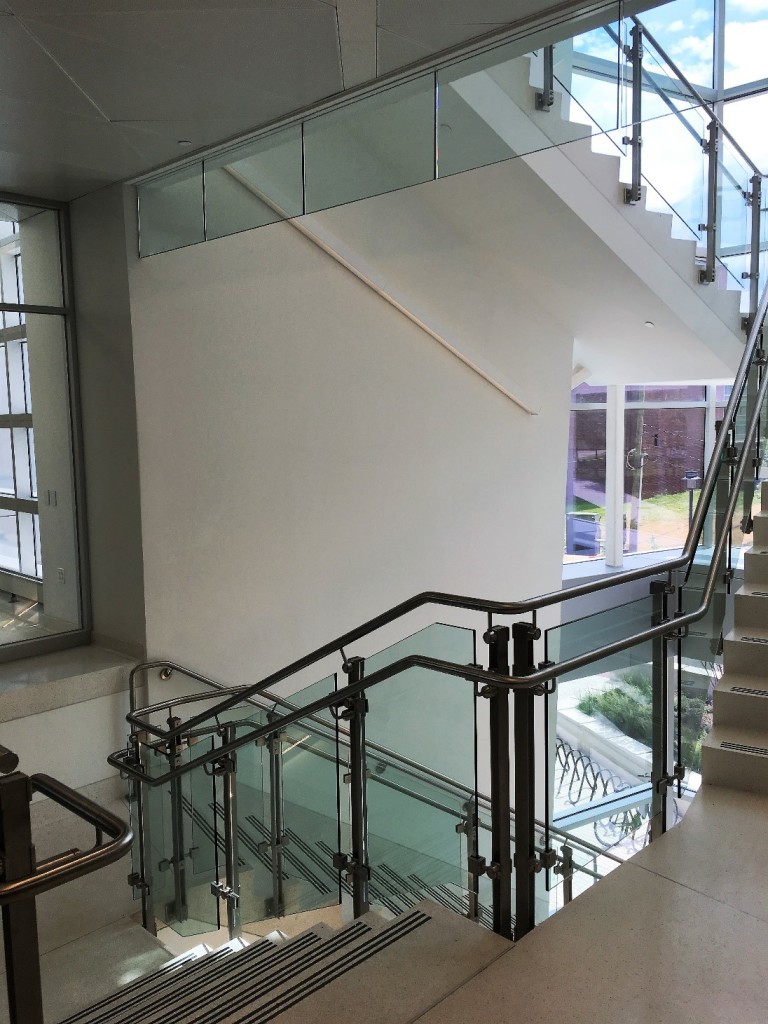 The Richard Weeks Hall of Engineering is already fostering discovery for over 4,500 students with an array of laboratories for sustainable resources, advanced manufacturing, and many more engineering specialties. With over $60 million in annual research expenditures, learning is already well underway at the Weeks Hall of Engineering. Rutger's University will add three additional facilities by the end of 2019 and HDI is currently designing railing systems for the 125,000 square foot RWJ Barnabas Health Athletic Performance Center set to open during the summer of 2019.
When building professionals need a commercial railing system that can keep up with industry demands, they turn to HDI. Please contact a regional sales manager to discuss your next commercial or residential project.
June 8, 2021 The Manchester College – Wythenshawe campus (LTE) was looking for a solution to create a safe and secure barrier/guard in a classroom in teaching Block A without sacrificing the view. Railing System: Kubit™ Railing system...
Read more
May 12, 2021 Rooftop lounging is part of the lifestyle in New York City where cityscape views are unparalleled. The 21-story art deco building at 16 East 34th Street is situated in the center of  Manhattan's retail district...
Read more