EUA Architects selected KOTO™ cable railing for Loading Dock Equiptment Manufacturer
Request a Quote
March 29th, 2023 -
In Milwaukee, Wisconsin,  a renowned purveyor of loading dock technology, industrial entrances, and safety solutions, conceived a groundbreaking headquarters. Their vision: a space embodying hospitality and unforgettable customer experiences. EUA Architects and C. D. Smith Construction's craftsmanship demanded a railing system that was elegant, modern, and functional – mirroring the manufacturer's unwavering dedication to quality and innovation.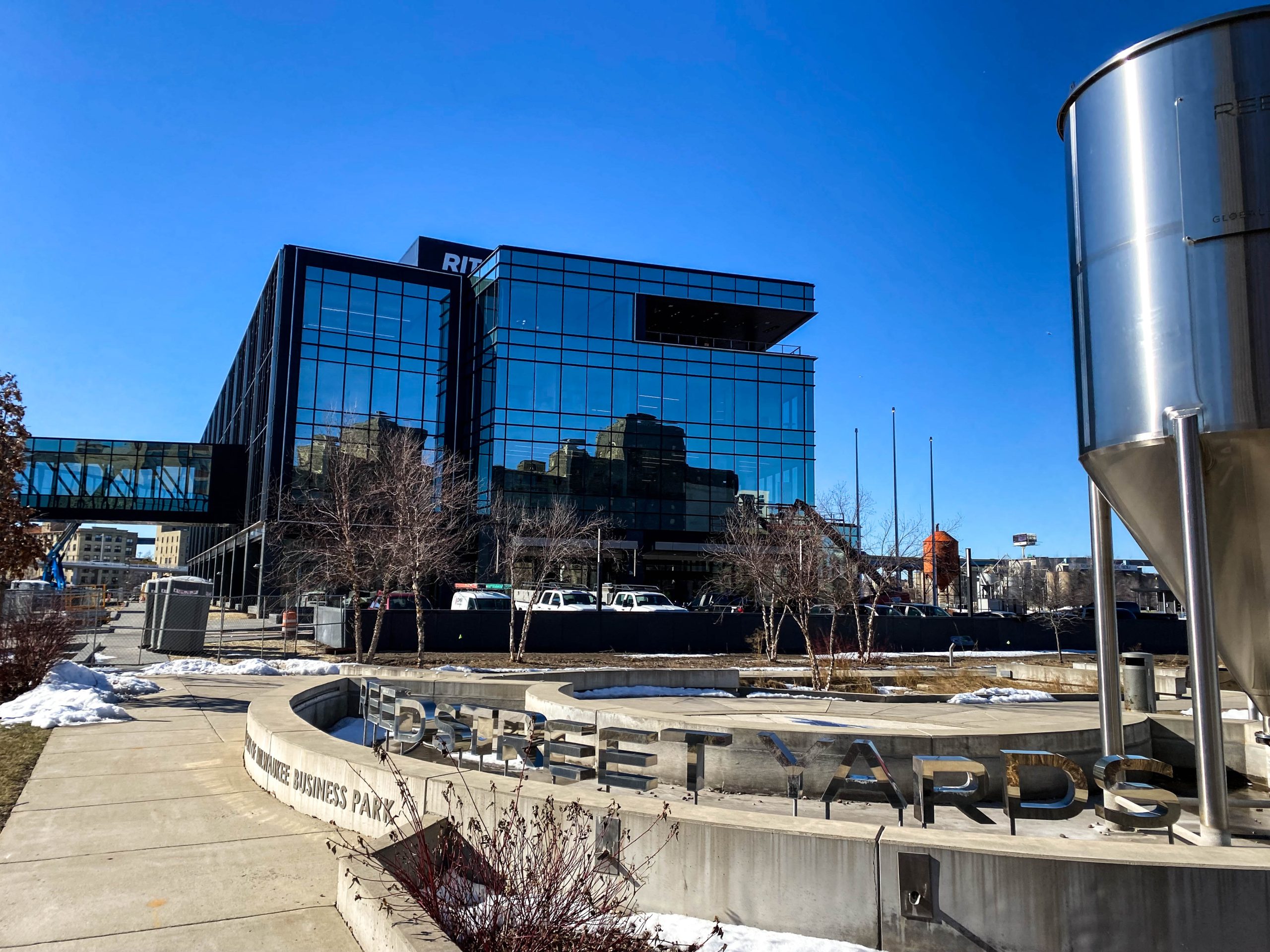 A standout feature of the new headquarters is a cherry red corrugated metal wall that accents the stairwell, complemented by LED lights installed on the staircase stringer, creating an inviting and visually striking focal point. Confronting the new construction was the formidable task of identifying a railing system fulfilling exacting safety standards and flawlessly blended with their ultramodern office aesthetic, including the striking cherry red corrugated metal wall and LED lighting elements.
Railing System: KOTO™ cable railing system
Location: Milwaukee, WI
Architect: EUA Architects
Contractor: C.D. Smith
Additionally, the company required a system offering effortless customization, catering to both indoor and outdoor realms, and assimilating diverse materials for visual allure. One potential solution that piqued their interest was the incorporation of a cable railing system, hinting at a harmonious balance between safety, style, and adaptability.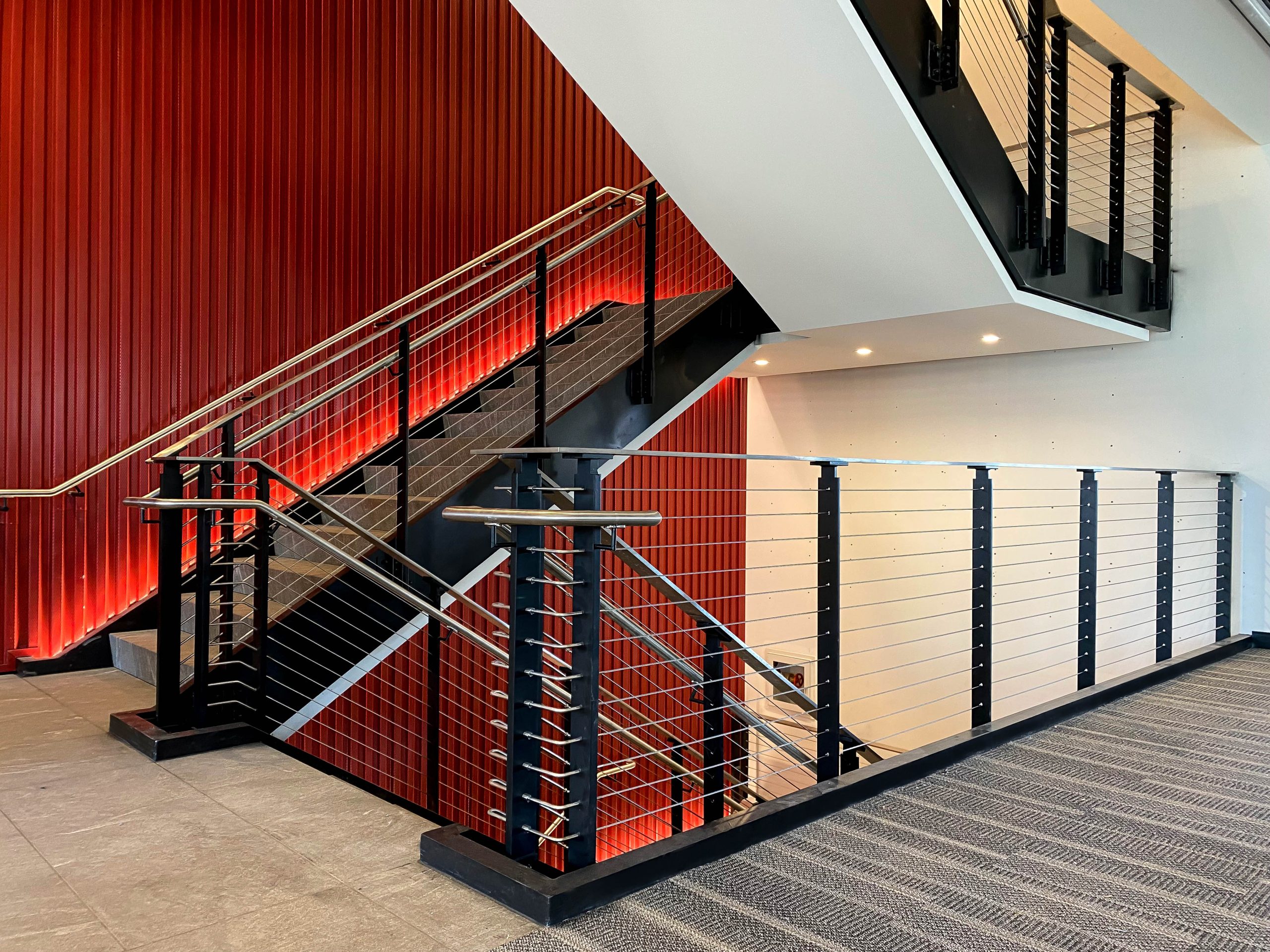 Embodying a refined aesthetic, the KOTO™ cable railing system draws upon elegant, clean lines and unobtrusive connections to create a cohesive design. Adaptable for both interior and exterior applications, the system offers the choice of 304 or 316 type stainless steel. The guardrail's top rail (cap) and assist rail, if needed, can be fashioned from either stainless steel or wood. Furthermore, wood rails can be presented with a natural finish in your preferred wood choice or stained to harmonize with other wood elements featured throughout the project.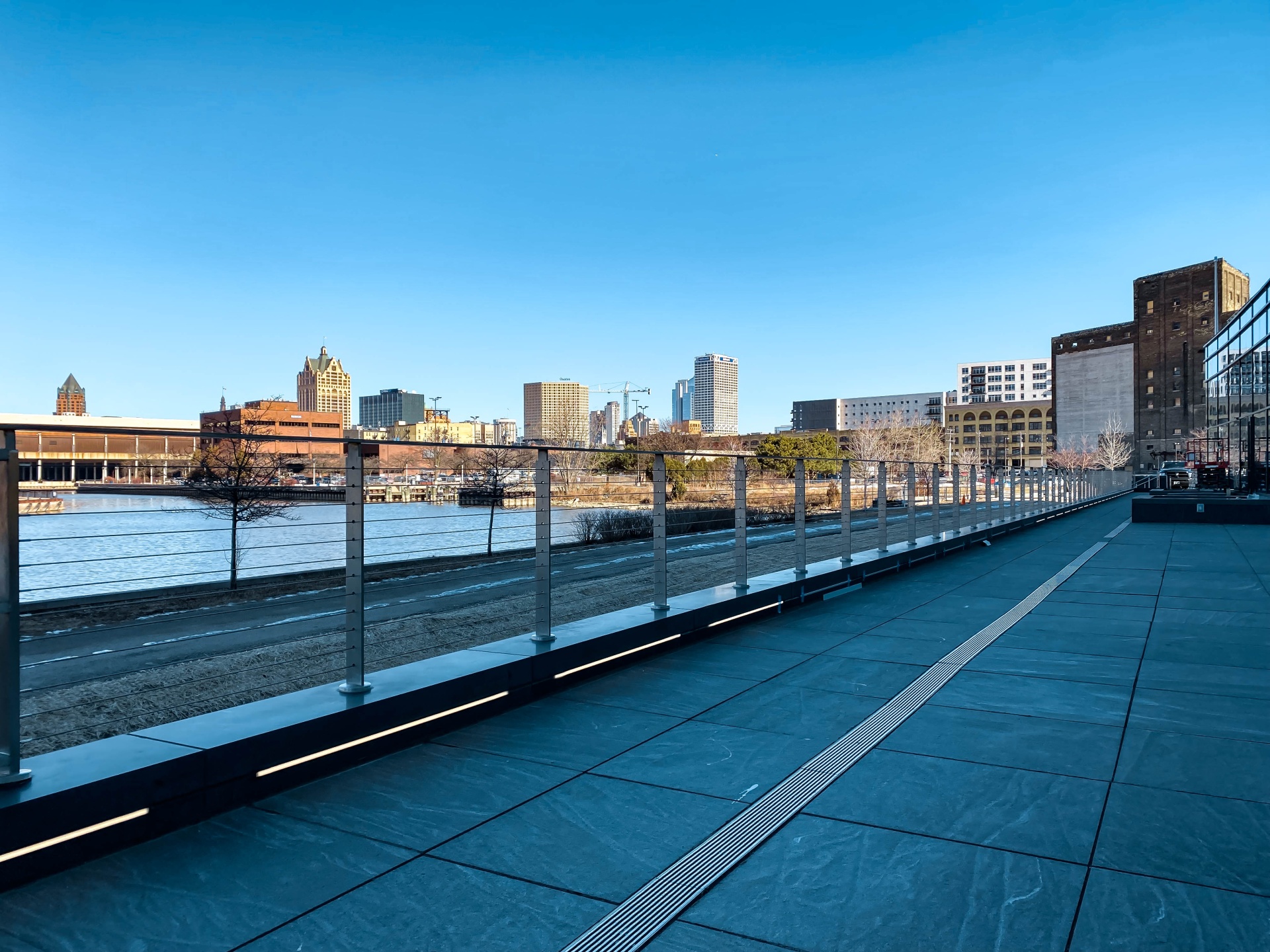 The allure of the KOTO™ railing system lies in its customizable, state of the art powder coating finishes, as demonstrated in this facilities application. Our offerings include innovative antimicrobial powder coatings, such as Sterilcoat AM, which heighten protection in environments prioritizing hygiene, such as hospitals, schools, and restaurants. The KOTO™ railing system transcends aesthetics and functionality, contributing to a safer, healthier environment.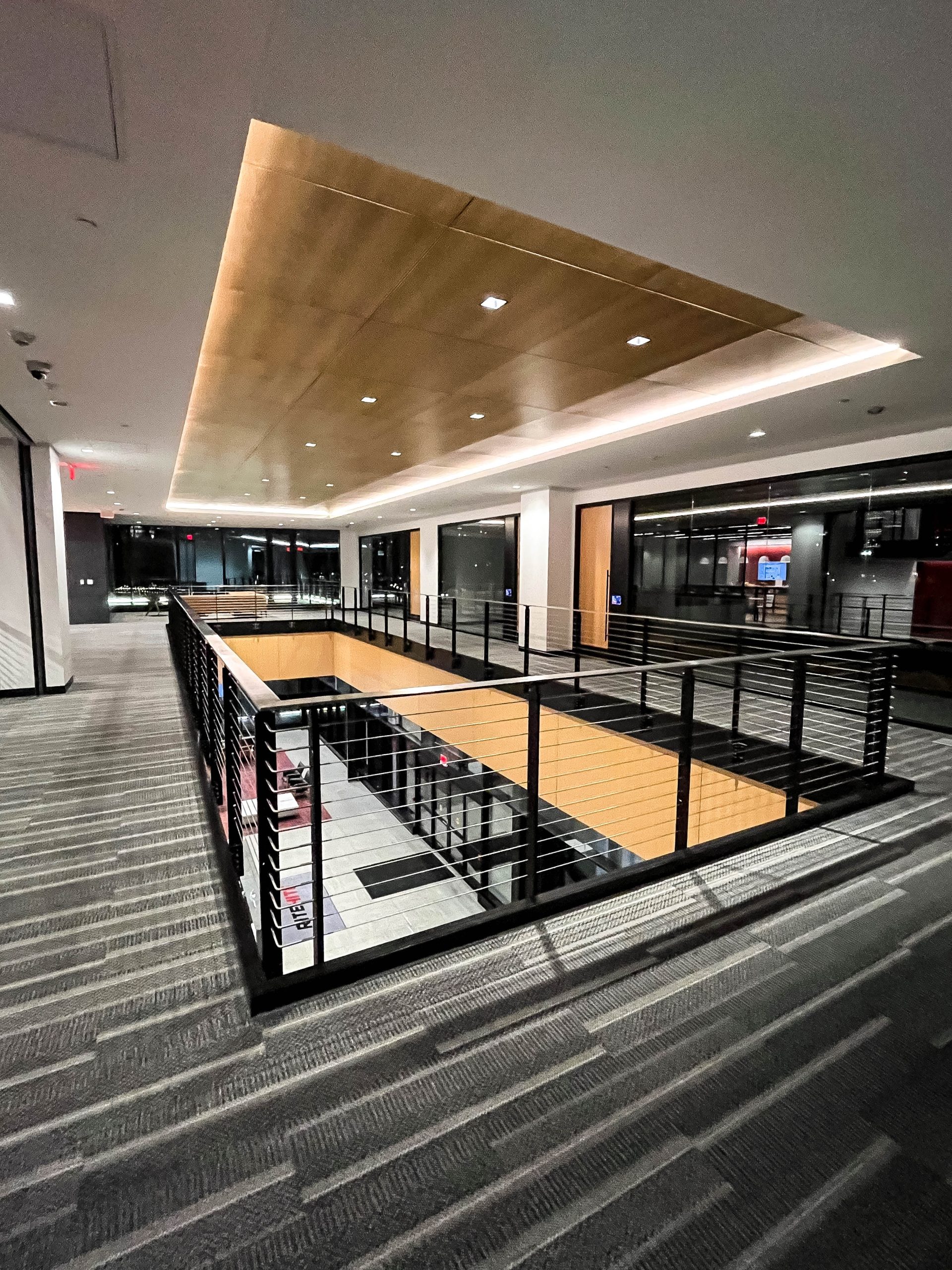 The KOTO™ railing system epitomizes the harmonious balance between safety, aesthetics, and customization, offering businesses a chance to elevate their spaces. In a sleek, modern office, the KOTO™ railing system's seamless integration into the cherry red corrugated metal wall and LED-lit staircase showcases a company's commitment to quality and innovation. As a railing system that provides safety and functionality, it also enhances the atmosphere, fostering lasting connections with employees and visitors.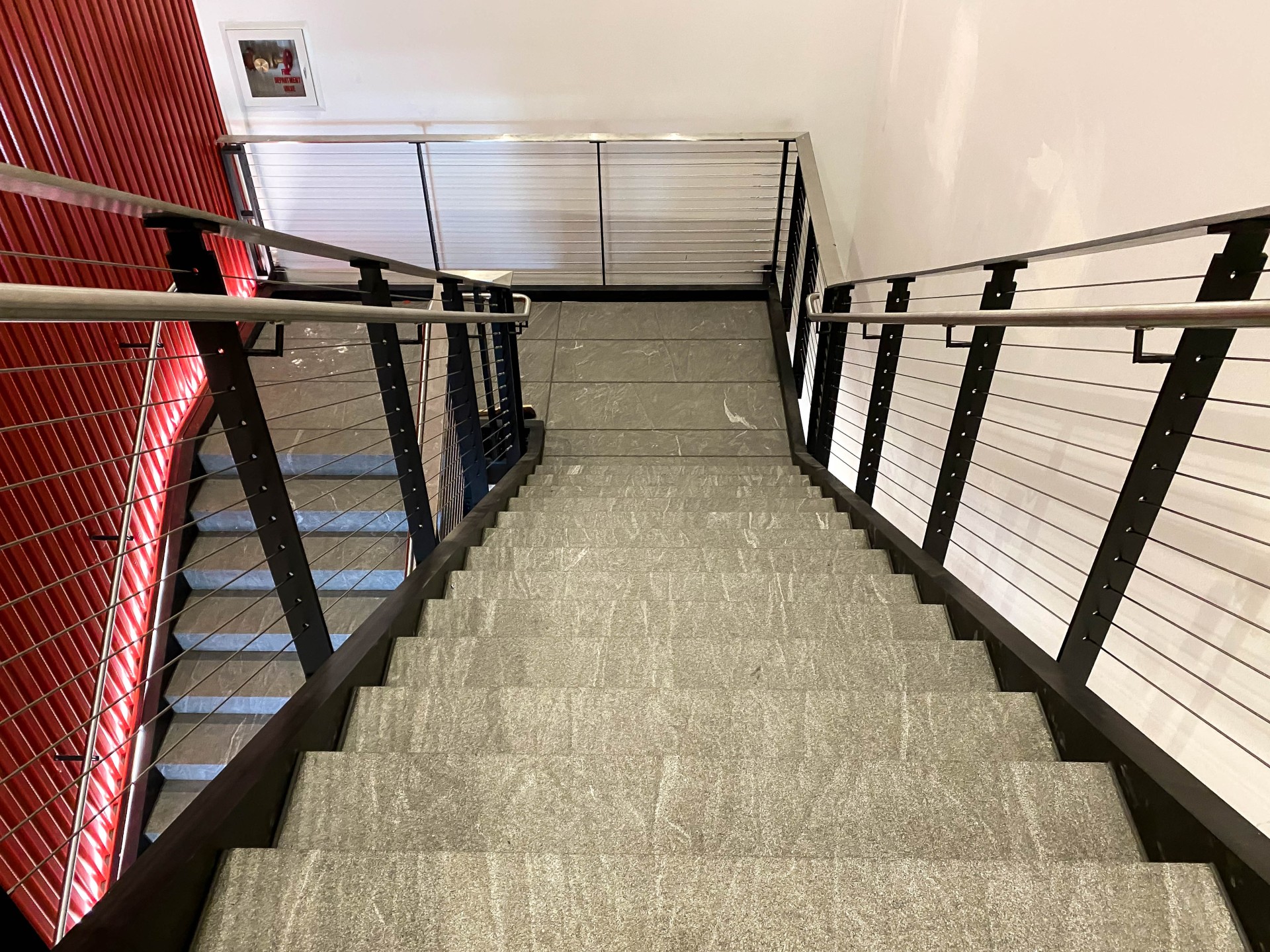 As a trusted provider of unique railing solutions, HDI Railings extends beyond merely supplying the KOTO™ railing system. Our team of experts collaborates closely with architects and decision-makers, guiding them through the entire process from concept to completion. By partnering with HDI Railings, clients can rest assured that their railing system will not only meet their unique needs but also exceed expectations.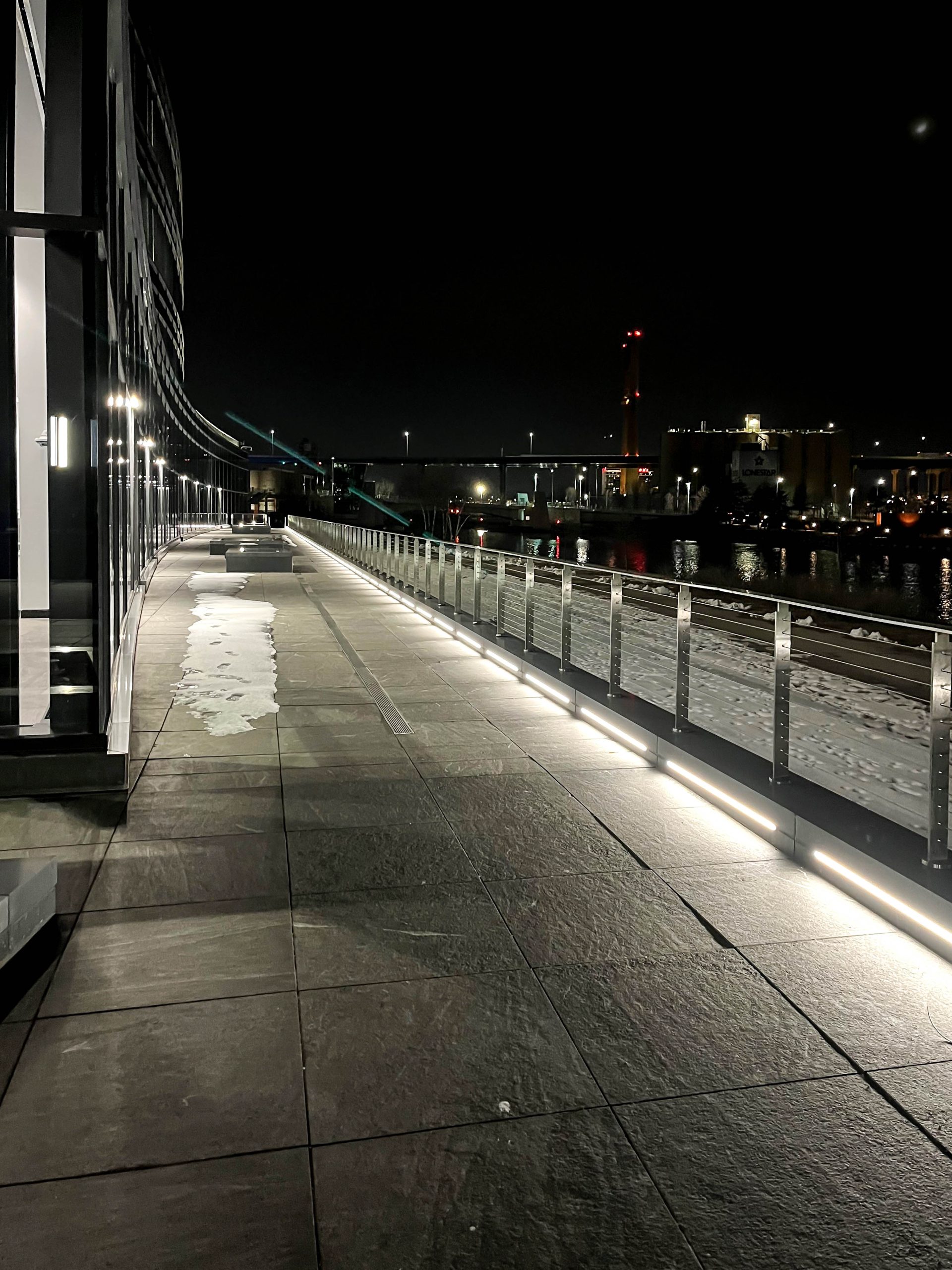 The KOTO™ railing system, alongside HDI Railings' expertise, equips leading loading dock equipment manufacturers and other companies within the manufacturing industry with the means to surmount the challenges associated with selecting and implementing the ideal railing system. This ensures safety, accessibility, and aesthetic harmony for employees and visitors alike.
May 23, 2023 Rapid City Health Center, a vital hub in South Dakota's tribal healthcare system, was poised for an ambitious transformation. In designing the facility, it was important to match the quality of care provided inside...
Read more
April 19, 2023 In the early days of 2022, Building V made its debut within the Research Park Plaza in Austin, Texas. With an impressive footprint of 173,000 square feet, it became a haven for a diverse...
Read more