CIRCUM™ Square selected for VISA's Information Technology Center
Request a Quote
April 19th, 2023 -
In the early days of 2022, Building V made its debut within the Research Park Plaza in Austin, Texas. With an impressive footprint of 173,000 square feet, it became a haven for a diverse array of tenants seeking modern and efficient workspaces and is now home to VISA's information technology center.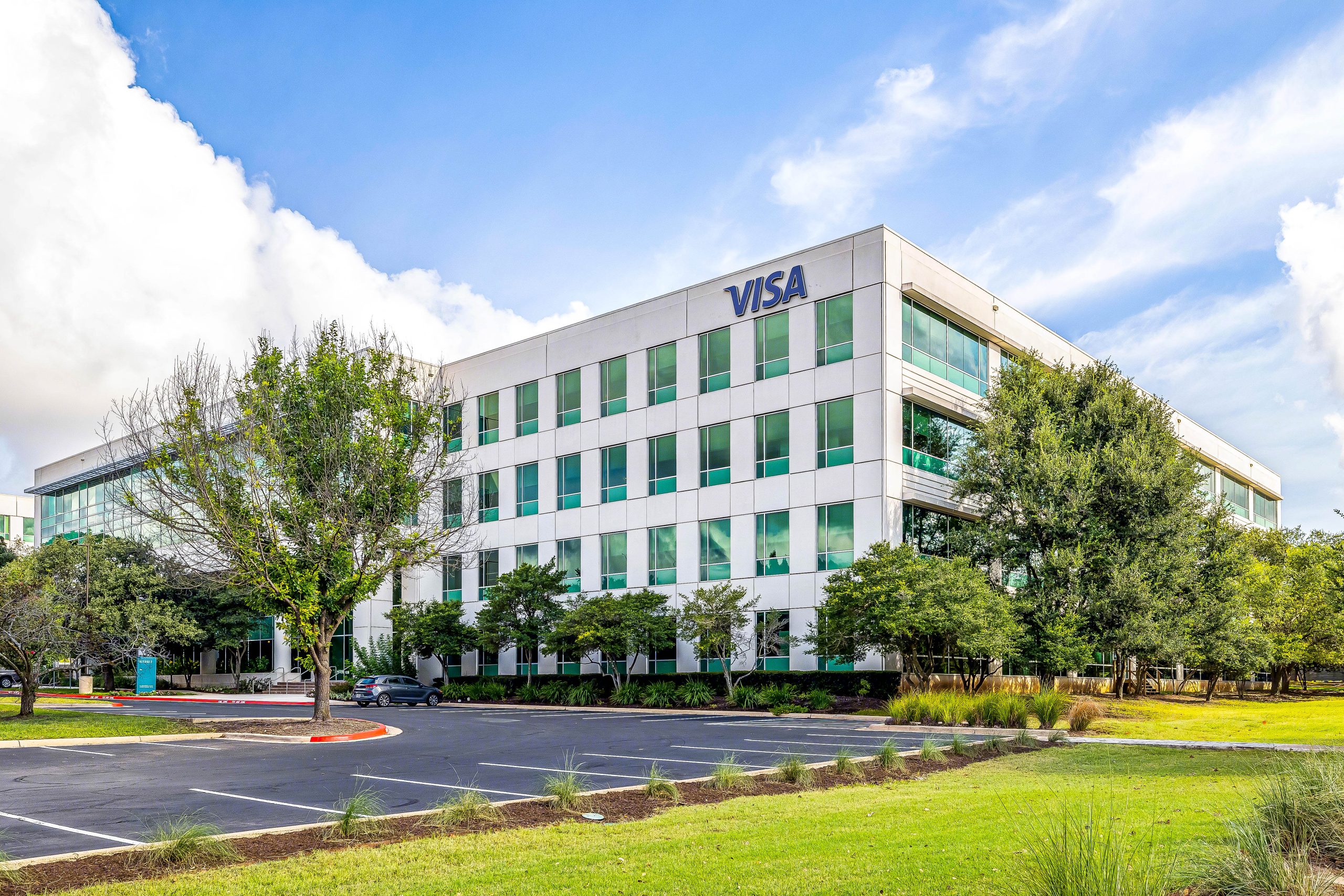 Railing System: Circum™ Square
Location: Austin, TX
Architect: Coleman Associates
Contractor: Clean Scapes
The exterior courtyard, a serene and visually appealing oasis, provided the perfect space for occupants to enjoy outdoor breaks, lunches, and intimate gatherings, fostering a harmonious blend of work and leisure.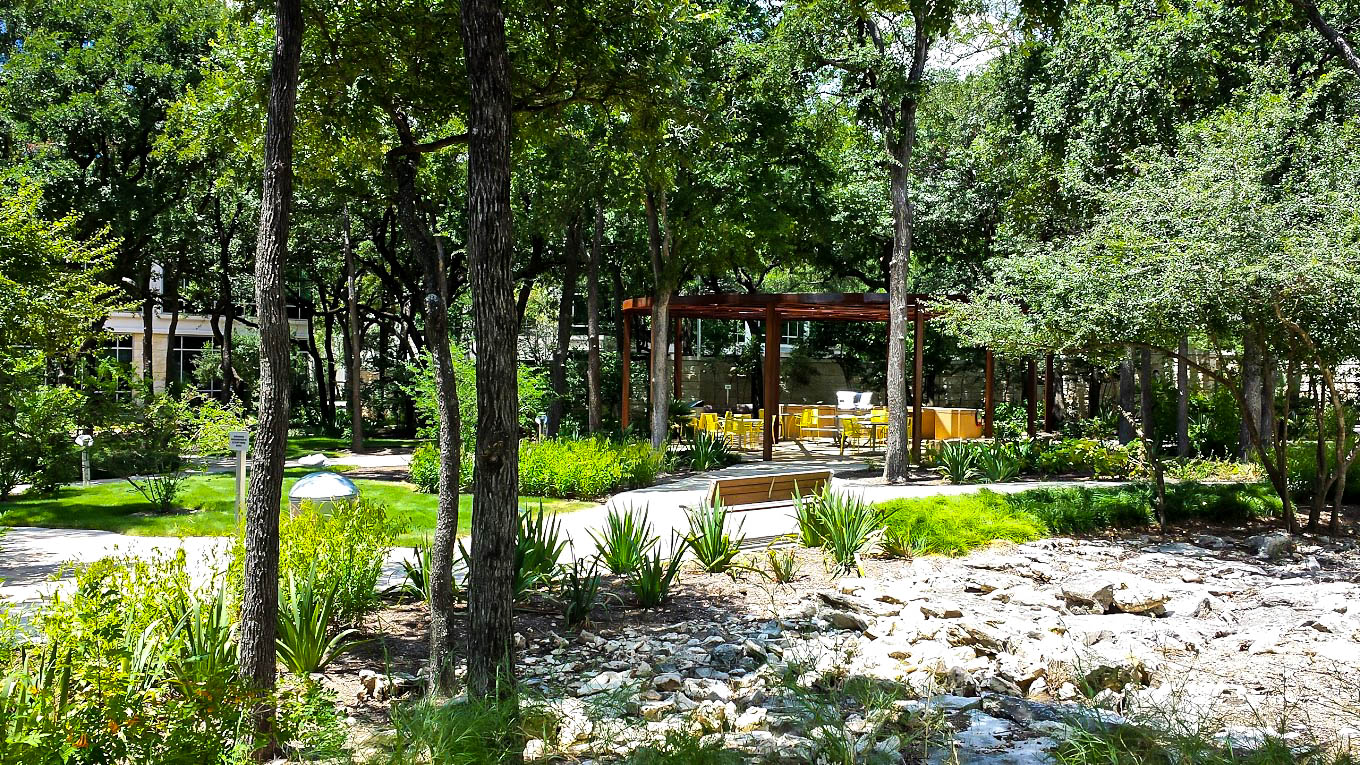 Architects can face challenges when specifying a railing system for such projects. The perfect railing must not only withstand the test of time but also maintain an aesthetic consistency with the overall design. For exterior railing installations, it is crucial to ensure that the chosen solution is durable, safe, and visually appealing, all while meeting building codes and regulations. The solution to these challenges was found in a collaboration between Clean Scapes and HDI Railings. By combining their collective knowledge and expertise, they devised a railing system that could not only endure the pressures of heavy foot traffic and ever-changing weather conditions but also harmonize with the sleek, modern design of the cutting-edge office complex.
"One of many trades within the Courtyard Renovation Project at the Research Park Campus included handrails and guardrails with lighting for a new concrete landing that also included steps and a trex boardwalk. We had a lead time issue with the suggested vendor from the landscape architect's plans, so they suggested HDI Railings instead and got me in touch with Shawn Maguire. I expressed to Shawn the need for an expedited quote and the issue of the lead time associated with the projected deadline. As we began to communicate, I let him know that I did not have a lot of experience with these railing systems before, and he had no problem helping me understand their process and all aspects of their system with knowledge and understanding. As we moved into production the project manager, Joseph Vacirca, was very knowledgeable, helpful, and patient working through field issues and scheduling challenges. Overall, from the bidding process, scheduling, installation, and final product it was a great success and collaboration. I will work with this firm again and highly recommend HDI Railings for indoor or outdoor railing systems." – Amy Briones, Clean Scapes Landscaping.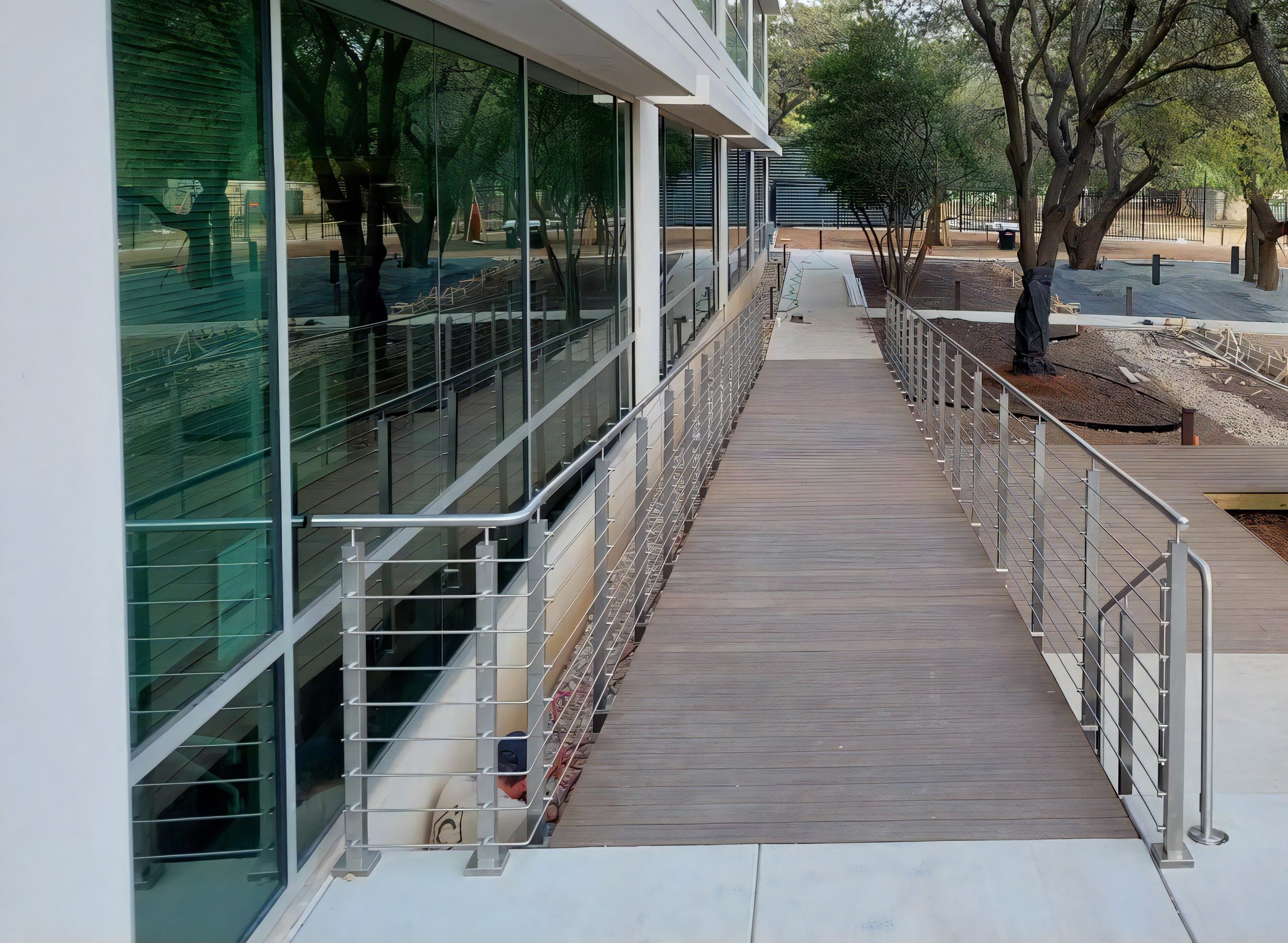 Striking the delicate balance between form and function can be challenging. The railing system needed to be structurally sound and compliant with safety regulations, while also contributing to the overall aesthetic appeal of the building. This predicament required a meticulous evaluation of materials, designs, and engineering principles to arrive at the most viable solution.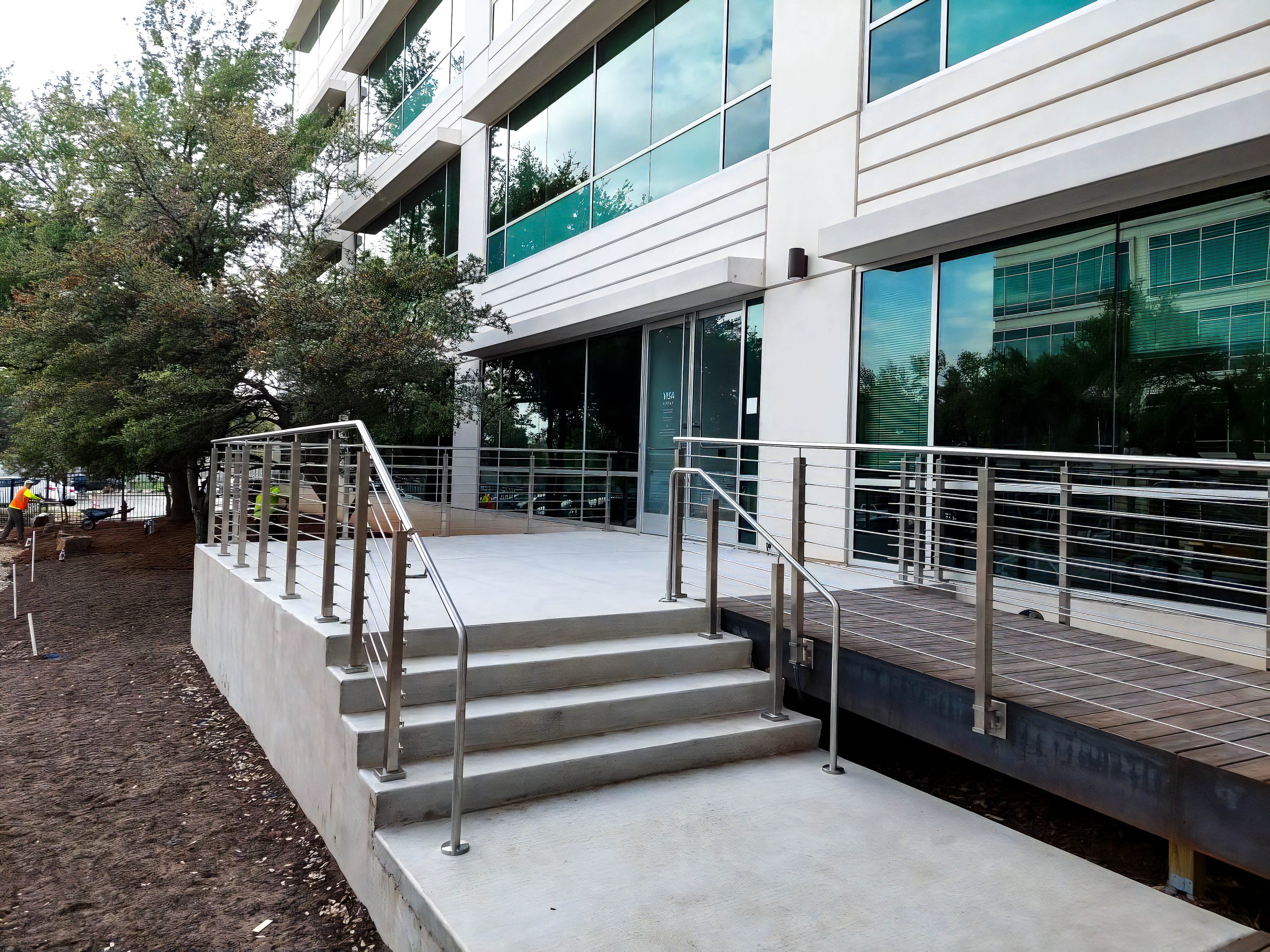 The CIRCUM™ Square post system emerged as the ideal choice, addressing the concerns and needs of architects, building professionals, and occupants alike. With its sleek, modern design and robust construction, the railing system seamlessly complemented the overall aesthetic of
the cutting-edge office complex, enhancing its visual appeal and providing a safe environment for its users.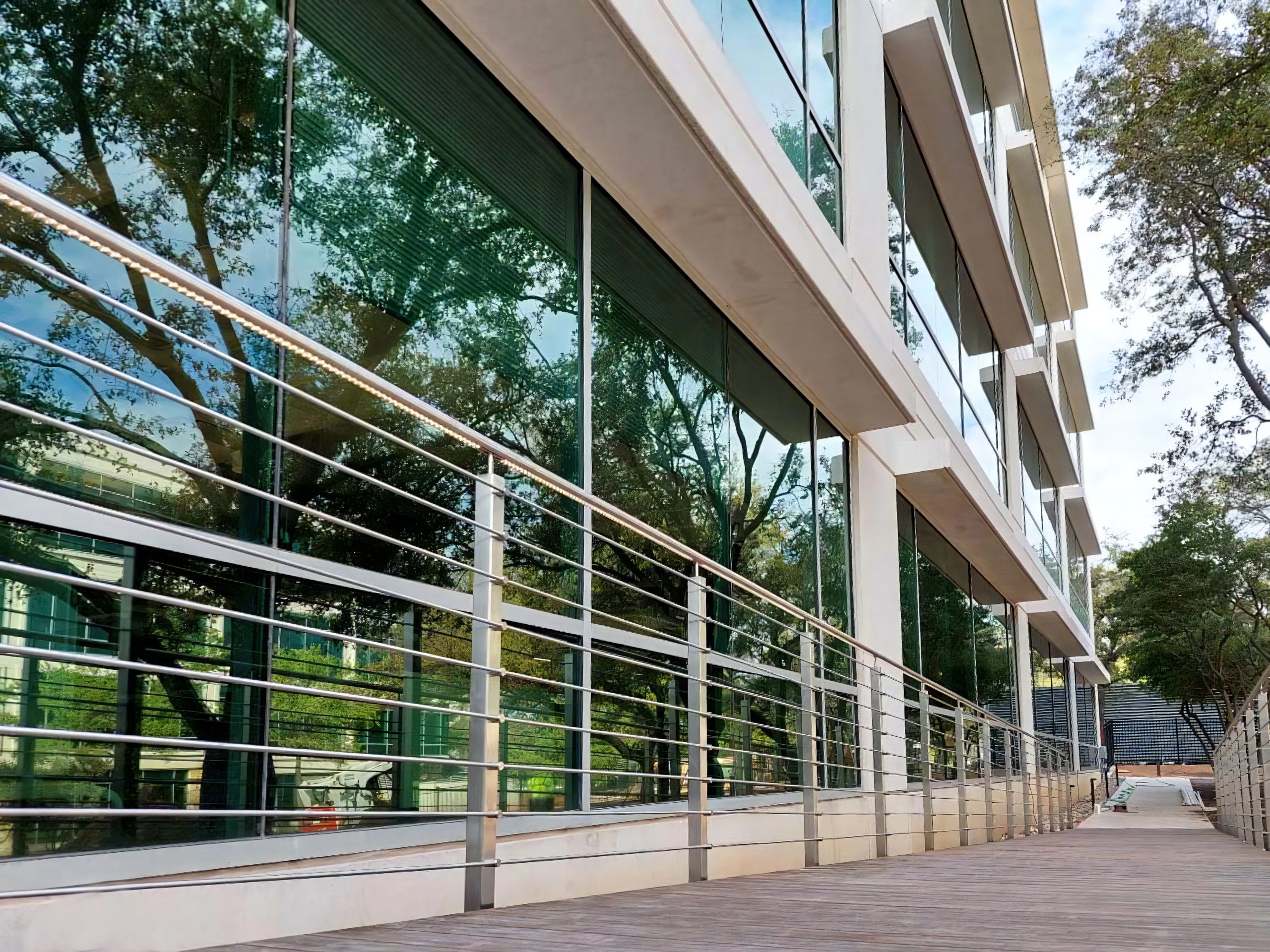 Constructed with mechanical threaded connections, the CIRCUM™ Square post system ensured precision and steadfastness in its assembly, lending an air of durability and reliability to the overall structure. Enhancing the functionality and visual appeal of the courtyard's wheelchair-accessible and pedestrian ramp, the system employed stainless steel infill rods, providing unobstructed, picturesque views of the surrounding lush landscape.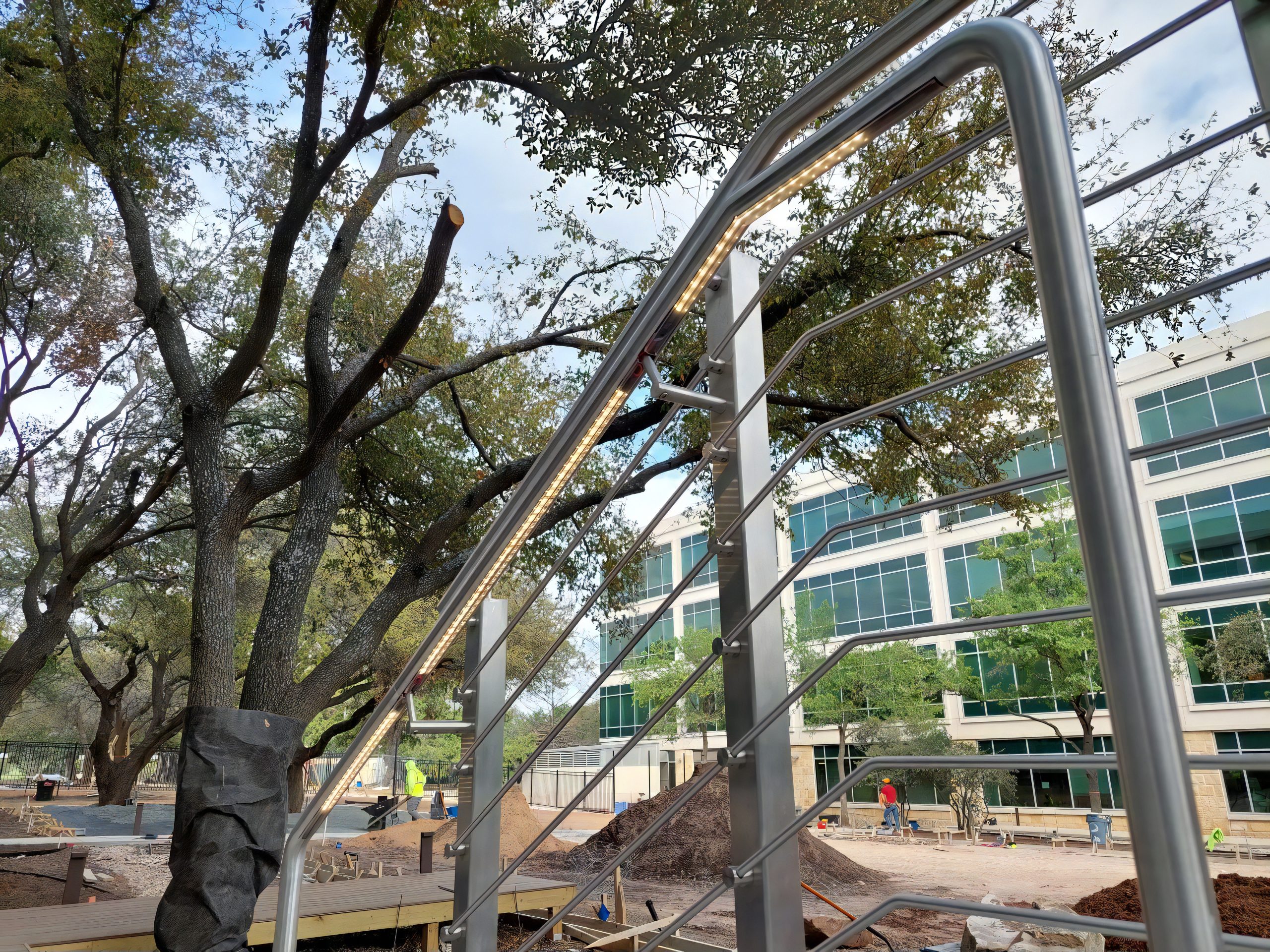 Further contributing to the overall ensemble, LED illumination was integrated into the CIRCUM™ Square railing system, striking the perfect balance between safety and style for the occupants to enjoy. When it comes to selecting a commercial railing system that can effectively meet the challenges of the industry, building professionals rely on HDI Railings and its impressive repertoire of solutions. Don't hesitate to engage HDI in a conversation about your upcoming commercial construction project and explore the vast possibilities that await.
September 11, 2023 Imagine a space where every design element, right down to the railings, makes a statement. In Dallas, Texas, we at HDI Railings didn't merely aim to meet the architectural standards for the Covenant Commons...
Read more
August 15, 2023 Situated in Chapel Hill, NC, the Carolina Donor Services Facility stands proudly as the home to the pioneering HonorBridge Donor Care Center. Notably, this state-of-the-art center, specializing in organ, eye, and tissue donation, boasts...
Read more