Pre-engineered Modular Railings vs Custom Railing Systems
Published 03/07/19
Last Edited 07/19/19
Aluminum vs Stainless Steel Railing Systems
For architects, unparalleled design control and project efficiency are crucial. Implementing a railing system within a project should both enhance the architectural design while seamlessly integrating the project's underlying time constraints.
Metal ornamental railing systems can provide an elegant and functional finishing touch to a building project. However, it is important for architects to understand the difference between the types of materials available, as well as where and how the railing system is manufactured and how it will be installed.
Custom railing systems can offer architects an original design…they are generally fabricated locally or built on site with wood, aluminum or stainless steel materials purchased off the shelf. Aluminum is the material regularly utilized when building a custom railing system because it is easy to cut and install on site. However, it is not always the best choice for a specific project design. Whether the custom railing system is fabricated locally or on site it will require welding to complete the work which can create possible safety hazards. When railing systems are built on site they can present architects and building professionals with several challenges that can affect overall project timelines, budget and safety.
Pre-engineered modular railing systems offer architects a centralized solution for designing their desired railings that fit within their project's parameters. A pre-engineered modular railing is a railing system that is already designed, engineered and tested. Generally, such designs have features and options which allow several variations within the design. The design process will begin with a consultation so that an architect's intentions can be met with detailed precision. Specific considerations such as if the project space is residential or commercial, exterior or interior and more can influence the material selection which will be overseen by the technical support team. The pre-engineered option is more efficient and reliable than using a local metal fabricator and will result in shorter installation times, lower project costs and lead to a more streamlined project schedule.
Factors to consider: Aluminum vs Stainless Steel
The custom railing systems that utilize aluminum can be resilient and strong if fabricated correctly, but their strength is outperformed by stainless steel. Aluminum posts that are incorporated in a custom railing system will be 50% larger than their stainless steel counterparts. For example, an architect's client needs a railing system installed on the deck of their beachside residence. If an aluminum railing system that matches the tensile strength of a prefabricated stainless steel railing system were designed and installed on that deck its posts and handrails would be 50% larger. Whereas, stainless steel aesthetics parallel its tensile strength performance thereby offering architects less material with more strength. Pre-engineered railing systems come in both 304 and 316 grade stainless steel, both are corrosive resistant. Unlike aluminum stainless steel is less susceptible to cracking or corroding. For coastal environments like a beachside residence, 316 stainless steel is ideal.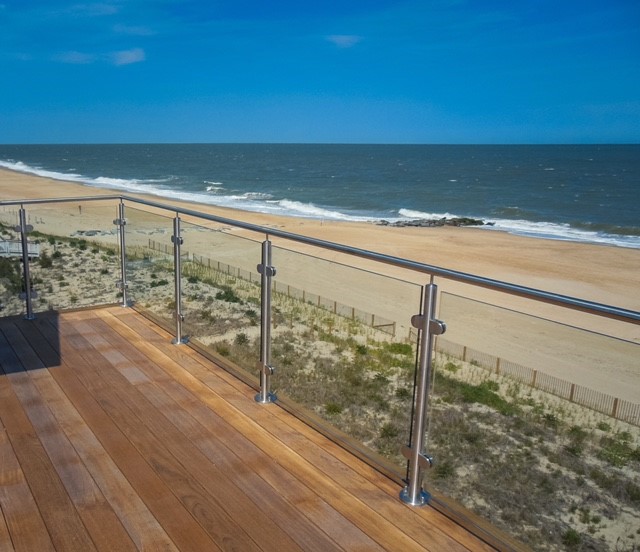 Reliability Considerations for Custom Railing Installations
When it comes to a project's efficiency, a railing system needs to meet an architect's design standards and be code compliant. Choosing a pre-engineered railing system streamlines the process of navigating the nuances of maintaining quality control without sacrificing customization. An architect can consult with railing specialists from the manufacturer if they have questions regarding their chosen design or would like to explore design solutions they may not have initially considered. A custom railing system can produce a one-off look, however, the time and cost to develop and engineer the system should be factored in. A pre-engineered system saves the development time and cost that would otherwise be required. Unexpected project delays can be common when opting for a custom railing system since subcontractors may require more time to weld or fix quality control issues due to a rushed work environment on site. Pre-engineering offers a reliable solution to a project's railing system needs with state of the art fabrication and engineering in a quality controlled environment thereby providing architects and building professionals with a customized, strong and durable railing system for their clients. The benefits of off-site fabrication can result in shorter project times and lower maintenance costs in the long term.
A dedicated HDI railing system representative can help you determine the best materials and finishes for your next pre-engineered railing system.