Expert Minimalism: Focusing on HDI's Optik
Published 06/15/16
Last Edited 12/22/16
Panels of glass floating in midair.
At a first glance, that's precisely how our Optik product range appears. Floating glass, lining a staircase or balcony, albeit with a secure HDI handrail attached.
The Optik railing system is based on glass panels being secured as a structural element to a stair or landing. This approach creates a truly minimalist guardrail, providing a floating glass appearance, ideal for unobstructed views allowing the feeling of vast open spaces.
The Optik product range of railing systems is engineered to provide the highest level of security required by building codes.
Optik is comprised of three product types – side mounted Boss mounts, surface or side mounted Pods or Shoe.
Optik Boss
Optik POD
Optik Shoe
As a company, innovation is a keystone of our design philosophy. The Optik product range stands as a product of that innovation. Read on to learn about the specifics of the Optik range and the design philosophy that brought it to life.
Exploring Optik: Products in Detail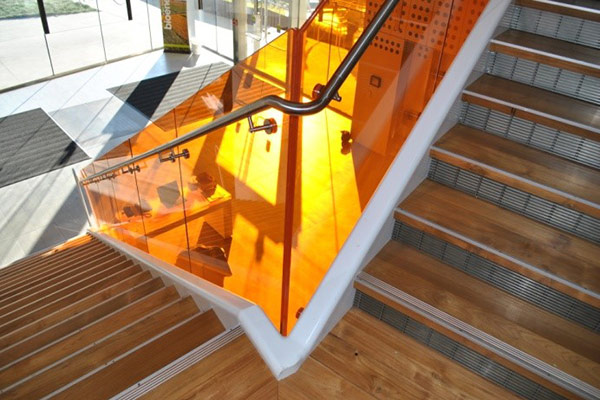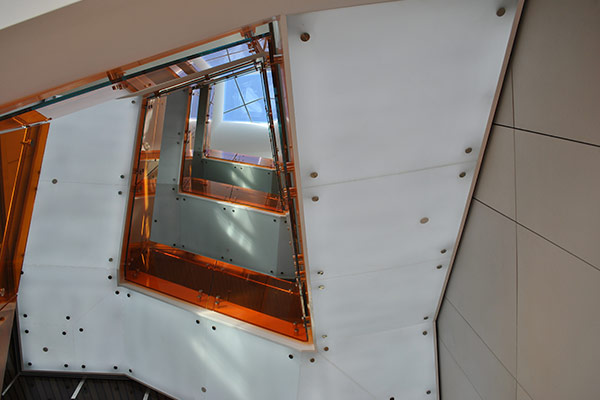 Optik Boss
The Optik Boss railing system uses subtle fastening mounts that attach the glass panels to the side of the staircase.  To a person standing behind the railing of an Optik Boss system, the secure mounting attachments are completely obscured from view, creating the trademark illusion of floating glass.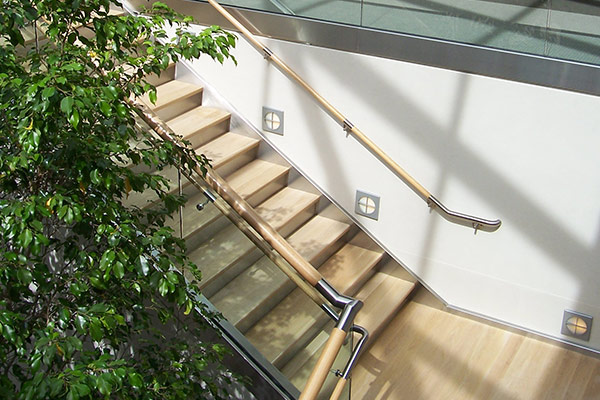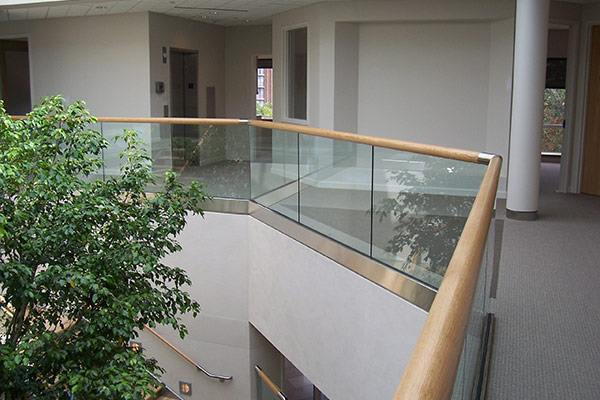 Optik Shoe
With all attachment hardware hidden from view, the HDI Optik Shoe system provides a continuous elegant track to support the glass.
HDI developed a patented "Disk Lock" mechanism to secure the glass in place. This innovative device allows all the panels to be aligned with one another, ensuring a continuous flat plane surface along the glass.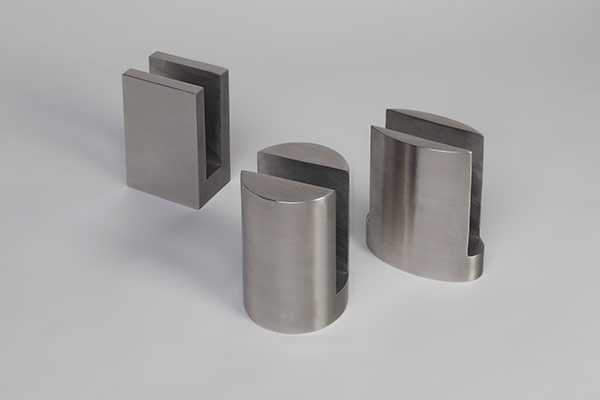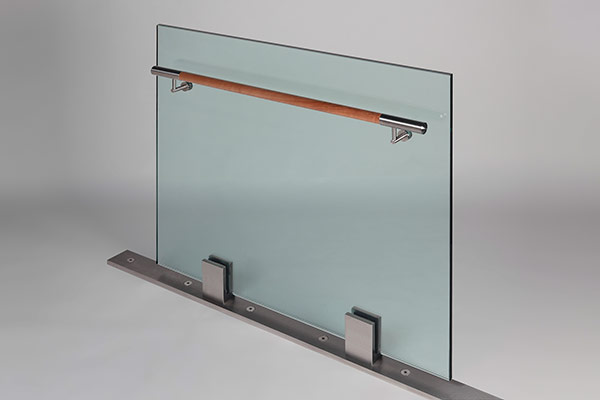 Optik POD
The newest development in the Optik product range, the Optik POD system, anchors the infill through the use of subtle, namesake pods. The pods are available in a round, rectangular or elliptical shape—to provide a variety of geometric options for architects and designers.
Viewing the Optik POD railing system, only the PODS are visible, leaving all mechanical attachments hidden from sight. As is the case with all Optik products, the discreet design places focus on the transparent railing system.
Philosophy Behind the Optik Product Range
At HDI Railings, we have built our reputation by demonstrating that meaningful design is rooted in appreciating and understanding the role of our products in the building and interior design concept. By remaining true to these core beliefs, we have enabled architects and designers throughout the world to benefit from a range of products designed with them in mind – in ways they find attractive, useful and relevant to their design concept.
By harnessing creativity in this way – in a structured and often unique manner – we create products which help the design community exceed their customer's expectations.
That being said, in any product, details do make a difference. Our challenge in engineering the Optik product range was to ensure that the fasteners remain hidden from view so that the transparency of an Optik system can enhance a dramatic view and allow a feeling of openness.
Optik: Enhancing Modern Decor
The Optik product range was developed to sharpen clean lines, producing a minimalist look. The clean lines Optik produces intensify the contrasts in color or material in an area, a technique often associated with modern interior design.
In addition, using a tinted or colored glass infill, instead of a transparent one, contributes to a futuristic visual theme.
More Innovation to Come
Although HDI leads the railing system industry, our innovative practices never rest. We will continue to design products for innovative architects and designers.
At HDI, we follow the grounding ideal of designing for functionality while pursuing beauty, purity and emotional relevance. This philosophy brought the Optik line to life.
Contact us to discuss bringing Optik or any world-class railing system to your design.