The Benefits of LED Lighting Systems
Published 01/05/18
Last Edited 05/07/19
As LED lighting becomes more and more standard in design installations, custom options continue to progress. Bespoke LED systems are raising the standard for niche lighting across various industries. When installed and concealed properly, LED lighting within your stair railing system can provide increased security, durability, and design appeal.
More designers are venturing away from standard LED colors and selecting programmed systems that provide unique colors, mixing, and fading using RGB (red, green, blue) color mixing technology. Light output or intensity can be tailored to specific project requirements by selecting from a broad range of light intensities and lens types.
The Basic Benefits of LED Lighting
Light emitting diodes (LEDs) offer countless practical and aesthetic benefits over incandescent lighting. LEDs are actually tiny light sources that operate individually or in more than one chip. Typically, red, green, and blue LEDs are combined to make white light. Compared to traditional incandescents, light emitting diodes (LEDs) have the following advantages, as outlined by Energy.gov:
Typically use about 25%-80% less energy than traditional incandescents to save money on energy costs
Last 3-25 times longer
LEDs emit light in a specific direction, reducing the need for reflectors and diffusers that can trap light. This feature makes LEDs more efficient for many uses such as recessed downlights and task lighting (with other types of lighting, the light must be reflected to the desired direction and more than half of the light may never leave the fixture).
LEDs emit very little heat. In comparison, incandescent bulbs release 90% of their energy as heat and CFLs release about 80% of their energy as heat.
The Design Benefits of LED Lighting
Custom LED Colors Can Carry Your Brand
LED lighting isn't only for security. Not only does it help heighten the dramatic impact of your stair railing installation, but it can support your brand aesthetic. Thanks to RBG lighting technology, LED lights can be programmed to virtually any color. RGB LED products combine red, green, and blue colors to produce millions of light hues. Additionally, RGB systems allow for color cycling by fading or stepping through selected colors. Light output options are available with standard, medium, or high intensities to suit individual projects and design intent.
Beam Spread Heightens Impact
Beam spread can achieve optimal light intensity to match your stair railing building environment. Beam spread is the amount of space a light covers from different distances. As light moves away from a reflectorized light source, it spreads out and becomes less intense.
Light can be dispersed with a wide angle beam option or focused with a narrow beam selection. A combination of wide and narrow is available by selecting an asymmetrical beam type.
Project conditions, railing location and design intent determine where illumination is required. Light can be dispersed with a wide angle beam option or focused with a narrow beam selection. A combination of wide and narrow is available by selecting an asymmetrical beam type.
HDI provides a variety of beam spread options to help designers select the required beam spread angle.
Asymmetrical beam spread provides beam spread angles of 26 and 60 degrees measured from center, when it is desirable to vary the illumination on either side of the railing.
Shown below are 60, 80 and 120 degree beam spread angles.
Go Lighter or Brighter with Lens Finishes
All HDI LED railings are available with either a clear or frosted lens. A frosted lens will tend to obscure the LED light points; however, this will reduce light output. This type of lens offers a softer appeal, whereas a clear lens provides brighter light and greater clarity.
Frosted LED tubes provide higher lumens per watt than a clear lens. If your LED tubes are going into a covered fixture with a surrounding lens, clear tubes offer your brightest option. However, if the tubes are exposed, a frosted lens is the way to go.
Curve Appeal
A curved LED bar adds a modern, futuristic appeal and increased side lighting to your installation. Curved bars contours to your installation design for a truly custom fit. A curved light offers more beam width, aiming LEDs to the side (rather than a centered spot beam, found in straight lights).
Curved railings are available with cool white and warm white colors only in both standard and high output.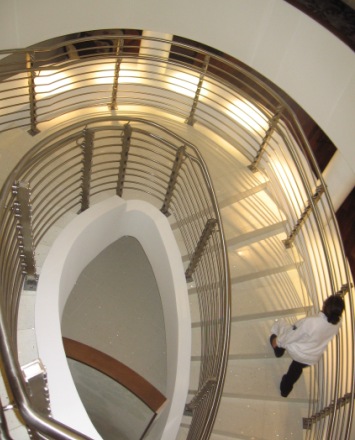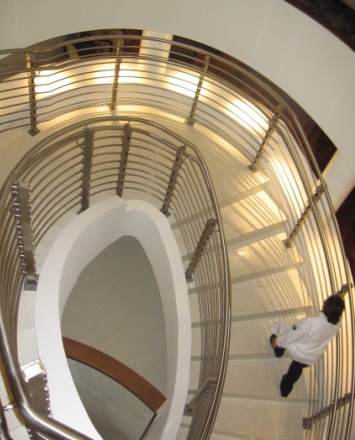 LED Systems from HDI
HDI LED lighted railing options are available in railings for both post mounted and wall mounted systems.
All wiring is concealed within the railing system to the connection point with the electric service for security and durability. Service is low voltage with special heat sink designs within the railing to keep rails cool either indoors or outdoors. All wiring, power supplies and coordination with other trades is provided by HDI.
Shown above: inox LED spotlights contemporary sophistication; Circum LED illuminates clean lines and enduring quality; Ferric LED bring colors to powder coated steel