UTPB Engineering Building installs HDI's Optik Shoe with LED
Request a Quote
November 5th, 2019 -
The University of Texas Permian Basin (UTPB) installed HDI's Optik Shoe system with LED handrail in the new LEED-certified engineering building.
Railing System: Optik Shoe railing with LED handrail
Location: The University of Texas Permian Basin, TX
Architect: Stantec Architecture
Contractor: Adolfson & Peterson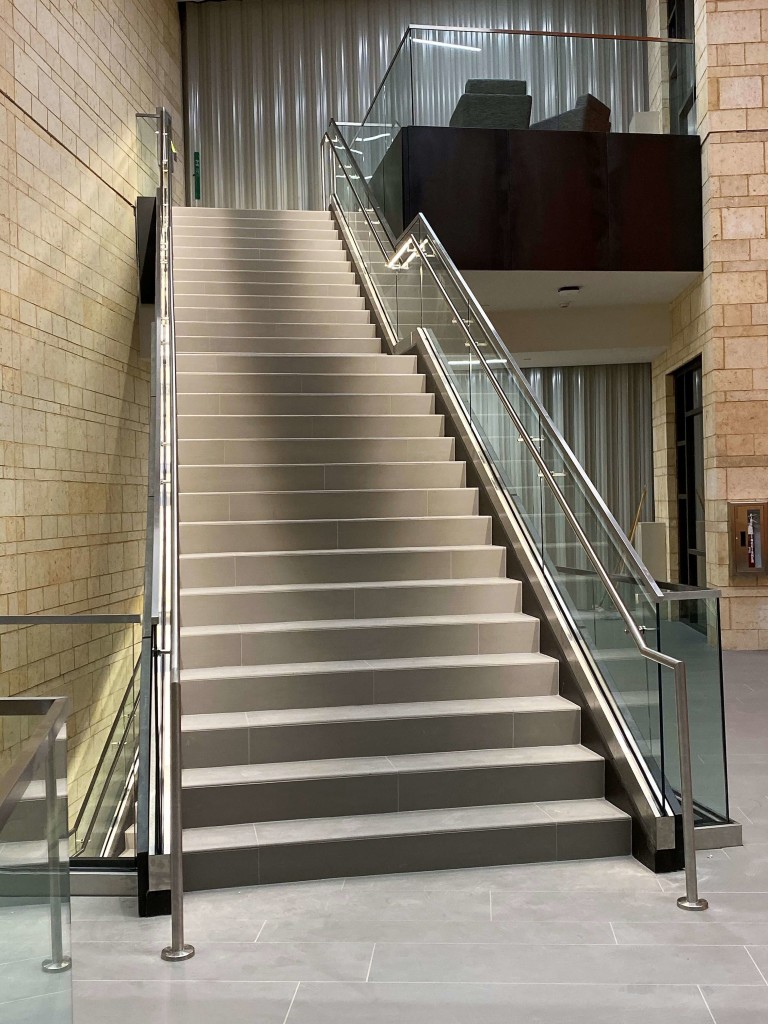 In the Permian Basin of Odessa, Texas, nearly 2 million barrels of oil are pumped daily making it the largest petroleum-producing region in the United States. The University of Texas Permian Basin recognized the need for a new facility that would provide more efficient operation of the mechanical and petroleum engineering programs which are an important investment in the regional workforce. When AP Construction and their design partners Stantec Architects turned to HDI Railings for an elegant system that would echo the building's contemporary design, HDI was happy to lend support.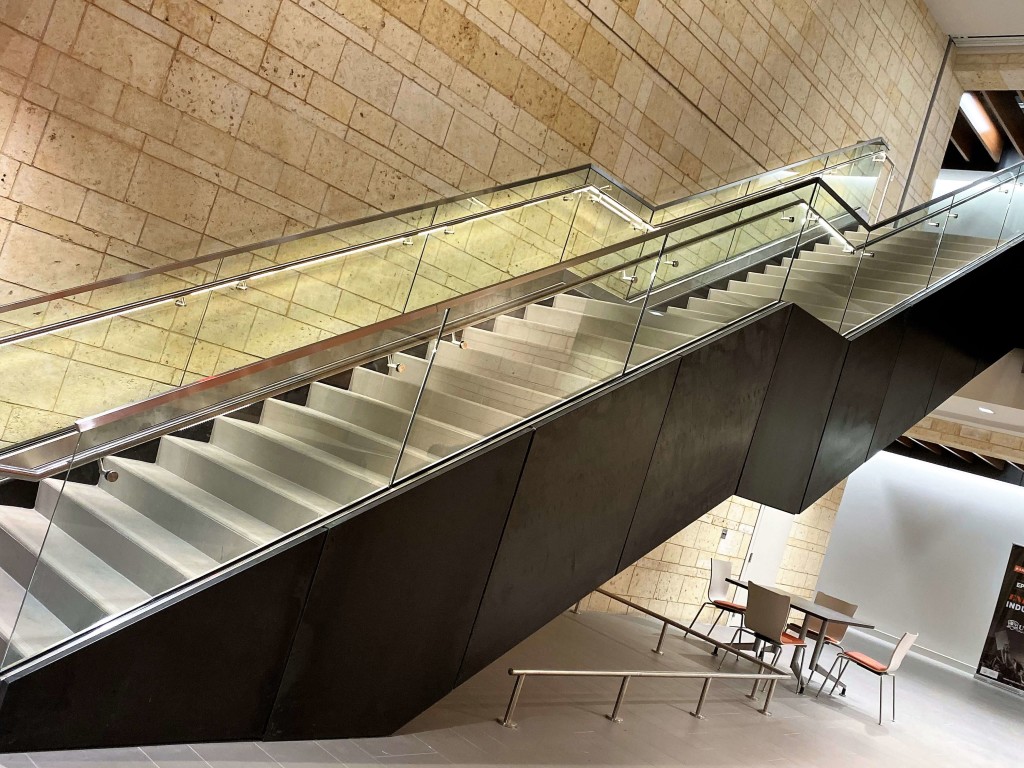 Unveiled in the spring of 2019, UTB's new Engineering building rises three stories tall and boasts a footprint of 105,801 square feet. The engineering building now includes space for classrooms, faculty offices, lecture halls, student collaboration spaces, and laboratories for mechanical; and petroleum engineering programs. Adolfson & Peterson Construction and design partners choose HDI's Optik Shoe system with LED handrails which would echo their contemporary aesthetic found throughout their newly constructed UTPB engineering building.
Before HDI's manufacturing process took place, all parties involved with UTPB's construction were provided with photorealistic renderings of HDI's Optik Shoe with LED handrails. Collaboration with HDI is an interactive conversation allowing clients to truly visualize their project – complete with our railing system. To create that conversation, we used the Building Information Modelling Software Revit, which demonstrated how the Optik Shoe with LED handrail would look and function inside the architecture of UTPB.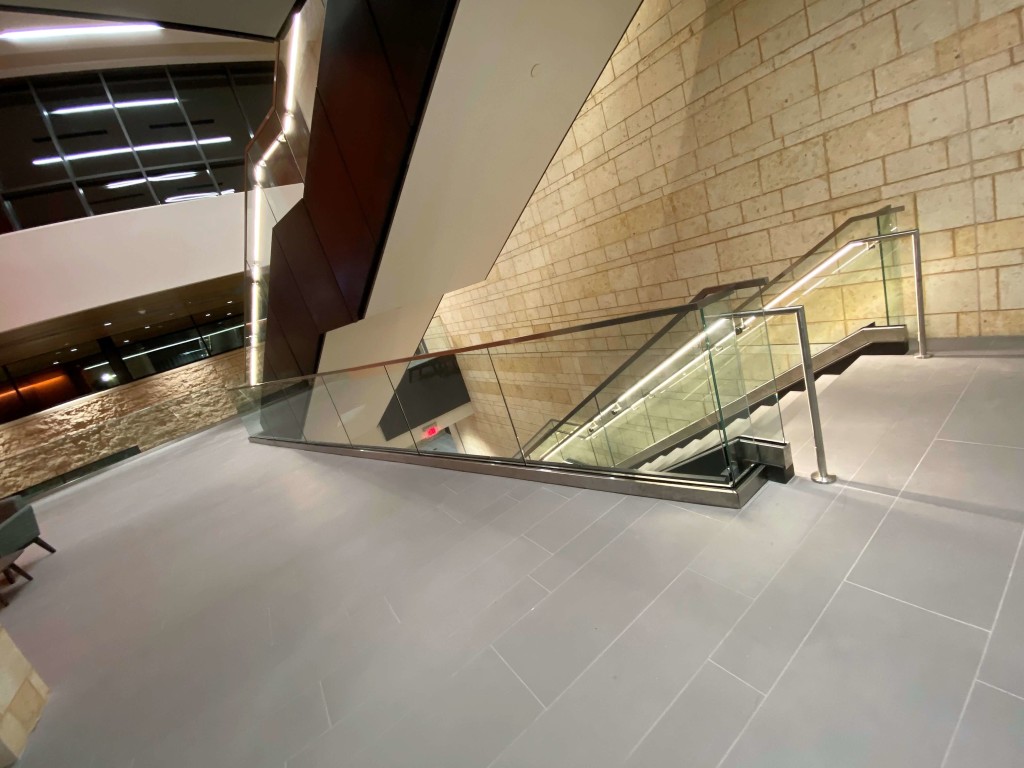 HDI's Optik shoe system with LED handrails were installed from the lobby stairwell ascending to the second story floor and subsequently installed on the stairwell rising from the second to third story floor. The continuous elegant track supporting the Optik Shoe's tempered glass provides unobstructed views from the building's second and third story balconies. UTPB's new engineering building's contemporary design is accentuated by HDI's Optik Shoe glass panels being secured as a structural element to the stairs and landings. The Optik Shoe railing system is engineered to provide the highest level of security required by building codes, but the minimalist approach still provides a floating glass appearance allowing the feeling of a vast open space.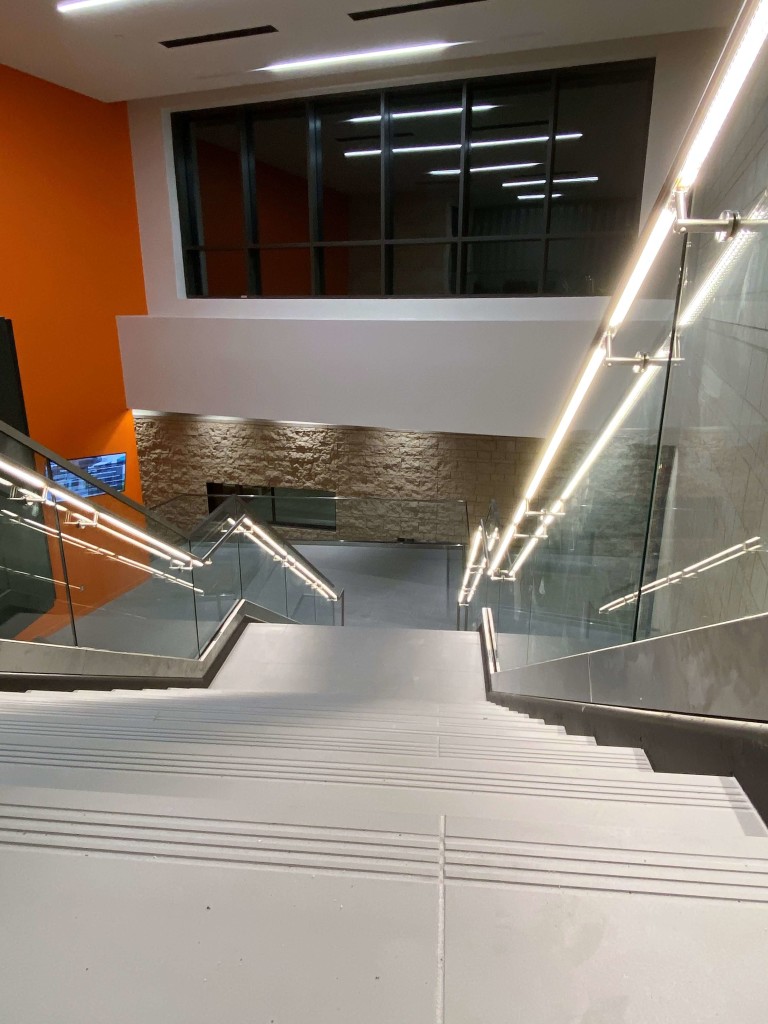 UTPB's Engineering building is going to be the first LEED-certified building in the history of the UTPB and HDI Railing's Optik Shoe system with LED handrails will help the building earn many credits in the vast majority of LEED categories. With billions of dollars' worth of energy investment flowing through the Permian Basin, UTPB is investing back into the region's workforce to grow their own. When building professionals need a railing system that will provide long-lasting and elegant holding power, they turn to HDI Railing Systems.
HDI would welcome the opportunity to partner with you on your next building design.
May 14, 2020 Pittsburgh Theological Seminary is a graduate theological school of the Presbyterian Church, located on a captivating 13-acre campus in the East Liberty/ Highland Park area, just east of the city of Pittsburgh. When the seminary...
Read more
April 2, 2020 After three years in the making, Vanderbilt Divinity School recently unveiled an environmentally friendly addition to their campus. Built to serve as a welcoming gathering place for the community, HDI railings played an integral...
Read more