Circum Round Railings at 3D Metal Printing Company Sintavia
Request a Quote
June 28th, 2019 -
Advanced technologies and cutting-edge equipment advancements are propelling the additive manufacturing industry to new heights. Sintavia, an industry-leading manufacturer of metal parts for the aerospace and defense industries, recognized the need for a new facility to keep up with the trade's evolving nature. When it was time to put the final touches on their state-of-the-art manufacturing facility, HDI Railing Systems was happy to lend support.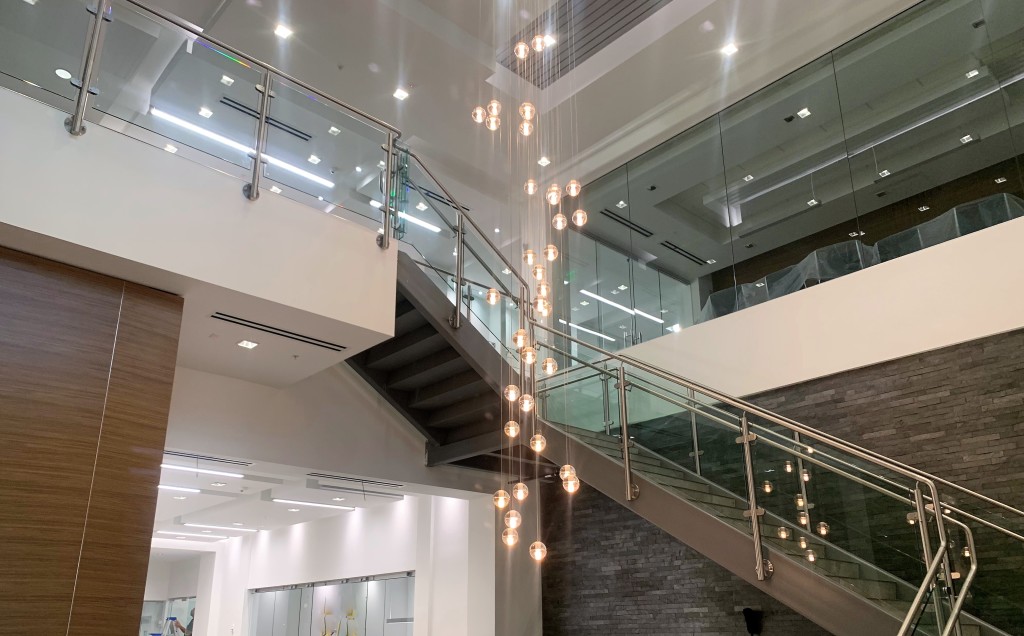 Unveiled in May of 2019, Sintavia's new facility in Hollywood, Florida boasts a footprint of approximately 55,000 square feet and will serve as the company's headquarters. The Chairman and CEO of Sintavia, Brian Neff said that "this new facility is the first of its kind in North American to offer large-scale AM production coupled with a robust aerospace quality management system. As we grow, it will serve as a template for future vertically-aligned advanced manufacturing facilities around the U.S. and the world."
Sintavia turned to HDI for a railing system that would withstand the high amount of foot traffic flowing from the lobby to the second story floor. The CIRCUM Round Post railing system with glass infill panels was selected to match the elegant, modern aesthetic echoed throughout the new facility.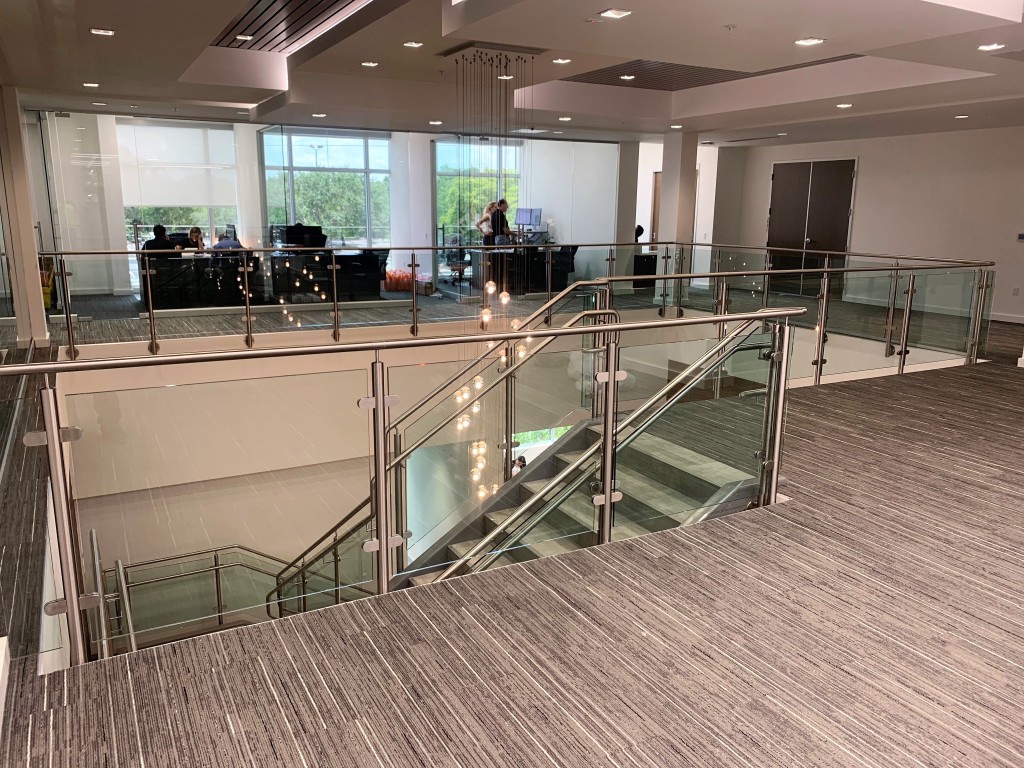 The CIRCUM Round Post railing system is constructed with mechanical threaded connections to ensure an exact and secure fitting. All railings are fully assembled in HDI's Pennsylvania factory and then deconstructed into fully assembled sections to ensure efficient installation.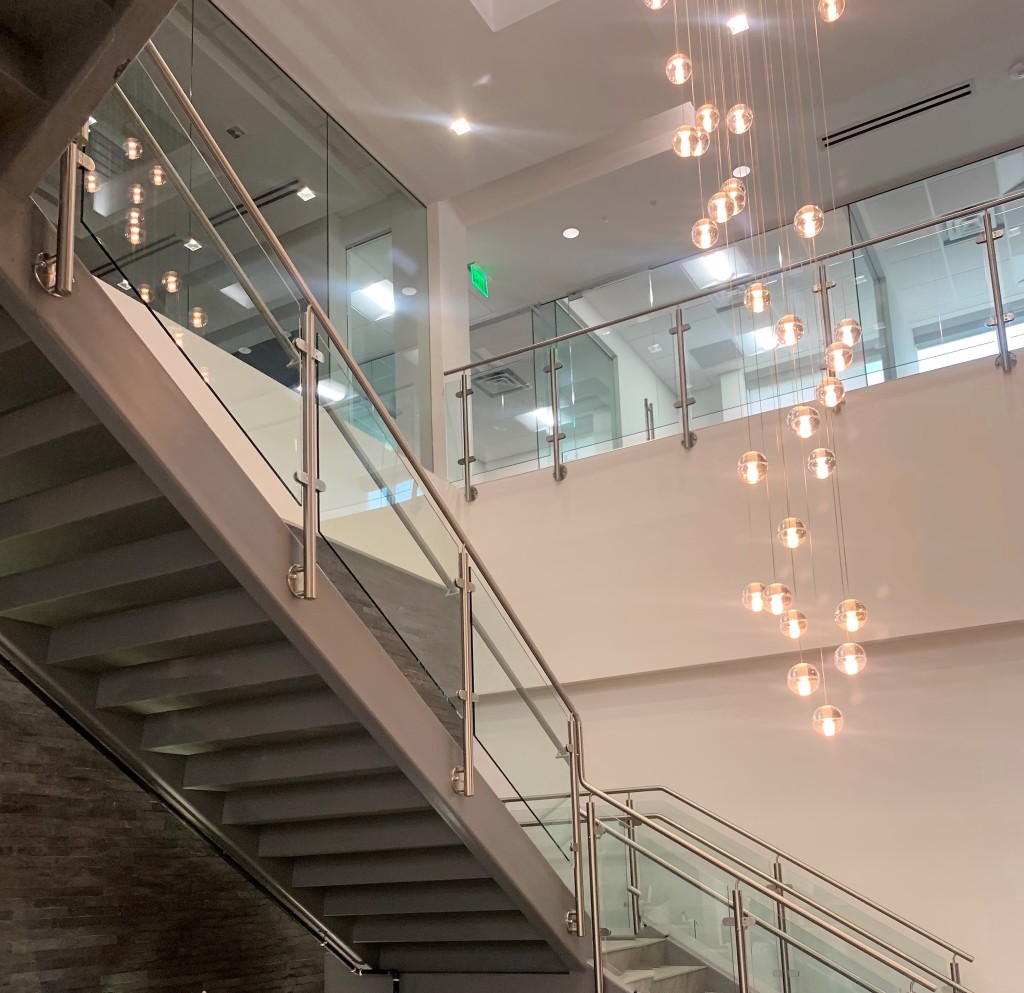 Located in the facility's lobby and second-floor balcony areas the side mounted stainless steel centerpiece stair serves as a major focal point. High quality 304 stainless steel was selected to match existing metallic elements and decor. The clear tempered glass infill panels allow light to flow through the lobby area highlighting the beautiful stone accent wall. The second-floor balcony railing creates a feeling of airy spaciousness with unobstructed views providing a sleek backdrop for the lobby's 35-light globe LED chandelier.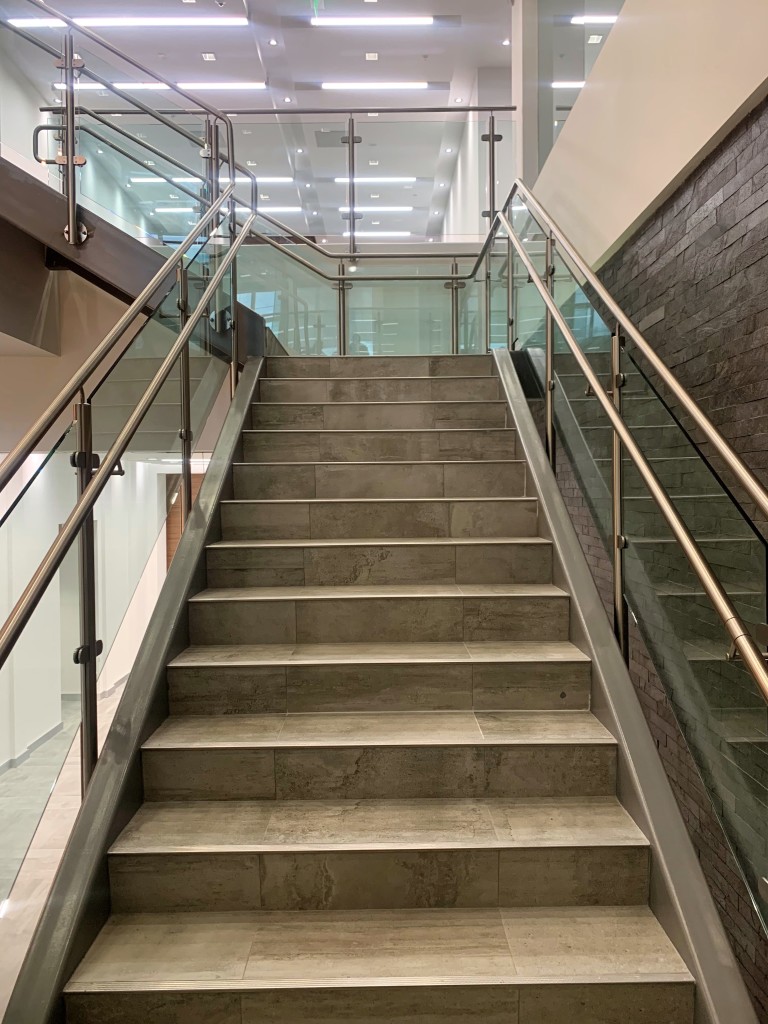 Production is already well underway at the new facility, with $25 million worth of advanced manufacturing equipment, including medium and large scale metal 3D printers, EDMs, post-processing machines, and wet-booths. For the new Hollywood, Florida facility, Sintavia will add more than 130 new jobs and the facility is set to exceed $100 million in annual revenue. When building professionals need a commercial railing system that can keep up with industry demands they turn to HDI.
HDI would welcome the opportunity to partner with you on your next project. Please contact a regional sales manager today.
November 5, 2019 The University of Texas Permian Basin (UTPB) installed HDI's Optik Shoe system with LED handrail in the new LEED certified engineering building. Railing System: Optik Shoe railing with LED handrail Location: The University of Texas...
Read more
October 18, 2019 Railing System: Kubit railing system with custom oak cladding on posts Location: University of Wisconsin-Madison Architect: Kahler Slater Contractor: J.H. Findorff Advanced healthcare technologies and inter-professional health education are steadily evolving and increasing the demand for state-of-the-art facilities....
Read more